How Carmelo Anthony and the NY Knicks Can Rise to No.1 in the East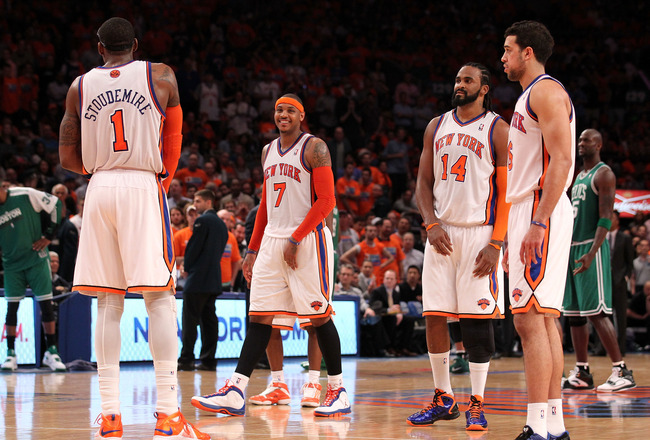 NEW YORK, NY - APRIL 24: (L-R) Amar'e Stoudemire #1, Carmelo Anthony #7, Ronny Turiaf #14 and Landry Fields #6 of the New York Knicks look on against the Boston Celtics in Game Four of the Eastern Conference Quarterfinals during the 2011 NBA Playoffs on April 24, 2011 at Madison Square Garden in New York City. The Celtics won 101-89. NOTE TO USER: User expressly acknowledges and agrees that, by downloading and or using this photograph, User is consenting to the terms and conditions of the Getty Images License Agreement (Photo by Nick Laham/Getty Images)

Disappointing.
That's the only word that can sum up the ending of the New York Knicks' season. For a team stacked with so much talent, being swept by the Boston Celtics in the first round of the NBA Playoffs is purely unacceptable.
At first, you want to point the finger at Coach Mike D'Antoni. He had the Knicks running an offense-only game plan which got them absolutely nowhere in the long run. Next, you want to blame Carmelo Anthony. It seemed as though after he arrived in New York, everything took a downward spiral.
But the truth is simple. Players take time to develop chemistry, and making a blockbuster trade like that in the middle of the season severely skewed the timing and synchronization that the Knicks had going. However, if the Knicks make a few adjustments to their game plan, they can easily find themselves at the top of the food chain midway through next season.
The first thing the Knicks need to do is hire ex-Atlanta Hawks coach Mike Woodson as New York's defensive coach. D'Antoni has everything running perfectly on offense, but it seems as though he just turns his head when the possession changes.
According to an article in the NY Daily News,
"Mike Woodson and Mike D'Antoni held a powwow Monday in New York as the former Hawks coach's candidacy to become a Knicks assistant has picked up steam with sentiment he is not the leading candidate for the head-coaching job in Minnesota."
Though his Hawks team didn't have the top-tier defenders to be among the league's elite defensive teams, Coach Woodson has always been known to have great defensive techniques and principles. He would be a great addition to the coaching staff and would instantly upgrade New York Knicks basketball.
The next thing the Knicks need to do is give Landry Fields starter's minutes, once again. Was it me, or did it seem as though Fields was getting less and less playing time as the season winded down? That's because he was.
Fields averaged 34.9 minutes in January, 28.3 minutes in February, 24.6 minutes in March and a lowly 17.5 minutes in the series against Boston. That's a role player's minutes! "Muddy" Fields does things that the other Knicks don't. He gets into the paint and fights for rebounds, hustles for loose balls and puts his body on the line when nobody else does. He's the Knicks' glue guy, and without him getting more minutes, the Knicks will never win games.
Finally, Carmelo Anthony and Amar'e Stoudemire need to get something going. Melo went on a jump-shooting frenzy when he touched down in the big city, and the Knick fans noticed it. Instead of slashing to the basket for a high percentage inside bucket, Anthony found himself settling for jumpers and three-pointers more than ever.
The dynamic duo need to develop some type of chemistry with one another, and with the NBA Lockout having no definite ending in sight, they've got a lot of time to do so. Stoudemire thrived in Phoenix when Steve Nash ran pick-and-rolls for him on a regular basis. The two need to feed each other at their sweet spots and play off of each other.
When the New York Knicks complete these three things, as well as add some type of defense-first Center from the free agency pool to the lineup, they will be the most dangerous team in the NBA. They've got two dominant scorers in Melo and STAT, a knock down shooter in Chauncey Billups, a bit of everything in Fields, and a tad of bench talent in Shawne Williams and Toney Douglass. Adding a player like Samuel Dalembert or Joel Przybilla into the mix would make them an even better team on the defensive end.
They also have the shutdown defender, Iman Shumpert, coming in as a first-round draft pick. If the NY Knicks can fully utilize the extra time they'll have with the NBA Lockout, they'll be NBA Finals bound in no time.
This article is
What is the duplicate article?
Why is this article offensive?
Where is this article plagiarized from?
Why is this article poorly edited?

New York Knicks: Like this team?