2012 NBA Free Agency: Dwight Howard Will Help to Decide Where CP3, D-Will Land
August 21, 2011
The lockout may be in full effect, but the real story behind this off season in the NBA is where the last of the top tier free agents will spend the rest of their prime years.
Dwight Howard dropped the first bomb when he said he was not signing an extension and will become a free agent after this upcoming season.
On the surface it looks like he is giving Orlando one last chance to build a team around him that has a chance to win a championship, but that is really not the case.
The Magic can't put together that kind of team in one off-season, let alone an off-season where there is a lockout.  Howard knows that.  This is part of his exit strategy where he gets to leave and doesn't get Lebron-itis, and comes out smelling like a rose.
There is a slight chance that he could stay.  The only way that happens is if he can convince Chris Paul to come to Orlando.  That would be tricky because of the salary commitments that the Magic have for the next couple of years, and beyond.
Howard would have to do a really good job in recruiting, and forcing management to be very creative with a trade that would bring CP3 to the sunshine state.  Of course that would entail Howard coming clean and telling management that if they can't get Paul, or Deron Williams via trade, he will go elsewhere.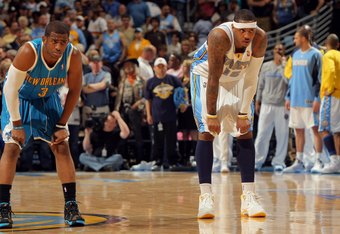 That is not a bad plan if he really wants to shake things up.  His image would take a hit, which he doesn't want to have happen either, but that is the price you pay for the life you live, as Al Pacino said in the Godfather part three.
Short of this happening, look for Dwight to find greener pastures.  If I am Orlando, I look to trade him while I can still get good value, and start all over again.  They cannot afford to let him leave and get nothing in return.
Chris Paul has choices, but if he gets the chance to play with Howard, he has to seriously think about it.  Howard is not going to New Orleans, so CP3 would have to get traded.
Orlando can also try to work a trade with the Nets for Williams as well.  He too, would have to tell his team that we will not sign an extension and wants to be traded to Orlando.  I can't think that Williams would choose being the face of a second rate franchise over playing with the best big man in the game.
These are long shots and would involve all parties coming clean with their organizations with their intentions.  That is why Howard has to get busy recruiting and finding out what these two all world point guards want to do.
If he is serious about staying in Orlando, he has got to force his teams hand.  This is no time to worry about your image as a "good guy" as far as the media and public opinion goes.  That kind of mentality will get you on the all "we never won a ring" team.
Once Howard makes up his mind, and I think he has already, the rest of the dominoes will fall for CP3 and D-Will.  The Knicks covet Paul, and I get the feeling that he wouldn't mind playing with his friends either.  
The question is if Paul has a choice of getting traded to, or signing with, the Knicks or Orlando (assuming Howard will resign) what does he choose?
CP3 would be larger than life in New York, but Orlando has more to trade.  All three teams are hoping that they can resign these guys in 2012, but the odds are against them.
We will see some action with Howard first.  If he goes to the Lakers, or another team as a free agent, that will set the stage for CP3 to sign with the Knicks.  They will have enough cap room unless the new CBA hamstrings them.  In this scenario, Williams will be left in the worst shape because there won't be a team he can sign with where he can play with other all stars.
There is a chance that Howard goes to the Nets.  They have assets to trade, and they need someone like him to convince Williams to stay.
There are teams like Portland and the Clippers that could be good destinations for D-Will.  Cap room would definitely be an issue, especially pending the new CBA, but if it could be worked, Williams would be a good fit with the Clippers or Portland.
With talk of contraction in the air, and the new environment of multiple all stars playing together, you don't want to find yourself locked into a long term contract with a team that can't sign or trade for other all stars.
That is why these three have to be careful what they do, and maybe even communicate with each other because it is in their own best interests.  This may be the last time these guys get to call their own shots.  Stay tuned.