NBA Power Rankings: Ranking the Best Players on the Minnesota Timberwolves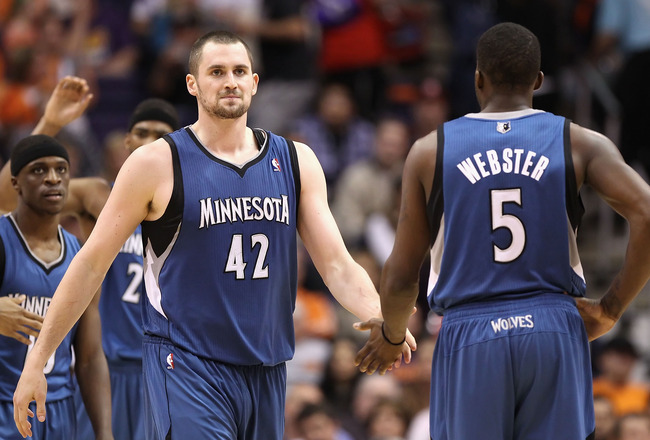 Christian Petersen/Getty Images
Whenever exactly this dreadful lockout concludes, the Minnesota Timberwolves have a lot to do.
The rotation, the vacant coaching spot, and free agency all play a key in what the team should look at once the owners around the association stop their greedy ways.
For now, the team needs work. However, there's also a boatload of potential to be shown in the coming years.
In the following slides, I will rank the team's players if the season were to start right now, and I'll assess what needs work and what needs praise. With that in mind, enjoy!
Unrankables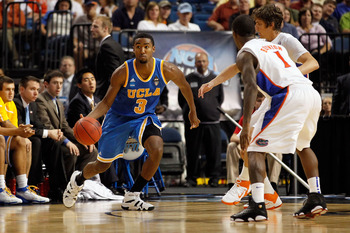 J. Meric/Getty Images
Malcolm Lee, SG
It would be fairly obtuse of me to rank any rookie outside Derrick Williams, wouldn't it? Malcolm Lee, a UCLA product, is no different.
Tanguy Ngombo, SF
See Malcolm Lee's explanation and we'll just move along.
Sebastian Telfair, PG
Since the chances of this guy re-signing with the T'Wolves are slimmer than me graduating from college with a 4.0 grade point average, I think it's fair to put him alongside Ngombo and Lee.
Bottomfeeders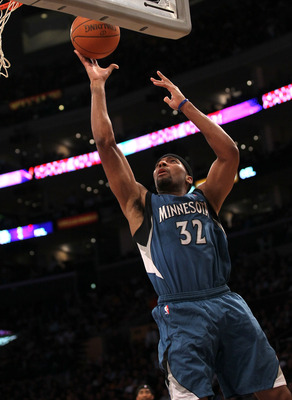 Stephen Dunn/Getty Images
14. Lazar Hayward, SF
Let me say this right now—Lazar Hayward could flourish if put in the right situation.
Are the Minnesota Timberwolves "the perfect situation" for the former Marquette standout? I don't think so. But you never know—we've seen other Golden Eagles (hint, hint, Wesley Matthews) turn around their careers for the better by making a change of scenery.
13. Brad Miller, C
If the Timberwolves had acquired the Brad Miller of seven years ago rather than the present, I'd say our center situation would be fixed.
But alas, Miller is as mediocre as they come nowadays. He still could become a 15-minute guy off the bench if Nikola Pekovic spontaneously combusts, though. I'd set the odds on that happening at 10-to-1.
12. Wayne Ellington, SG
I want to put Wayne Ellington a little higher than this. I really want to.
After all, who would've thought the former Tar Heel would be the 12th man for the worst team record-wise in the association?
Ellington's shot is solid, but that's about all there is to take away positively from his game. He lacks instinct, and could become a better overall player if he works hard during the lockout.
11. Nikola Pekovic, C
Talks over the summer have Anthony Randolph possibly pinned to start at center for the Pups whenever this dreadful lockout ends (you know it's a boring period when I've resorted to ranking players on the NBA's worst team). Nikola Pekovic will most likely be the one to bear the biggest load in that situation.
For now, I'll place him here.
10. Anthony Tolliver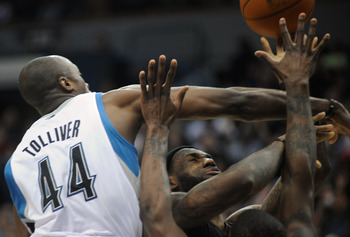 Hannah Foslien/Getty Images
Anthony Tolliver is looked at by most Wolves fans as an afterthought, but I think he's got the potential to be a great clubhouse guy.
He's a hard worker and a good defender, but that's about as far as his game will take him. He averaged 6.7 points and 4.5 rebounds last season, but it's hard to imagine those numbers rising with the lineup the Pups currently have.
At best, he'll be Kevin Love's backup this season.
9. Martell Webster, SF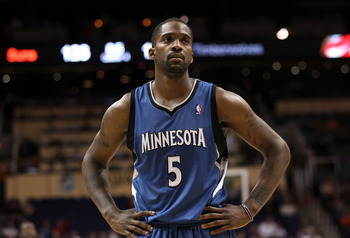 Christian Petersen/Getty Images
I have a friend who is a fan of the Portland Trail Blazers. In order to hide his stupidity, I won't reveal his name. We'll call him "Mike" instead.
Now, back in the summer of 2010, "Mike" was bragging to me about a player on the Blazers roster who was going to explode in the coming season—Martell Webster. He was supposedly a guy who could control the game on both sides of the court, a defensive stalwart who could also shoot lights out. "Mike" said the only reason he wasn't playing with the Blazers had to do with the fact that there was already a plethora of able wings, headlined by the oft-injured Brandon Roy.
Ironically, one week later (or in true Minnesota speak—"wouldn't you know it, eh?"), the Wolves acquired Webster via trade. Prior to the season, I had already penciled him in for a starting position, and stupidly declared that he would be a success with the team.
A season later, I realize how vital of a mistake that was on my part. I'll never listen to "Mike" preach the NBA ever again.
The moral of the story? Don't trust Martell Webster. That's why he earns the title as ninth best member of the Timberwolves' roster. He was the biggest disappointment in recent Wolves history. Saying he wasn't equates to declaring that "Red Dirt Road" wasn't Brooks & Dunn's best single ever.
8. Luke Ridnour, PG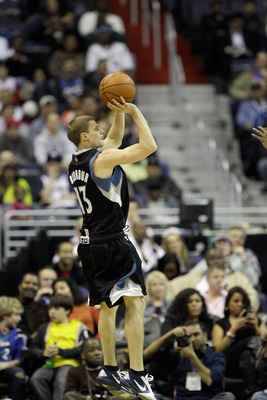 Rob Carr/Getty Images
A little birdie once told me that Luke Ridnour shoots better than 50 percent from the corner beyond the arc. After watching him every game last season, I would have to agree. It's definitely his forte, and his overall percentage from downtown was 44 percent.
Outside shooting aside, Ridnour is mediocre at best in the rest of his abilities, and thus he lands the eighth spot on this list.
If the T'Wolves don't make any other moves, it looks like he might have to play Sean Maguire to Ricky Rubio's Will Hunting.
7. Darko Milicic, C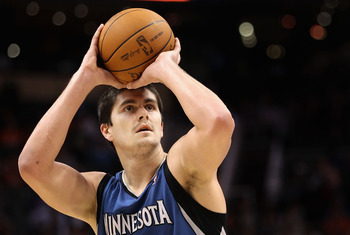 Christian Petersen/Getty Images
Darko Milicic, almost a decade of torment and pain deep, has finally found somewhat of a niche in the T'Wolves' system. Since his career has been full of it, I'm going to spend the following 95 words without mentioning "bust" once.
The role Darko played on the '10-'11 team wasn't exactly one he enjoyed playing. After all, there's a five percent chance he would've picked up two fouls from the time you started this slide show until now.
Milicic primes his game on his defensive prowess, though, so he at least earns a middle of the pack position.
Although he's already started 87 games in almost two years in 'Snowta, Darko might be better suited with a bench role, and it looks like he might be given the spot since Anthony Randolph's potential is finally emerging.
6. Wesley Johnson, SG
Christian Petersen/Getty Images
Statistics aside, Wesley Johnson is the T'Wolves' best perimeter defender.
Whenever the team would take on the Heat or Lakers, he was on Dwyane Wade and Kobe Bryant.
Although he didn't have a spectacular season, Wes is a guy who will get the job done on both ends of the floor. That is, once he reaches his ceiling.
If the team doesn't plan on doing anything during the free agency period, he'll be our starting shooting guard. I'm not sure how I feel about that.
5. Ricky Rubio, PG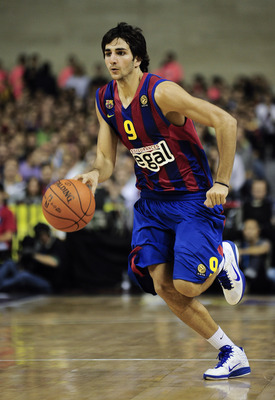 David Ramos/Getty Images
Ricky Rubio's 2011-12 season is going to have a greater supply of critics than the movie Gigli ever did. And trust me, that movie makes Battlefield Earth look like an Oscar-worthy film.
We all know about Rubio's excellent distributing abilities, but what else are we to expect?
Rubio is an average defender, an average shooter, but has quick instincts when it comes to swiping the ball.
And?
That's about all we can say about the 20 year old. I think everyone needs to chill out and let this guy play a year here before any Rubio facts (or, conversely, Rubio jokes) surface.
I'll put him at fifth for now, but he's definitely the one guy on the team where no one is sure where they should place his talents.
4. Derrick Williams, SF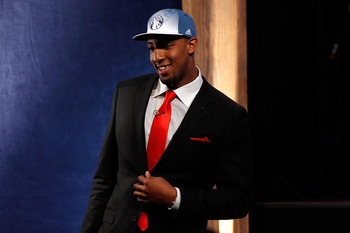 Mike Stobe/Getty Images
Even two-plus months later, Derrick Williams' selection at number two overall for the T'Wolves is still both puzzling and unnecessary.
We could have solved either of our other slot problems (shooting guard and center), but instead we opted to keep both Williams and the incumbent Michael Beasley.
That's not to say anything hurtful to the 20-year-old Williams, who can become a fine ballplayer, but it just doesn't make sense to have two better-than-average small forwards when you have such a lagging need at the five and the two. I'm really excited about this guy, but at what cost? David Kahn's decision making abilities are equal to that of a chipmunk. Let's pick someone off the streets of Minneapolis to become general manager. After all, there's a 95.6 percent chance they'll do a better job than the inept Kahn.
But back to Williams. In two seasons at the collegiate level, this guy stunned me with his amazing athletic abilities, and his knack for putting the ball in the hoop. He shot an incredibly prolific 56 percent beyond the arc last year!
I'm anxious to see where exactly he fits in the rotation (sixth man has seemingly become the popular choice among the junkies). Let's just be grateful that Kahn isn't the coach, otherwise we'd be looking at an all-point guard lineup.
3. Anthony Randolph, C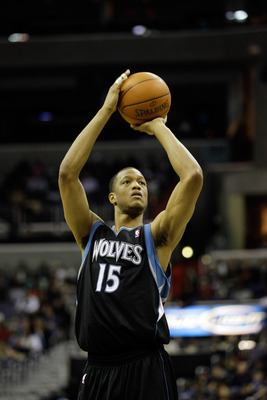 Rob Carr/Getty Images
Whoa, whoa, whoa, wait-- Anthony Randolph over both Derrick Williams and Ricky Rubio?
During the last month of the 2010-11 season, the 6'11" Randolph averaged better than 16 points and seven rebounds per contest. Whether that had to do with All-Star Kevin Love's absence or not, this 22 year old is a phenomenal talent and deserves to be treated as such.
In a dream world, the athletic Randolph would bulk up about 15 pounds and become the first legitimate starting center in Timberwolves history, but unfortunately the chances of that happening are slim.
But who knows? I mean, maybe Randolph has been taking care of himself extraordinarily since the lockout commenced. Whatever the case, he's got the potential to become a starter.
Third isn't a terrible ranking for the LSU product. At least we know what he can do on the hardwood. That's more than we can say about the aforementioned Williams and Rubio.
2. Michael Beasley, SF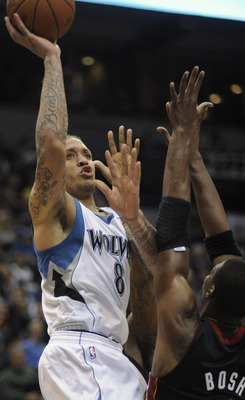 Hannah Foslien/Getty Images
Whether you like him or not (and trust me, I'm just as fed up with his recent decisions as you are), Michael Beasley is the second best player on the Minnesota Timberwolves' roster. It's just a fact.
He's essentially built in a Carmelo Anthony mold, but he ultimately lacks that fire. Still, he's a solid basketball player. We saw that slash move he possesses on numerous occasions. He's a better defensive player than people make him out to be, and he averaged a plus-three rating throughout the 2010-11 season. Absolutely no one would have believed that before the season.
He's got a flurry of offensive moves, and a 19 and five campaign is nothing to be ashamed of, especially in a first in a new environment.
Beasley's main problem? His hands. After all, they're the ones that have screwed up both on the hardwood and off it. If he fixes them in both aspects he could become an All-Star and, more importantly, a respected player around the league.
At 22 and three seasons in, ignorant NBA pundits pin him to be a disappointment and a bust. The reality of it all lies within the fact that Beasley is just a step or two away from becoming a perennial All-Star.
1. Kevin Love, PF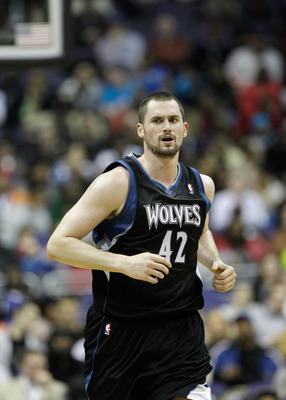 Rob Carr/Getty Images
Was there really even a question as to who would be number one?
I feel like, even though I've waxed poetically over Love's talents on numerous occasions, I can still scold him on the one thing he doesn't do right night after night in his arsenal—defense.
In fact, it's safe to say that Love's subpar efforts on D are uglier than Tim Robbins' completely random cameo in Anchorman.
If Love really worked hard at it, we could scratch the liability and at least call it a wash in that aspect.
I mean, the guy shoots, rebounds and controls the ball tremendously, so why not take that final step?
For the 6'10" big to become a perennial All-Star, he needs to improve his efforts in that department. Otherwise, I'm ready to start calling him elite. Who's with me?
Keep Reading

Minnesota Timberwolves: Like this team?