Chicago Bulls Pushing Derrick Rose Hard; Should They Give Him Time Off?
August 20, 2011
Scrolling through my phone this morning, I came across a picture I took of an ESPN article from earlier in the NBA season. At the time, I had planned on writing an article on it, but decided to wait until the offseason. I forgot about it until now.
The Chicago Bulls' Derrick Rose is a great player, one of the best in the NBA and the hero of our great city. At only 22 years old, he has a long and fruitful career ahead of him that will feature several championships and maybe a couple more MVPs.
But are the Bulls sometimes pushing him too hard? 
Okay, yes. He is only 22 years old. Derrick only plays 37 minutes a game, compared to Luol Deng's 39 minutes a game. No other NBA star was given the of privilege of sitting out one practice a week at such a young age, why should Derrick?
Luol does play more minutes than Derrick, but he does not take the pounding Derrick does. At 6'3", Rose seems like a monster to all of us average-sized people. In the NBA, Derrick is always one of the smallest players on the court.
Normally, that wouldn't be an issue. But Derrick's style of play is the worrisome part. Derrick slashes to the hoop, consistently throwing his body into big men and taking a considerable pounding.
He is fearless.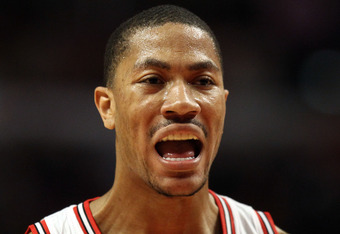 But those constant hits are causing bumps and bruises that take a long time to go away. Those bumps and bruises make his muscles weaker and make a severe injury more likely.
Take his ulcers, for example.
Derrick missed some time due to this serious medical injury. I did a little research on ulcers. First off, ulcers are basically holes in the stomach, which can cause severe problems for elderly patients or someone with a weakened immune system.
Ulcers are also NOT caused by spicy food, unlike the common belief. There are a number of causes of ulcers, but each one applies to someone 50 and older. For someone as young as Derrick to get an ulcer, there is only one cause: Lots and lots of Advil.
Derrick's ulcers were caused by taking Advil until it got to a point that the Advil burned a hole through his stomach. If Derrick is getting so black and blue from pounding that he has to take a large amount of painkillers, just give him a day off from practice every week to rest up so no serious medical issues arise.
As mentioned above, the picture I took was of an ESPN article. In it was a quote from Kyle Korver. When speaking to the media about Derrick, he said, "He plays so many minutes. He plays with injuries you guys don't know about."
Did Derrick have a serious injury that he played through that the media and fans don't know about? It's possible. Clay Matthews III was one of the top players on the Super Bowl champion Green Bay Packers last year; the media certainly did research and dug around about him. Only now did it come out he played the majority of last season on a broken leg.
Could Derrick have had an injury that we as fans did not know about? It's certainly possible.
The Chicago Bears' Brian Urlacher has said the new NFL rules that limit the number of times a team can practice every week will extend careers. A fellow pro athlete would know best; if he says taking one practice off a week can extend an athlete's career by years, it's true. 
I'm not suggesting the Bulls do anything drastic here. Derrick could not, should not and would not change his playing style that won him an MVP award. I'm not suggesting he doesn't take Advil or reveal injuries to the media.
I'm saying, since he gets plenty of bumps and bruises, and other pro athletes in Chicago (Urlacher) are saying one less practice a week will extend careers, the Bulls should give their best player a day off every week.
If missing one practice a week leads to a longer career of fast breaks, crazy dunks, long threes, deep playoff runs and possible championships, who in their right mind wouldn't give Derrick time off to rest?