Philadelphia 76ers Rewind: Ranking the Top 10 Centers in Franchise History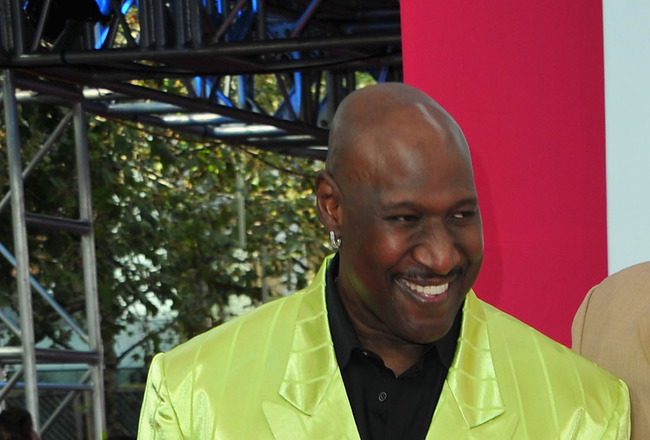 Alberto E. Rodriguez/Getty Images
Did you ever believe in your wildest dreams that you'd be reasoning on the banks of the Delaware River with a guy named Lake? Well, if you're brave enough, you're about to—if not now then maybe in the near future.
He'll be here, often in third person, throughout this upcoming season—regardless of when that may be—to provide you the absolute best entertainment and news coverage available on the world wide web as it relates to the Sixers.
If you don't believe me, then run down the list and check it twice. Just leave Santa Claus out of this...please. Move on. Moving on...Did Manute Bol, Earl Cureton, Derrick Coleman, Spencer Hawes or Nikola Vucevic make my list?
You know how it goes by now. Roll the blessed graphics to find out.
10. Darryl Dawkins: Dr. Lovetron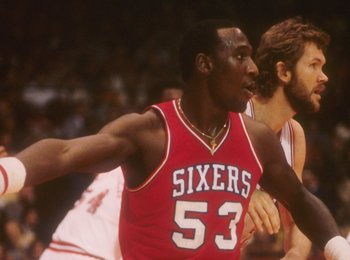 Jonathan Daniel/Getty Images
Did you know Philadelphia, the City of Brotherly Love, was actually part of the planet Lovetron? No? What Moon rock have you been sleeping under? Dawkins knew it a long, long time ago.
He's been making his opponents eat his planetary funksmanship backboard glass longer than 1984 by George Orwell has been inciting conspiracy theories and other controversies.
Oh, well. Dawkins is No. 10 on my list just to promote a bit of controversy. He's actually somewhere around No. 3 or 4—well ahead of the next thumper on this list. Next slide...please.
9. Rick Mahorn: Part of "Thump N' Bump"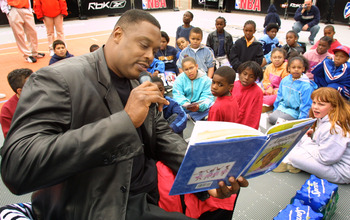 Bill Pugliano/Getty Images
With Charles Barkley, Mahorn formed the famous Philly singing duo named Thump N' Bump. They caused the blood to sing in many opponents ears after smashing them over a rebound.
Listed at 6'10," the forward-center played for Philadelphia during two different runs (1989-91, 1999). Bringing former Sixers back seems to be a recurring theme for Philadelphia's organization. I'm waiting to see how it plays out with A.I.
8. Samuel Dalembert: A.I.'s Teammate and a Team Player in Haiti During Disasters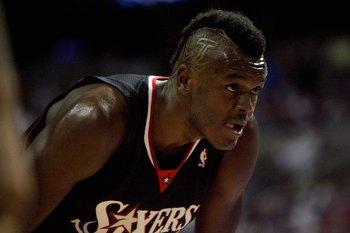 Gregory Shamus/Getty Images
The native Haitian played for the 76ers (2001-10) during a lot of the the A.I. era.
Iverson joined the Sixers in 1996, and with Dalembert's shot-blocking ability, A.I. was able to roam the perimeter and play more aggressively for steals and interceptions.
Dalembert also volunteered his services and money during the Haitian earthquake crisis. Consider donating to his foundation if you have the money.
7. Mike Gminski: "Money" Mike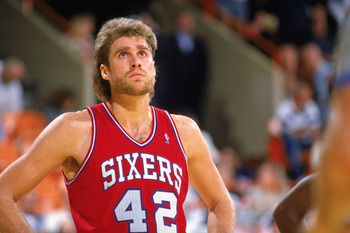 Mike Powell/Getty Images
Starting 47 games for Philadelphia, "Money" Mike Gminski averaged a double-double for the 1987-88 season (16.9 points, 10.5 rebounds). That was the highest rebounding average of his NBA career.
Starting with New Jersey and ending with Milwaukee, Gminski played in the league from 1980-94. Including stints with Toronto and Charlotte, at 6'11," he was an 84 percent free throw shooter for his career—an extremely high percentage for NBA centers.
Where was he when Shaq, and Wilt for that matter (r.i.p.), needed him? Good question, but hindsight is 20/20.
6. Caldwell Jones: He Was Like a Spare Tire on a Cadillac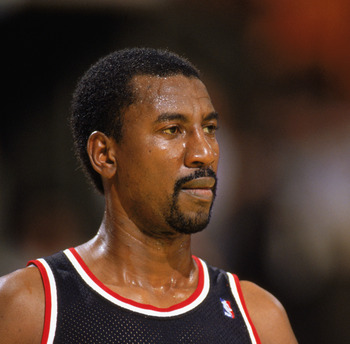 Mike Powell/Getty Images
In hindsight, Jones was a prolific scorer who often played the role of a spare tire on a Cadillac with the 76ers. He probably only scored after Dr. J, George McGinnis, World B. Free, Darryl Dawkins, Mo Cheeks, Bobby Jones, Lionel Hollins and the rest of the explosive Sixers got tired of shooting.
Shoot. If Jones was on another team during those years, he'd have probably won a lot more accolades. I didn't forget about you, though, C.J. I'm going to call you "Cadillac" from now on.
Hop in your GUI Escalades, my dear readers, and roll to the next slide.
5. Theo Ratliff: He Averaged 3.7 Blocks Per Game in 2000-1
Robert Skeoch/Getty Images
Ratliff blocked and slid his way into being a two-time NBA All-Defensive team selection (1999, 2004). Before then, he won a gold medal in the FIBA Under 21 World Championships (1993).
He was drafted No. 18 overall in 1995 by the Pistons, and Philadelphia traded for him during the 1997-98 campaign.
Ratliff made the Eastern Conference All-Star squad as a starter (2001), but he didn't make it to the game because of an injury, but he also injured the pride of a lot of NBA scorers by blocking their shots.
He was a human eraser for the last Sixers team to make it to the NBA Finals. Ratliff was dealt, however, to Atlanta for Dikembe Mutomobo before the playoffs that year.
Theo returned to the 76ers for the 2008-09 season. I love it when teams show former players love. The City of Brotherly does this regularly. Keep up the good works.
4. Dikembe Mutombo: Africa Unite...the City of Brotherly Love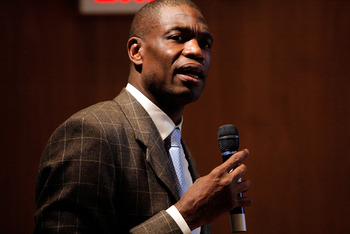 Jemal Countess/Getty Images
I placed Mutombo one spot of the man he replaced in Philly because of Dikembe's good works and love for his fellow man.
Known for financing and building hospitals in his native Africa, Mutombo has one of the most distinctive and imitated voices in NBA history.
I want my readers to now attempt to imitate his voice as you all roll to the next slide, but you first have to master his full name before you can pass go: Dikembe Mutombo Mpolondo Mukamba Jean-Jacques Wamutombo...Got it? Cool. Let's get it...
3. Johnny "Red" Kerr: He Was a Syracuse National and a Philadelphia 76er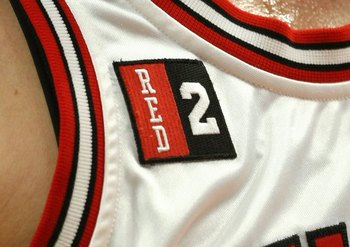 Jonathan Daniel/Getty Images
In 1954-55 along with Dolph Schayes, Kerr helped the Nationals get the NBA Championship—the franchise's first. Syracuse was a rookie and pick No. 6 overall in the 1954 draft.
He stormed into the NBA as a 6'9" center and averaged 10.5 points and almost seven rebounds for the league's champions.
Kerr was a three-time All-Star (1956, 1959 and 1963) in his career and moved with the franchise to Philadelphia in 1963 before being traded to the Baltimore Bullets for Wali Jones in 1965.
A favorite of Michael Jordan's, Red went on to coach for and later analyze Bulls games.
2. Moses Malone: The Children of Israel Would Have Possibly Praised Him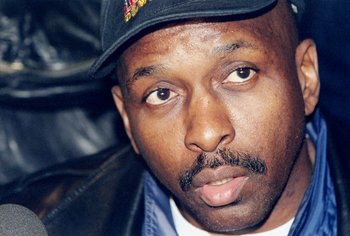 Brian Bahr/Getty Images
Malone often had his opponents seeing red whether it was because they were mad over the reasons they couldn't stop him or due to a bloody nose they got while battling him on the defensive boards.
He parted the Red Sea more than once for Philadelphia on the offensive boards and helped them win the NBA Finals in a vengeance series against the mighty L.A. Lakers in 1983.
If the ancient Israelites had known this Moses, then they probably would've worshiped him as their god instead of the infamous golden calf that made the Bible's Moses and his older brother Aaron see red.
1. Wilt Chamberlain: He Scored 100 in a Game and Had 100 More Scores Afterwards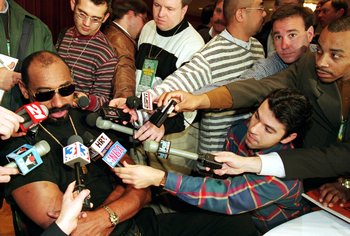 Brian Bahr/Getty Images
The colors red, white and blue were good to Wilt Chamberlain. Those were some of the colors of the rainbow of the over 100 million lady kills he claimed.
I'm exaggerating about the lady kills but probably not by a lot if you ask Wilt. May he rest in peace, and may you all, my beloved readers, find wives and obtain a peace. LOL.
This has been your humble host reasoning and ranking on the banks of the Delaware River. Join me next time and prayerfully all season long on the next edition of Lakes Philadelphia Rewind Report. Peace.
Keep Reading

Philadelphia 76ers: Like this team?