Philadephia 76ers: Should Evan Turner Start over Jrue Holiday at Point Guard?
August 4, 2011
Jonathan Daniel/Getty Images
Is there a conspiracy to move Evan Turner into the starting point guard position for the Philadelphia 76ers after the lockout ends? If so, then who are the principal conspirators?
These are intriguing questions, and I'll need you, my readers, to help decide.
The obvious candidates in this latest NBA conspiracy theory would be Doug Collins, Rod Thorn, Ed Stefanski and Joshua Harris. These men make up the executive, legislative and judicial branches of the new and improving Philadelphia 76ers.
Harris is the leader of the new ownership group.  Stefanski and Thorn are the general manager and team president, respectively, and Collins is the head coach.
They probably wish upcoming executive decisions could be made based on summer performances and mindsets of the players. NBA teams, however, aren't allowed to contact the players in this lockout season.
With the SportingNews report surfacing about Andre Iguodala's future expectations in Philadelphia, it seems he could be with the 76ers for the 2011-12 season after all the trade rumors and speculation.
If he does remain a Sixer, then he'll likely be the starting No. 2 guard. With him opening at shooting guard, it makes me wonder what Evan Turner's role will be.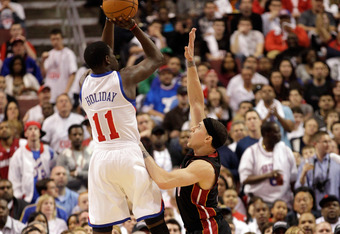 Rob Carr/Getty Images
The NBA sophomore reportedly has been working on his jump shot with Herb Magee, Philadelphia University's coach and the all-time NCAA wins leader. Magee is highly regarded for his shooting guru skills, and he's scheduled to be inducted into the Naismith Memorial Hall of Fame this year.
Seeking help for his ailing jump shot, Turner evidently contacted him in July. They met at Philly U's gym and got to know one another before Magee put Turner through a light workout.
In the following days, the shooting sessions turned serious. According to the philly.com report linked above, Magee thought Turner had almost perfect form: 
"That's not the problem," the guru said. "You have perfect form, perfect rotation."
With his head probably spinning, "I just want to be a complete player," Turner said. "Once I get my long-range shot going, it will open up things I'm good at."  Those things include driving down the lane, shooting mid-range jumpers and orchestrating offenses. 
Evan shouldn't take offense to his critics who are quick to point out how he sometimes struggled at making three-point shots last season. There have been plenty of NBA rookies whose shot needed a lot of work.  Names that come to mind include Kobe Bryant, Tony Parker and defending MVP Derrick Rose.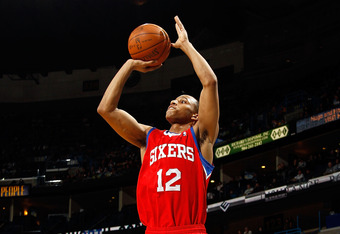 Chris Graythen/Getty Images
Evan could turn out to be like a rose that shot up from the concrete. 
In finding players who fell through the cracks, smart NBA executives know the ability to shoot the ball can be improved with hard work. The skills Turner mentioned above are much more important for a promising player to display in order to be drafted. 
NBA skills evolve and Evan has more than promise. After the 2009-10 NCAA season, he hung up more hardware than Ace. Time will show that his NBA game is the real hammer drill. Philadelphia's legislative and judicial branches realize he has most of the fundamentals down including a premier passing game.
Turner is also the proud owner of an NBA body which he uses for rugged rebounding. You can probably ask your significant other about the NBA body. Despite God given physical talent, Turner is proving to be a hard worker who is willing to get it in—put in the power labor to get better.
Coach Magee believes Turner's shot will improve along with his technique and confidence. "He does very well from 15, 16, 17 feet," the man known as the Shot Doctor said. 
"When he steps out to three, he doesn't have as much confidence. What happens is he reverts to his guide hand turning toward the rim, which is not what we want."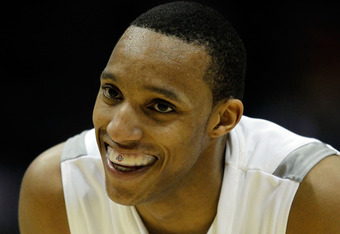 Jonathan Daniel/Getty Images
It could take some time, but Turner has awhile because the NBA lockout is dragging on like a nicotine fiend's toke off a Newport. Neither Turner or I smokes, but if he can get his three-point shot going, then we'll both be on fire.
I'd be correct in forecasting him as a future NBA All-Star point guard, and he'll be a potentially unstoppable force on the perimeter and in the paint. Therefore, Pablo Picasso Evan Turner should be honing his point guard skills.
The lockout will someday end, and he could be called upon to be the No. 1 point guard on the 76ers' depth chart. Should he start over Jrue Holiday? Yes, I would make that move if I was Doug Collins. 
Turner wasn't projected by many analysts to be an NBA point. I believe, though, that he fits today's NBA No. 1 position.   
He'd be the reverse of a finesse point guard—a power point capable of crushing both the diminutive and the new wave 6'3" to 6'5" NBA point guards. This is why there could be a conspiracy in the works by Collins, Thorn, Stefanaksi and Harris to start Turner over Holiday.
If Philadelphia's executives are thinking and planning like me, then they realize Holiday would be one of the best backup point guards in the NBA. Combined with Lou Williams on the speed team when Doug Collins wants to play small ball, those three could make for a very fast basketball unit.
I'm part of a Dream Team here at Bleacher Report. I write fast and furious articles combed with a fine tooth. Thanks for sinking your teeth into this one. Stay tuned for the next episode of Lake's Turner Time.