Oklahoma City Thunder: 5 Best Moments of 2010-11 NBA Playoffs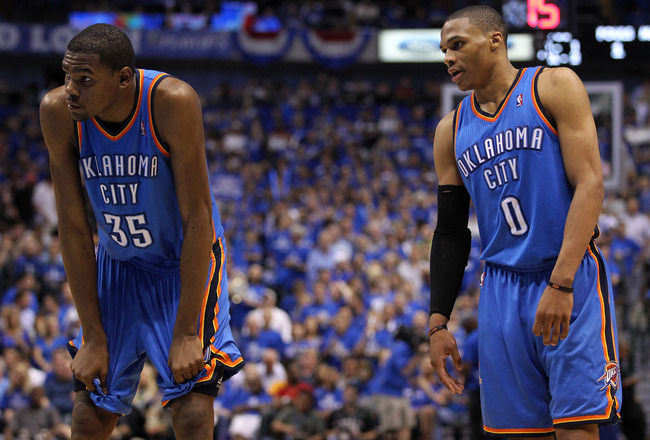 Ronald Martinez/Getty Images
The Oklahoma City Thunder came into the 2010-11 NBA season with high expectations, and didn't disappoint themselves or their fans.
OKC advanced all the way to the Western Conference Finals, where they would ultimately lose to the Dallas Mavericks, the eventual NBA champions.
The Thunder overcame the Denver Nuggets in the first round in five exciting games, then beat the Memphis Grizzlies in a thrilling seven-game battle.
Let's look at the best moments of the OKC Thunder from the 2011 NBA playoffs.
Nicholas Goss is an NBA and Oklahoma City Thunder featured columnist at Bleacher Report, follow him on Twitter for NBA/Thunder news. Follow @NicholasGoss35
5) James Harden Makes Big Shot in Game 2 vs. Dallas
James Harden shows us his dribbling moves, then nails a big shot in crunch time.
Harden is quickly becoming a dependable and important player for the Thunder.
4) Amazing Finger Roll by Kevin Durant
Kevin Durant uses his long arms and silky smooth touch to make a sweet finger roll against the Denver Nuggets in the first round.
3) OKC Wins Crucial Game 4 vs. Memphis in Triple Overtime
Kevin Durant crosses up Shane Battier and finishes Game 4 of the Western Conference Semifinals against the Memphis Grizzlies.
The Thunder won the game after three overtimes.
2) Kevin Durant Puts in a Jordan-Like Performance to Close Series vs Denver
An amazing performance by Kevin Durant in the final two minutes of Game 5 of the first round versus the Denver Nuggets won the series for the Thunder.
Durant scored the Thunder's last nine points.
1) Kevin Durant Dunks in Brendan Haywood's Face
Magic Johnson said this was the greatest playoff dunk of all time, and while he may be wrong, Kevin Durant gave us a highlight for the ages right here.
Big time slam over Mavericks center Brendan Haywood.
Keep Reading

Oklahoma City Thunder: Like this team?