2011 NBA Preview: Can the Chicago Bulls Build on Last Season's Success?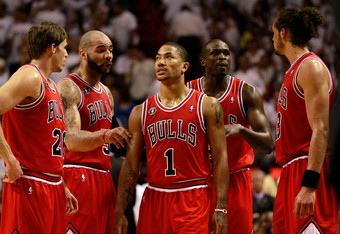 Marc Serota/Getty Images
Coming into last season, the Chicago Bulls had made enough offseason moves to warrant themselves a legitimate contender. The team had brought in Tom Thibodeau, a defensively minded coach, Carlos Boozer, the coveted All-Star forward, and a solid group of role players—not to mention that Derrick Rose had spent all offseason on improving his game, particularly his jump shot. The Bulls were, of course, overshadowed by the Miami Heat and their offseason moves, but it seemed that they had made enough strides to contend for a championship.
Ultimately, the Bulls performed well, finishing with the best record in the NBA at 62-20, clinching home court throughout the playoffs. Tom Thibodeau was named coach of the year, and Derrick Rose was branded the future face of the league as he became the youngest player to ever win the NBA's MVP award.
Eventually, the Bulls fell to a better Miami Heat team in five games, but overall it was a great year considering that the Bulls were a .500 team the previous year under head coach Vinny Del Negro. Many young players such as Rose and Taj Gibson had made significant improvements; while we saw a team come together and compose a magical season.
But will the Bulls be able to build on the previous season's success, or will they falter like other up and coming teams who saw short lived success, most notably the Orlando Magic and the Atlanta Hawks?
The Bulls came into the postseason as the NBA's darling. Led by a young point guard and a rookie head coach, both fans and critics pegged the Bulls as the team to beat. Everyone was hoping to see the Miami Heat's demise at the Bulls' expense, but the Bulls were simply overmatched.
Despite the Bulls' blow-out victory Game 1 of the Eastern Conference finals, they were overmatched and exposed in the next four games. The Heat's stout defense in contrast to the Bulls' lack of offensive rhythm, allowed experts to reconsider the Bulls' status as a contender. Many began to ask how a team with one legitimate offensive threat could contend for an NBA title.
Tom Thibodeau brought grittiness and toughness back to Bulls basketball for the first time since the Jordan era, he instituted a system in which defense was the top priority and offense would be created through defense. Thibodeau's defensive system requires multiple mobile big men—the Bulls roster was tailor-made for Thibodeau's defensive system. The Bulls wound up leading the league in defensive efficiency, and finished second behind only the Boston Celtics in points given up.
Offensively, the Bulls were solid but not elite, ranking 12th in defensive efficiency and 19th in points scored. The Bulls plan was to slow down the pace and manufacture offense through their superb defense. Offensively, Thibodeau was not very creative as Rose served as the only true offensive threat, reminiscent of LeBron James's Cavaliers under Mike Brown.
During the Eastern Conference finals, a typical Bulls possession late in the game started with Derrick Rose being guarded by LeBron James, Rose dribbling around and winding down the shot clock and firing a long-range, low-percentage, closely-contested shot, bound to miss.
The Bulls had other threats in Noah, Boozer and Deng, perhaps Thibodeau could take the initiative and design plays for Rose. But even if he did, Rose was guarded by the game's best perimeter defender who happens to be about six inches taller; needless to say, he stood no chance.
The Bulls need offensive upgrades, especially at the shooting guard position. Shuffling through a series of mediocre talents that included Keith Bogans, Kyle Korver and Ronnie Brewer, the Bulls would be inclined to pursue a scoring shooting guard. Kevin Martin and Monta Ellis are both viable options, but of course the current lockout restricts any player transactions. The Bulls can't contend for a title unless they upgrade their roster at the shooting guard position.
Derrick Rose made enormous leaps last season going from a rising young talent to the NBA's MVP; averaging career highs in points, rebounds, assists, three-point percentage and free throw attempts. However, Rose still has major holes in his game, as he averaged a career low in field goal percentage shooting about 44 percent in contrast to his 48 percent average from his previous two seasons—Rose needs to be shooting closer to 50 percent.
In the beginning of the season, rumor was that Rose added a true three-point shot to his offensive arsenal—he ultimately set a career high in three-point percentage at 32 percent, compared to his 24 percent from his previous two seasons.
In his first two seasons, Rose had attempted about one three-pointer per game, the previous season he attempted about five from behind the arc, converting only 32 percent of the time. The bottom line is Rose needs to become a more efficient player, as of now he stands as a volume scorer similar to Allen Iverson. Rose needs to put up stats more similar to those of Dwyane Wade.
Will the Bulls prove that last season was indeed a building block and not an aberration, or are they the newest version of the LeBron James Cavaliers? Most did not expect the Bulls to have the season they had last season, but next season (if a lockout resolution is reached), much more will be expected of the Bulls. Both roster upgrades and individual improvements are needed, but pressure will be on the Bulls to not only contend, but eventually win an NBA title.
This article is
What is the duplicate article?
Why is this article offensive?
Where is this article plagiarized from?
Why is this article poorly edited?

Chicago Bulls: Like this team?