Brandon Roy vs. Wesley Matthews: Portland Trail Blazers' Backcourt Dilemma
July 29, 2011
Jonathan Ferrey/Getty Images
The Portland Trail Blazers have a logjam in the guard spots.
Even before signing rookies Nolan Smith and Jon Diebler, the Blazers have a messy situation in their backcourt. They have three point guards and three shooting guards, which isn't a problem, per se, especially because some of those guys are D-League eligible, but two of the shooting guards are top 10 players at their position when healthy.
So who starts? Brandon Roy or Wesley Matthews?
Based on my research, most NBA fans currently expect Roy to start the first game. But I am in no way convinced.
Roy became one of the NBA's true superstars, but it was short-lived before he started getting consistently hampered by knee injuries. They caused him to miss almost half of last season, and his playing time was limited when he was around. He claimed they could be career-ending. But once he came back, he had some flashes of brilliance. Some people even thought that he was back and here to stay after his epic heroics in Game 3 of the playoffs against Dallas.
But you can't forget that his athletic ability is still only a fraction of what it used to be. Some people seem to think that the offseason will provide every thing he needs to recover, but I highly doubt that both his menisci will just be magically repaired over the summer. And unless they are, his excellent defense, his ability to get to the rim—it's all cut until his knees heal, which they may never really do.
That said, he's still an excellent player. He's still a threat to score 20 on any given night, if he can play a full game. And by the end of the summer, he might still be a little bit better than Matthews. But Matthews in his own right is a very good perimeter player in this league, and he's bound to keep getting better.
So, say Roy is a little bit better and can play full games (not that I think that will be the case). Who starts?
Well, this is a dilemma. A team usually has its five best players start, unless it struggles with bench depth and having a good player come off the bench fixes a lot of that. Unfortunately for Matthews, there is another very good player on the team named Nicolas Batum, who happens to play the same positions (wings) and happens to specialize on the same things (on-ball defense and threes). Matthews is just more versatile on offense.
So it looks like a sixth-man gig wouldn't work for him.
However, Roy can play anywhere at all on the perimeter, including point guard.
At point guard, the Blazers have Raymond Felton, Patrick Mills and Armon Johnson, who is likely heading to the D-League just because they have too many players. While that is a fine group, it isn't as stacked as the depth chart of the wing positions. Starting Matthews and letting Roy be a sixth man would give them insane versatility.
Now, my guess is that Roy will not be in too much better shape at the start of the year (assuming it's soon) than he is now. If the lockout continues, his knee will have time to heal and that could mean wonders for the Blazers. But even if he is a little bit better than Matthews when the year starts, I still think he should come off the bench. Not only for the reason I talked about in the last paragraph, but I simply don't think they should put too much reliance on his knees.
And at the very least, it would allow him to start off slow and work his way up back to star form.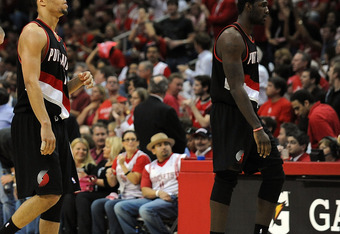 Ronald Martinez/Getty Images
So based on that, this is their current depth chart, with Chris Johnson not under contract:
PG: Raymond Felton, Patty Mills, Armon Johnson
SG: Wesley Matthews, Brandon Roy, Elliot Williams
SF: Gerald Wallace, Nicolas Batum, Luke Babbit
PF: LaMarcus Aldridge
C: Greg Oden, Marcus Camby
That's one really deep roster. A few quick trades could balance out the bench. But then there's one more complication: Nolan Smith and John Diebler are still waiting to be signed. And the sad thing about it is that they are both guards.
So now what? This is turning into an extremely unbalanced depth chart. First of all, they have way too many first or second-year players with very little value on this team, and they can't all go to the D-League. I expect Johnson and Babbit to, but that still leaves them with seven guards when they sign their rookies, no backup power forward and two of the least physically reliable centers in the league. Also, there is too much talented being wasted on the bench.  
At this point, a trade is imminent. They don't have the cap space or the roster to do much during free agency. One can only assume that management is looking to pull something off when the lockout ends. But exactly what do they have in mind?
Should they couple together a pair of excellent role players and some inexperienced players and go for a big name? Do they simply throw a few young wings out and pull in equal value to back up their frontcourt? Do they just assume that both Camby and Oden can stay healthy for the last year on each of their contracts? And will they put it all together and compete for a title?
Well, I'd like to say, "We'll find out soon enough," but it might be a while.