NBA Trade Rumors: 3 Reasons the Monta Ellis Saga Must Finally End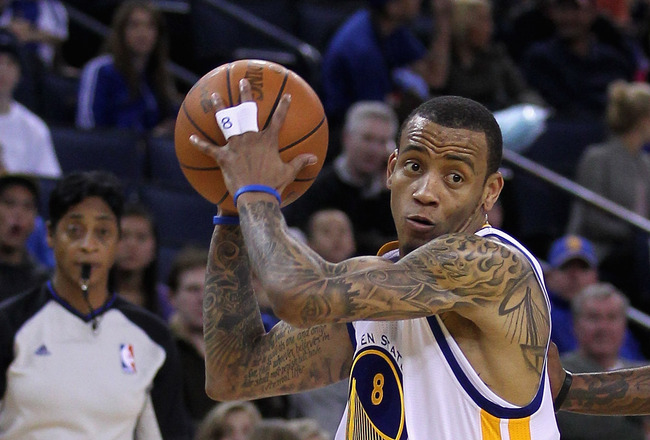 Ezra Shaw/Getty Images
The Monta Ellis trade story is one we have seen so many times in the past: a talented player tired of his situation taking it upon himself to demand that the team either do something to make him feel better or let him walk. Monta Ellis wants the Golden State Warriors to seriously upgrade the roster, or put him on the trading block. This of course started when they drafted a possible replacement for him in Washington State guard Klay Thompson.
Surprised?
This is precisely one of the problems that is holding up the labor deal in the NBA. It is ludicrous that a player should be able to hold that much sway over an organization.
Ellis wants out, but he is nothing new among the plethora of NBA stars who think they can whine and cry to get what they want. Worst of all, the work stoppage prevents the Golden State Warriors from doing anything about it until things are finalized on the labor front.
Here are just a few of the reasons why the Monta Ellis trade story must end one way or another.
3. It Is Win-Win for the Warriors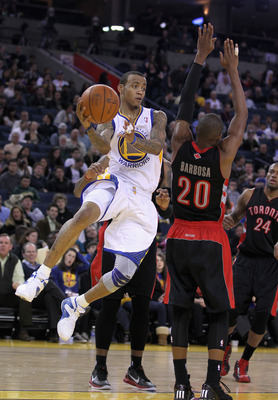 Ezra Shaw/Getty Images
Monta Ellis is an excellent player, there is no doubt about that. The Golden State Warriors' star player averaged 24.1 points per game in 2010-2011, can capably run the pick-and-roll and has statistically shown clutch play in big moments.
If he really does not want to remain with the Warriors, they will surely get a few very reasonable offers for him via trade. Any deal they would get, when coupled with free agency, would surely boost the Warriors' chances at a playoff run in the near future, so they don't stand to lose much from trading him. He is very good, but not irreplaceable like a Dwyane Wade or a Kevin Durant.
According to Ellis, the only way he would be willing to stay is if the Warriors improve the roster to the point where they are playoff contenders anyway.
Additionally, it has been speculated that Klay Thompson is a better fit with Stephen Curry anyway based on their size and playing styles, so why not go ahead and upgrade the roster anyway?
The way I see it, they either get a good package to get rid of Ellis, or they form a great squad via free agency to keep him. No matter what happens, the Golden State Warriors would win, so why even bother to drag it out?
2. There Is Enough Bad History for Ellis on the Warriors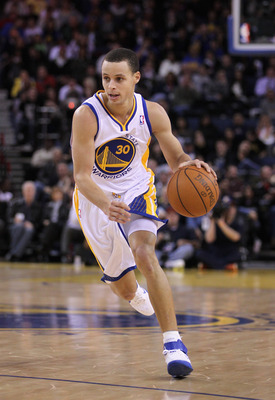 Ezra Shaw/Getty Images
Two years ago, after Stephen Curry was drafted, it was widely reported that Monta Ellis' unhappiness with his situation led to strained relations between him and Curry, and it took a year to get things settled down.
That kind of thing quiets down in the media, and maybe even the locker room, but it never truly goes away completely. Just ask Kobe and Shaq.
Ellis has enough strain on his relationship with the Warriors as it is, so if he is asking for a trade, has bad blood with a teammate and they have drafted a viable replacement, why even bother with him anymore? Send him packing and make everyone happy.
1. The NBAPA Does Not Need This During a Lockout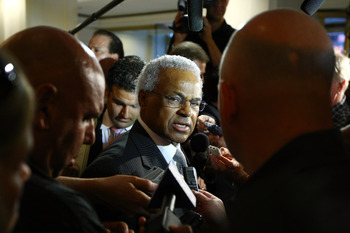 Neilson Barnard/Getty Images
One of the biggest issues in the NBA labor dispute is the fact that the players have the ability to hold teams hostage based on their whims.
Carmelo Anthony held the New York Knicks, Denver Nuggets and New Jersey Nets hostage for months while he demanded a trade. Granted, he was slated to be a free agent, but the principle is the same.
The players have enough bad press in this lockout scenario as being overpaid, greedy and whiny. The last thing the NBAPA needs is a player spending time during the lockout complaining about how he wants a trade. Every mention of Ellis wanting off the Golden State Warriors just strengthens the negative perception of the NBA players in the public eye.
For the good of himself and his fellow players, the whole Monta Ellis trade scenario needs to be pushed aside until there is at the very least some headway in the new collective bargaining agreement.
It isn't like he can be traded until there is one anyway.
Keep Reading

Golden State Warriors: Like this team?