Portland Trail Blazers: 7 Reasons Why the Blazers Will Win 50 or More Games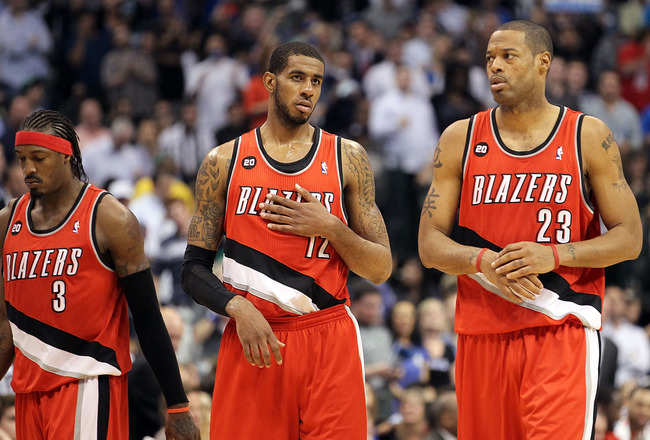 Ronald Martinez/Getty Images
The Portland Trail Blazers fell just short of the 50-win mark last season with their 48-34 record, but with the improvements they've made to their team, they are bound to crack it next time around.
They've added some key pieces to their team in Raymond Felton, Nolan Smith, and Jon Diebler, and with a finally healthy team, the Blazers could make a scary run through the Western Conference.
Nolan Smith and Jon Diebler Fill in Two Needed Roles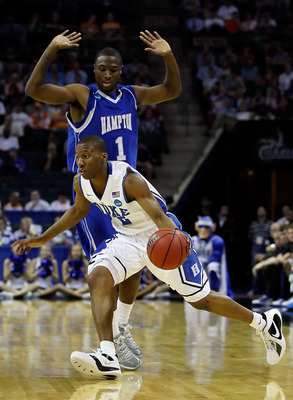 Kevin C. Cox/Getty Images
Last season, Patty Mills showed that he wasn't quite ready to play point guard for the Blazers. He has a solid stroke from mid-range and from behind the three-point line, but when it came to leading a team, Mills' wasn't there yet.
Portland did a great job going out and grabbing Nolan Smith as a solid backup for Raymond Felton for next season. The 6'2 guard out of Duke averaged 20.6 points, 5.1 assists, and 4.5 rebounds in his senior year. Once he gets comfortable in Portland and knowledgeable about the Blazers' offense, Smith should be yet another effective scoring punch off the bench.
As for Jon Diebler, he will replace Rudy Fernandez, the most inconsistent shooter for the Blazers last season. Diebler was fourth in the NCAA in three-point percentage, shooting a whopping 50.2 percent from deep. That will be his main role in Portland, and so long as he can keep knocking down threes, he'll find minutes thrown his way next season.
Wesley Matthews and Nicolas Batum Both Will Average 15 or More Points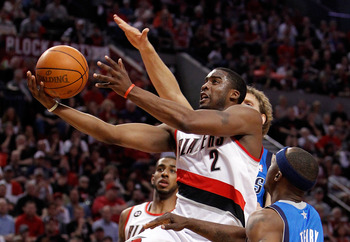 Jonathan Ferrey/Getty Images
Wesley Matthews was a godsend for Rip City last season. Not only did he fill in for Brandon Roy when he went out for his surgery, but he did it well, providing 15.9 points per game. But where he especially helped Portland was from deep, where he shot a team-high 40.9 percent. Couple that with his explosive finishing ability, and we've got a dynamic scorer in the making.
As for Nicolas Batum, his athletic ability and streaky shooting from deep earned him some minutes, but he retained his sixth man role because of his lock-down defense on the other side of the ball. Batum averaged 12.4 points and 4.5 rebounds per game, but his ability to effectively guard and shut down both guards and forwards proved to be his strong suit. He shot 34.5 percent from deep, but we'll need him to pick that up just a bit for next season.
The NBA Lockout Gives Brandon Roy More Time to Rehabilitate
Ronald Martinez/Getty Images
Brandon Roy showed that he had a few drops left in the tank when he led a spirited comeback against the Mavericks in the first round of the Playoffs. However, he's also shown that he wasn't fully recovered from his injuries, and it's starting to appear possible that he may never recover completely.
According to Rotoworld.com, "Brandon Roy said that he is 'doing great' this summer—he is lifting weights, playing light basketball games, and has no soreness in his knees."
If B-Roy can return to half of what he used to be, which was a dominant scorer with an incredible mid-range game, he could help Portland make a push for the finals and, possibly, regain his starting role. He'll use his time off during the NBA lockout to continue his rehab, and hopefully he'll surprise a few people when he returns.
Gerald Wallace Will Continue to Make an Impact on Both Sides of the Floor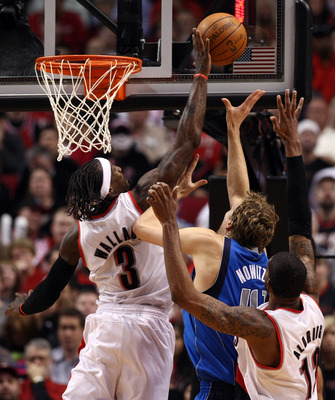 Jonathan Ferrey/Getty Images
There's no word that can adequately describe how important Gerald "Crash" Wallace has been and will be to the success of the Portland Trail Blazers.
After being traded at the deadline from the Charlotte Bobcats, Wallace continued to stuff the stat sheets. Crash averaged 15.8 points, 7.6 rebounds, 2.5 assists, and two steals per game in a Portland jersey, putting his energy fully on display on both sides of the court. One of the best defenders in the NBA, Wallace found himself guarding several star players, including Dirk Nowitzki, during the playoffs.
It will be scary to see him play a full season in Portland, and he can have a major impact on the team going forward.
A Healthy Greg Oden Makes a Healthy Defense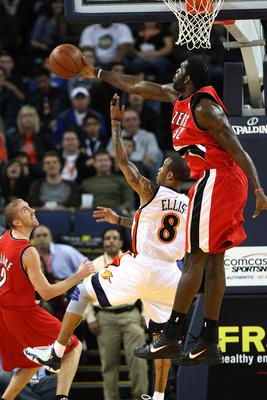 Jed Jacobsohn/Getty Images
I know.
You think I'm another delusional Blazers fan who thinks that Greg Oden will be able to stay healthy for more than thirty games and actually make an impact on the game.
Well, guess what? You're spot on.
I have bought into the Greg Oden success story. Why, you might ask?
When Oden is actually healthy, which has only been for 82 out of 328 games during his career, (sad but true) he's a very productive player, especially on the defensive end. He averaged 2.3 blocks and four hard fouls per game in the 2009-2010 season. I can't lie and say he doesn't foul too much, because he does, but fouling a slasher hard enough will make them think twice about penetrating the lane when Oden's on the court.
Another thing he does which doesn't show up on the stat sheets is change shots. Whenever he doesn't get called for a foul, which isn't very often, he makes it nearly impossible for the opposition to get off a clean shot. Oden would provide a breather for the veteran Marcus Camby, who also thrives on the defensive end, and would add his rebounding ability—he averaged 8.4 rebound per game that season as well—to the team.
If Greg Oden can finally stay healthy (which is a big if, but one that I'm pulling for) the Blazers interior would be solid as a rock.
Raymond Felton Adds Three Point Shooting to the Starting Lineup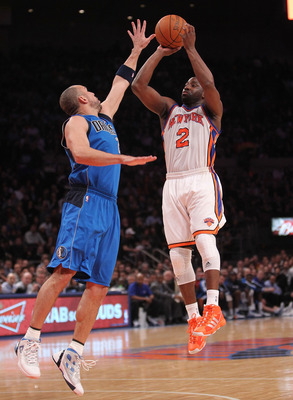 Nick Laham/Getty Images
In the "shoot-first, defend never" system of Coach Mike D'Antoni, Raymond Felton found himself jacking up shots he would never take in a fully organized offense. Such freedom hurt his three-point percentages, but when he arrived in Denver after the big Carmelo Anthony trade, Felton's numbers from behind the arc skyrocketed to 45.9 percent.
He's a very up-tempo point guard, so I'm very anxious to see how he will fit in with the slow Portland Trail Blazer offense, but Felton is great at penetrating the lane, where he normally makes great decisions.
Aside from adding range, Felton is also a great defender who uses his size to contain the ball carrier. As we saw last season, Andre Miller had a very troublesome time guarding quicker guards like Derrick Rose and Russell Westbrook. Though Felton's got a 6'1, 205-pound frame, he's very quick for someone his size.
LaMarcus Aldridge Is Geared Towards Another All Star Caliber Season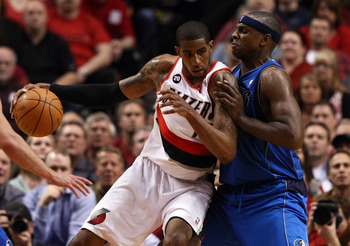 Jonathan Ferrey/Getty Images
As humble as LaMarcus Aldridge wants to be, the Portland Trail Blazers are now his team, not Brandon Roy's. After the Brandon Roy experiment in the first round of the Playoffs against the Dallas Mavericks, if we learned one thing, it's that an injured B-Roy is as consistent as winning lottery numbers.
In the months of December and January, while Roy, Marcus Camby, and Greg Oden were injured last season, Aldridge's numbers were up at a sensational 26.4 points and 9.9 rebounds. L.A. literally carried the Blazers on his back to keep them afloat in the tough Western Conference.
Aldridge proved that the offense can and should be run through him, and I believe that Coach Nate McMillan will begin doing so next season.
Adding the Final Piece to the Puzzle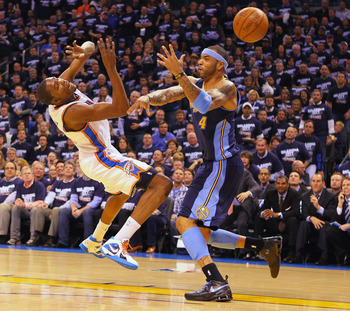 Dilip Vishwanat/Getty Images
While the Blazers are solid at most of their positions, they still need to find a Power Forward to give LaMarcus Aldridge a breather throughout the season. Aldridge averaged 39.6 minutes per game (third highest in the NBA) and it wore on him towards the end of the season.
Bringing in a defensive-minded, high-energy Power Forward like Kenyon Martin would allow for L.A. to take a rest without worrying about his team's productivity. Sure, K-Mart might not be the greatest at scoring, but he plays rather well within an offense and doesn't ask for that many touches in the first place. He's an energy player who grabs boards and plays defense, which is exactly what the Portland Trail Blazers need to make a championship run.
Keep Reading

Portland Trail Blazers: Like this team?