New York Knicks: Who Should They Target Now That Lawrence Frank is Off Market?
July 25, 2011
During his 14-year career, this journeyman looked more like a displaced actor from the set of Revenge of the Nerds than an NBA player. With his signature prescription goggles, Kurt Rambis' bookworm facade did not remotely resemble his game.
A fearless competitor who wouldn't back down from anyone, Rambis relished the moments when he could dive out of bounds to save a loose ball or body up and defend a bigger, stronger opponent.
He was the type of teammate every winning organization covets, and his labors contributed to four world championships with the Los Angeles Lakers during the 1980s.
Rambis was exactly the style of player that the New York Knicks currently are missing.
Returning to his Laker roots in 1999 to take a position behind the scenes, Rambis' basketball IQ eventually led him back to the court—this time as an assistant to Phil Jackson.
Coupling Jackson's patented triangle offense with Rambis' defensive expertise, the Lakers appeared in four finals last decade under their watch, winning half of them.
Feeling he had proven himself as an assistant, the Minnesota Timberwolves hired Rambis during the summer of 2009 to replace his arch-nemesis, Kevin McHale, as head coach.
Rambis led the Timberwolves to a combined 32 wins over two seasons. This lack of progress forced management to cut him loose two weeks ago, concluding the highly scrutinized, prolonged deliberation of Minnesota president of basketball operations David Kahn.
Now that the Detroit Pistons are in contract negotiations to employ Lawrence Frank as head coach, the Knicks will likely have to search elsewhere for a defensive guru to complement Mike D'Antoni's offensive approach.
While he may not have enjoyed much success leading a club, Rambis clearly demonstrated his competency as the defensive mastermind during the 2009 championship run with L.A. With Rambis' guidance, the Lakers finished the 2008-09 regular season ranked fifth in defensive efficiency, permitting just 101.9 points per contest.
Compare that with the Knicks, who were the league's 10th-worst defensive team this past season at 106.9 points allowed, and it becomes obvious why the addition of Rambis could be advantageous.
Reflecting back on the standout New York players of the '90s, there was a brashness and toughness about them that does not manifest itself in the makeup of the current team.
As a player, Rambis exhibited the kind of traits prevalent among Knicks teams of that era that literally bullied opponents along the road to victory. Not only physically imposing, they also were fundamentally sound on defense.
Hopefully, these qualities will rub off on the present lineup if Rambis is brought into the fold.
Rambis is well-known for his willingness to work with younger players on improving their game. If given the opportunity, he could help infuse some of these characteristics found in former defensive-minded Knicks such as Charles Oakley and Anthony Mason that made them so successful.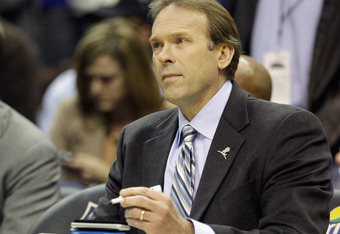 Rob Carr/Getty Images
When Rambis departed from the Lakers and accepted the Minnesota job, a coaching legend paid homage to him in a written statement.
"Kurt has been the workhorse of my staff the past few years. He's worked with the youth of our team, coming in early and staying late, to help players develop. Last season, he took on the responsibility of the defensive coordinator, a valuable part of our championship run," Phil Jackson said two years ago.
High praise from one of the most dedicated coaches in the business.
This day in age, rookies enter the league more independent than ever and are quick to form their own agendas.
When it appears D'Antoni's philosophies are falling upon deaf ears, having another authoritative figure around like Rambis—someone that is able to forge relationships with the next generation—will help keep these players grounded and open to constructive criticism.
If the lockout ends, the chance for draftees Iman Shumpert and Josh Harrellson to put in overtime in the gym practicing with Rambis could pay huge dividends.
The Knicks must break the cycle of poor defense; by instilling a new attitude and technique before players are set in their ways, the team will make significant strides towards this goal.
They may not readily admit it, but players have a greater respect for coaches who once walked in their shoes. In other words, a coach of Rambis' caliber who was a major factor on numerous NBA championship rosters is more likely to get through to his players than one who never played professionally at all.
This is important when dealing with superstar talent at the level of Carmelo Anthony and Amar'e Stoudemire. If a coach is able to influence them to step up on defense, it will be easy to convince the rest of the team to follow suit.
Rambis has the goods to trigger this trickle-down effect.
Hindsight is 20/20, but had Rambis stayed in L.A. a couple more years, Mike Brown probably wouldn't have been hired this past May. As Phil Jackson's right-hand man, Rambis was the heir apparent to take over arguably the most storied franchise in NBA history.
Instead, Rambis embarrassed himself with the Timberwolves, compiling the league's worst record. Ultimately, he was fired with two years remaining on his contract.
No organization will be willing to risk millions to hire an unproven head coach on the heels of such a dreadful tenure. However, if he's interested in rebuilding his image with the intention of adding a future head coaching position to his resume, Rambis will readily accept an offer to be the defensive specialist for an up-and-coming team like New York.
He may no longer display the fashion sense that made him a fan favorite with the "Showtime" Lakers, but Rambis still possesses the ideologies that made him one of the most well-rounded role players of all time.
And for that, the Knicks should extend a hand to the man they once waived after selecting him 58th overall in the 1980 NBA Draft and finally give him the second chance he deserves.