L.A. Lakers: A Lesson in Mismanagement—How Not To Treat Your Employees
July 24, 2011
Kevork Djansezian/Getty Images
The Lakers have been faced with many tough decisions this offseason regarding the future of their organization.
The decisions, such as the hiring of new L.A. Lakers head coach Mike Brown, have been debated, discussed, studied and analyzed every which way as the basketball world looks for answers during an offseason without any on-the-court action.
And no doubt these decisions were made by Lakers management in the best interest of the organization, be they basketball, financial, operational, long-term or strategic reasons.  After all, that is the job of management.
So, I certainly am not challenging the substance behind these decisions.
But it has become evident—from recent interviews with former employees—that Lakers management has completely mishandled the execution of their personnel and employee decisions in a way that casts a rather cold and callous light on the new Lakers management regime under Jim Buss. 
A regime whose treatment of loyal employees should be considered shameful and unforgivable.
We begin with an interview Brian Shaw had with 710 ESPN Radio a few weeks back.  The long time Lakers assistant coach, who had been publicly endorsed by Lakers stars Kobe Bryant and Derek Fisher to be the next Lakers head coach, was given an interview for the head coaching position. The Lakers instead chose Mike Brown.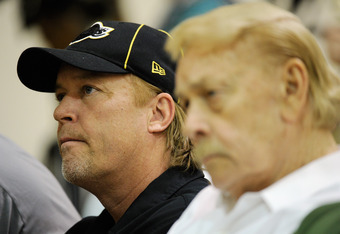 Kevork Djansezian/Getty Images
Said Shaw, of the coaching decision:
"I wasn't really told anything. Unfortunately, I found out about not getting the job and who was hired for the job on ESPN. I didn't really talk to anyone for about three weeks after that."
Shaw, a former Laker player and coach and a devoted steward to the Lakers franchise for 12 successful years, was left out in the cold.  
Sure, he wasn't considered—in the view of Lakers management—as the best replacement for Phil Jackson as the next head coach. And that decision is not being debated.
But for the organization to give the silent treatment for nearly a month to a long-time employee and primary job candidate and let him learn about their decision on SportsCenter without any communication, information or consideration for his loyal employment?
Completely disrespectful.  
Any devoted employee who has contributed to your organization's past success deserves better. Much better.
Lakers management has also made key decisions involving Lakers support staff this offseason, choosing not to renew the contracts of approximately 20 Laker employees that worked in coaching, training, scouting and even management positions.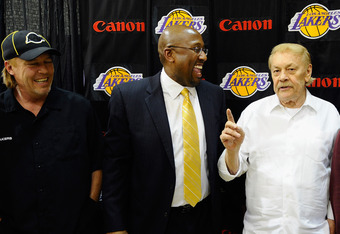 Kevork Djansezian/Getty Images
Again, the substance of these decisions is not being debated. It appears these were purely economic decisions. The services of such employees are not needed during the NBA lockout and thus were not retained.
But as former assistant general manager Ronnie Lester, one of the 20 Laker employees who was let go, noted during an interview with the Los Angeles Times this week, there was no communication from the Lakers during this tumultuous time.
Said Lester:
"They've done a great job for us, and it's just sad that the organization is letting people go without communicating with these people during the course of the [lockout] situation. It affects people's lives. Not only those scouts, but they have families too and it affects their lives. That's what is so depressing about it, so sad about it."
To completely disregard the well-being of staff members and their families, many of whom have been with the organization for 10-plus years, is downright deplorable. This is not how you run a business.
Jim Buss, the now lead decision maker in Lakers management, has never been known for great communication skills. He is often cast under the cloak of darkness—a strictly behind-the-scenes decision maker. When Jim Buss is not forthcoming or accommodating with his own decisions, we are forced to chalk it up to "business as usual."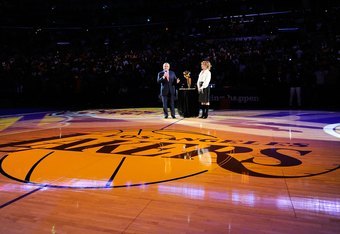 Kevork Djansezian/Getty Images
But his staff—not Jim Buss—should have been the ones to communicate with long-time Laker employees during this period of transition. Instead, these decisions were simply left to play themselves out.
Knowing Jim Buss' aloofness and personal detachment from the execution and implementation of his own decisions, should his staff have gone out of their way to show consideration and compassion for long-time employees that served their organization so well?
We'll never know the details of how a decision is ultimately handled within the Lakers organization. As outsiders, we can only comment on what we see, which is a clear mismanagement of people.
This is a bottom-line business. It's all about winning on the court and in the financial books. Understood.  
But failing to realize that your success comes from your own people, players and staff included, is a slippery slope—icy even—that can eventually lead a successful empire into the mires of misfortune.  
Heed warning, dear Jim. People come first.