Dwight Howard Is More Than the League's Best Center; He's Its Best Player
July 21, 2011
Kevin C. Cox/Getty Images
Dwight Howard has been in the spotlight a lot recently, with many people thinking he may be making a change of scenery either this season or next when his contract is up. People believe the biggest mistake the Orlando Magic ever made was to let Shaq walk; I guarantee it will cripple the franchise if they lose Howard.
Howard isn't just one of the greatest centers to play the game or just an electrifying smile. He is everything you want in a player.
Not only does he excel on the court, but he is a star off of it. There are many players that bring their A-game when the ball tips...but how many of those are as involved as Howard in positive ways in the community?
Teams seem to overlook these things at times. Every team across all sports thinks it gives fans a great opportunity to interact with stars, but we all know the truth is in the dollar. If you can afford $1,750 for a seat, you can get anything you want...but if you scraped your cash together to afford that $20 seat, you have little chance of even getting past the lower bowl usher to get a closer glimpse.
Teams say they're active in the community and provide chances for fans to meet the team on consistent occasions. But who wants to meet two cheerleaders and backup center Daniel Orton, who can barely form a complete sentence let alone anyone know who he is. People want the stars. People want interaction. People want Dwight. People want players just like Howard and losing him will lose you the city.
There is a reason he graces the cover of ESPN The Magazine's fan cover, hugging a Zack Galifinakis-esque bearded guy—he is a fan's dream player. He performs on the court admirably. He is one of the league's best players.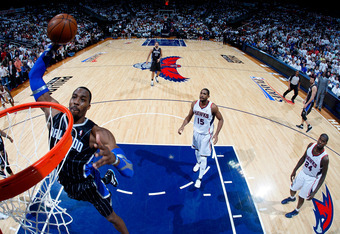 Kevin C. Cox/Getty Images
Ever.
And he uses his Twitter and Facebook accounts, not to sling racial slurs, talk about his guns or make questionable comments, and not to bash his teammates or take shots at David Stern. He holds scavenger hunts around Orlando. He tells people where he actually is. He has fun, remember that word? He makes himself as available as he can be for the city of Orlando, and he isn't JJ Redick. He is the star of the show.
Many celebrity Twitter accounts are used to apologize for stupid actions. We're in an age where James Harrison throws nearly his entire team and league under the bus, and gets hourly play for his brash comments. Insulting others and being a bad teammate, these are the things we are used to, and we need more players like Howard to bring us back to the good side.
I see the way Howard acts in the community, and how he tells ushers to move so he can shake hands after games. I see him being told by three corporate suits NOT to throw his shoe or jersey into the stands after a victory, and he does it anyways. His smile is contagious, but most importantly, he is tenacious on the court. If Howard would stop complaining after calls, he would be the perfect player. You couldn't find another knock on him. (It does go to say that you would be pretty upset if you got fouled that often without getting calls as well.)
In my mind, as long as Otis Smith pulls his head out of his...sandbox, and makes a concerted effort to build a championship-caliber team around Howard, he will stay. If Smith falters, then another team in the league won't just be getting the best center in the world; they will be getting a class act that makes fans fill the seats, as well as finally makes them feel like they matter off the court. Oh, Dwight, if more players, celebrities, people in general were a stand-up guy as you are.