NBA: 10 Worst Feelings You Can Have in a Game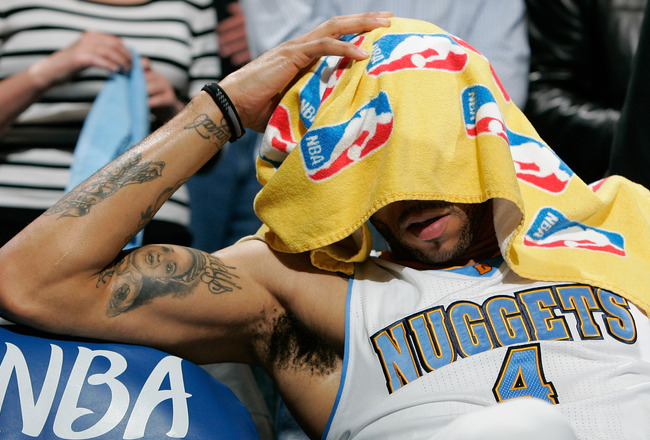 Justin Edmonds/Getty Images
NBA players can stare into space, look at the floor, or hide beneath a sweat towel but they will never hide from their mistakes or the embarrassments they experience on the hardwood.
These are the moments that make the opposing fans laugh, hometown fans shake their heads, and coaches go nuts.
These are moments when the men on the court are taken over by the worst possible feelings the game of basketball has to offer.
If I've missed any, feel free to comment your own ideas and thoughts.
10. Missing the Jump Ball
It's not really a turnover, so it's not too terrible, but mistiming the jump ball makes a player out to be a fool.
Best Case Scenario: Your team gets the ball first and everyone forgets what you did. There is not even any video evidence to make its way to YouTube.
Worst Case Scenario: The other team winds up with the opening possession and scores easily.
9. Airballing a Free Throw
You can tell Rajon Rondo isn't happy about what he did by what he shouts in the video. At least it wasn't a crucial foul shot at the end of a game, because those misses really hurt.
Airballing from the charity stripe is embarrassing, but it can happen to anyone. Even the "King" has done it. But if it happens twice, it is just plain shameful.
Come on, man, at least find a little iron. It's called a free throw for a reason.
Best Case Scenario: Your team is up by 30 in Game 7 of the NBA Finals and you underhanded it.
Worst Case Scenario: You need the free throw to force OT in a must-win game.
8. Airballing a Dunk
Anytime a player misses a dunk it is pretty pathetic, but airballing a dunk is impossible to put out of your mind as you get back on defense.
Isn't the whole point of dunking the fact that it is a simple way to put the ball through the rim without even having to take a shot?
Best Case Scenario: Your teammate gathers your miss and sends it home.
Worst Case Scenario: The opponent grabs your miss and take it for his own coast-to-coast slam.
7. Getting Your Ankles Broken
Crack! There goes your ankles as you fall helplessly to your butt and your man blows right past you to the rim.
Your opponent gets an easy two and makes you look like a fool in the process.
Best Case Scenario: You're guarding MJ, LeBron or Kobe. Nobody laughs because they know they couldn't do much better. At least Kobe sells insurance.
Worst Case Scenario: It was a simple crossover that made you trip over your feet and your man scored the game-winning bucket.
6. Getting Blocked
When it comes to being rejected, nothing feels worse than a bigger man just grabbing the ball out of your hands.
Having your shot attempt swatted into the third row like Mo Williams certainly doesn't make a player feel all warm and fuzzy inside.
Blocking a shot with authority is the second-best way assert your dominance over an other player in the NBA.
Best Case Scenario: Yao Ming barely gets a finger on your lay up, but your center cleans up the boards.
Worst Case Scenario: Your attempted game-winning shot is sent into the stands, thanks to the shortest man on the court.
5. Getting Dunked On
Getting dunked on or being "posterized" humbles the victim and makes them feel highly inferior to the man who slammed it down on them like they weren't even there.
Players with a backbone will drive down the court and return the favor, but the weak just stand there and take it.
Dunking on someone is a form of showing your dominance over them and leaves the defender in shame.
Best Case Scenario: Vince Carter dunked over you while kissing the rim, but no worries, he was called for a charge.
Worst Case Scenario: J.J. Redick slammed it down your throat and you are called for a block as you crumple to the floor.
4. Shooting in Your Own Hoop
The look on Rasheed Wallace's face says it all.
If you accidentally shoot towards your own hoop, you had better miss. I know from experience on this one.
I had just come into the game and the opposing team was at the line. The player missed and then I put back the rebound with pride. It wasn't long until I had realized my mistake. Fortunately, we ended up winning by one or it would've felt much worse.
Best Case Scenario: Your team has doubled the other teams score. Deciding to rub it in their face, you throw up a shot from half court and score three points for your opponent.
Worst Case Scenario: You accidentally tip in the game-winning basket... for the other team.
3. An Inexplicable Foul in the Final Seconds
This one reminds me of the two fouls in the final seconds of the Pitt vs. Butler game in this year's March Madness. Ask Nasir Robinson how he slept the night after that contest in which he literally single-handedly cost his team the chance to move on in the tournament.
Sometimes there's no reason on earth to commit a foul and yet the players felt the need to draw the whistle, giving their opponent a golden opportunity to steal back a game that should've already been won.
While this particular incident occurred in college ball, it also happens in the NBA. However, in this clip, Derek Fisher gets away with it, leaving Brent Barry to be the one with the bad taste in his mouth.
Best Case Scenario: You foul a player chucking up a shot from half court at the buzzer, but your team is safely in the lead.
Worst Case Scenario: You foul a player on a full-court heave and he knocks down all three shots to win by one.
2. Missing a Wide Open Lay Up
It's less significant if you miss an open layup in a Skills Challenge, but it's even more embarrassing.
There are two shots that NBA players should never miss. The first being a wide open layup and the second being a free throw.
Best Case Scenario: You were alley-ooping yourself off the backboard.
Worst Case Scenario: You are blessed with a wide-open path to the basket to send your team to the Finals and you blow it.
1. Turning the Ball Over
Whether it be because of a miscommunication or it was just a poor pass, whenever the balls winds up out of bounds or in the hands of the defense no one is smiling.
An even better way to tick off teammates is to drop perfect passes and ruin their assists.
Dribbling the ball off your own foot or hitting your teammate in the head are probably the most shameful ways to turn the ball over, but there is a long list of possibilities.
Passing the ball to the ref is much easier to excuse than LeBron showboating the ball into the opponents hands.
Best Case Scenario: You just miss a tight pass to a cutting teammate, but you get the ball back after forcing a turnover on the other end of the floor.
Worst Case Scenario: Throwing away your team's crucial final possession like an overused diaper is not a good way to gain the respect or trust of your teammates.
Keep Reading

Denver Nuggets: Like this team?