Houston Rockets: 3 Players to Aquire After Yao Ming's Retirement
Kevin C. Cox/Getty Images
As expected, sources revealed last week that Yao Ming would call it quits after nine injury-riddled seasons with the Houston Rockets.
The team has already shifted its offensive strategy in the two years since Yao last saw the floor, and it has worked. The Rockets finished as the league's third-highest scoring club in 2010-11.
Houston still lacks a true center, size in the post and a difference-making small forward. Here are three players the Rockets should consider acquiring as each could fill an empty space.
Obviously, it would be impossible to get all three in one offseason. The hope is that they can score one. Let's take a look.
Andre Iguodala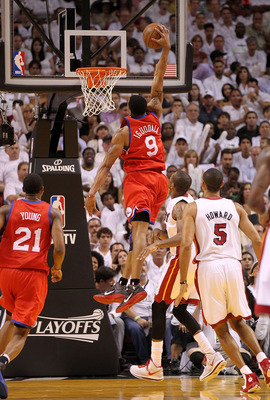 Mike Ehrmann/Getty Images
The modern day A.I. is a young star who has been in the view of general manager Daryl Morey's telescope for the past year or so because Philadelphia has had him on the trade block for some time now.
Iguodala is a stat sheet stuffer. He doesn't do any one thing great, but he does everything well. And don't let his 15 points per game average fool you; Iggy can get 40 on any given night.
He's one of the league's finest athletes and best dunkers. Iguodala is a stellar defender and a great passer at his position.
No team knows this better than Houston. The Sixers are 7-1 in their last eight games against the Rockets, and Iguodala had his hand prints all over both victories last season.
He notched a triple-double in the Sixers' February win in Houston, with 13 points, 12 rebounds and 10 assists, and came very close to getting another in March, totaling nine points, eight rebounds and 10 assists.
His talent and versatility is off the charts, and at 27, he still has time to reach elite status.
JaVale McGee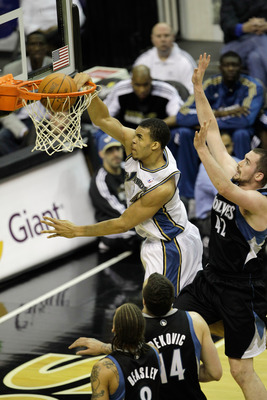 Rob Carr/Getty Images
In the short-term, McGee could immediately fill the Rockets' biggest need: size in the middle. Looking into the future, there are few players with a higher ceiling than the current Wizards center.
McGee, 23, is in his third full season and is just starting to recognize all of his potential. He had a triple-double against the Chicago Bulls on March 15, recording 11 points, 12 rebounds and an astounding 12 blocks. His athletic ability has been on display as well, as he had an impressive showing at the 2011 Slam Dunk Contest, losing in the final to Blake Griffin.
The former University of Nevada star continues to grow on the offensive end, and if that continues, McGee could become one of the league's best centers.
There were rumors swirling last December that McGee was available. He would be a perfect fit in Houston, who is in dire need of size and athleticism in the post.
Marc Gasol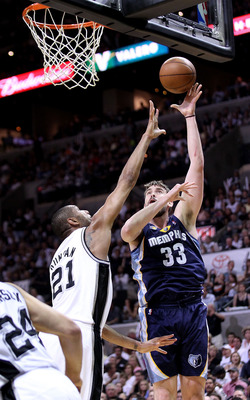 Jed Jacobsohn/Getty Images
Gasol is a restricted free agent, meaning the Grizzlies have the right to match any offer given to him in free agency, whenever it takes place.
General manager Chris Wallace has stated that he intends to keep Gasol, but that could be difficult since he recently signed point guard Mike Conley and Zach Randolph to massive contract extensions.
If the Grizzlies allow him to walk, the Rockets would welcome Gasol with open arms.
At 7'1", 265, Gasol fills a need. He is an underrated defender, as evidenced by his two blocks per game, and is more skilled offensively than the aforementioned McGee.
Gasol has the skill set to thrive in the Rockets' free flowing offense and would be a good complement to Luis Scola on the block.
After a great showing in the Grizzlies' surprise playoff run, there will be plenty of suitors for Gasol. But as we saw in last summer's pursuit of Chris Bosh, Morey tends to beat the competition to the doorstep.
Keep Reading

Houston Rockets: Like this team?