NBA Trade Speculation: Could Danny Granger Become New Face of Detroit Pistons?
July 14, 2011
Lisa Blumenfeld/Getty Images
In 2005, President of Basketball Operations Larry Bird and the Indiana Pacers drafted University of New Mexico product Danny Granger to be the face of the franchise.
Going into the 2005 NBA Draft, many considered Granger to be one of the most versatile talents available and a surefire NBA star.
He led the New Mexico Lobos in minutes, scoring, rebounds, steals, blocked shots and free throws.
NBA scouting Web site DraftExpress.com said, "Granger has a prototypical body for an NBA small forward. He has good size and strength at 6"8", 225 pounds, a solid wingspan and very solid athletic ability. He is smart and smooth, but very physical, and has fantastic footwork to go along with an excellent (and very quick) vertical leap.
"What makes Granger an especially intriguing player for playoff teams who are picking in the second half of the first round (15-30) is the fact that he is so versatile. He can score from anywhere on the floor, create his own shot, defend, rebound, block shots, come up with steals and pass very well."
For six NBA seasons, Danny Granger put the Indiana Pacers organization on his back.
He is the only player in NBA history to raise his scoring average by at least five points per game each year (7.5, 13.9, 19.6, 25.8) for three consecutive years.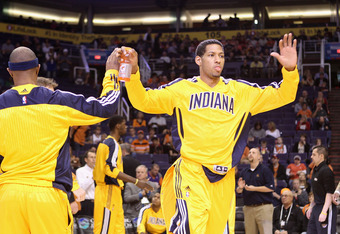 Christian Petersen/Getty Images
And in 2009 he was selected to his first NBA All-Star Game.
Unfortunately for the Pacers, the Danny Granger project never really took off.
Though Granger is widely considered one of the league's most promising talents, many attribute his inability to carry the Pacers deep into the playoffs to the team's powerlessness to surround him with proven talent.
In 2010, with Granger at nearly 28 years of age, the Pacers were forced to begin preparations to head in another direction.
The Pacers' decision to trade for second year point guard Darren Collison in 2010 meant that the Pacers were serious about moving in a new direction.
Granger has since become the center of various trade discussions involving the Indiana Pacers.
The hiring of Kevin Pritchard as the new director of player personnel only means that the Indiana Pacers are serious in their efforts to assemble a playoff caliber basketball team.
In my opinion, it is an absolute certainty that, barring a complete NBA lockout, Danny Granger will be dealt before the 2011-12 season.
A player of Granger's caliber is s lock to garner serious trade inquiries throughout the league.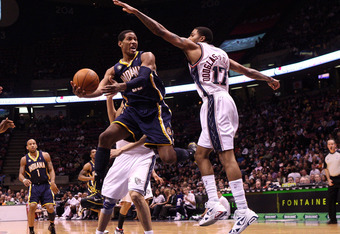 Jim McIsaac/Getty Images
And I believe that he fits the Detroit Pistons mold to a tee.
Pistons' president of basketball operations, Joe Dumars, is known for going out and finding players like Granger and plugging them into his roster. He did it with Chauncey Billups, Richard Hamilton and Ben Wallace.
Dumars also attempted to do it with Charlie Villanueva and Ben Gordon.
Granger is still capable of being the elite game changing forward that the Indiana Pacers drafted him to be in '05.
Danny Granger has serious scoring ability, and the combination of Greg Monroe and Brandon Knight would allow him to excel in the Pistons uptempo offense.
Assuming the Pistons can move Richard Hamilton's debilitating contract, I think that the Pistons are very much in play for Danny Granger.
I often compare Granger to Detroit Lions wide receiver Calvin Johnson. He's quiet, unselfish and exploding with talent. Unfortunately for both Johnson and Granger, they have both been hidden on a team incapable of providing them adequate assistance.
Granger is exactly the type of veteran player that the Pistons need right now, and it behooves of the Pistons to make a strong run at the electrifying superstar.
The acquisition of Danny Granger could signify an impact of Grant Hill '97 proportions.