NBA Lockout: Should Amar'e Stoudemire Follow Deron Williams to Europe?
July 15, 2011
Nick Laham/Getty Images
Recently, many NBA stars have been threatening to take their talents to the Mediterranean.
The media has generally slammed players who have suggested the notion of ditching their American compatriots for a European team.
On the contrary: What's wrong with players trying to keep their heads in the game?
The last time I checked, the owners locked out the players—not the other way around.
Of course, the owners did what they had to do.
The league is absolutely hemorrhaging money, and a new deal needs to be reached in which the players make slightly less money (taking a lower percentage from owners and having a lower salary cap).
Still, a lockout hurts everyone. Owners, players and fans all want a season (some more than others), but would either side intentionally do anything to prolong the lockout?
Many think that stars playing overseas would do just that.
Stephen A. Smith of ESPN New York accuses Deron Williams, claiming, "But when a player such as Williams, who made $14.9 million last season, literally runs for the border to collect more cash...how can anyone expect Hunter and Fisher to do an effective job?"
Smith, who's always great for an opinionated statement, makes a solid point, but seems slightly off-base.
Williams is set to make over $16 million next season playing for the New Jersey Nets.
I know that we often claim that our athletes make greedy decisions, but do you really think that D-Will is going to Turkey for a paycheck?
The guy has played through half of a $70 million contract! I don't think we'll see him begging for money on the Newark streets anytime during this lockout.
Money is always a motivating factor for anybody who has ever worked a job at any level. As the Joker so eloquently advised us in The Dark Knight, "If you're good at something, never do it for free."
Williams is simply taking an opportunity to continue playing the sport he loves while also remaining in shape. Sounds like a win-win to me.
Stephen A. continues, quoting an anonymous league executive who explains, "'relatively unknown players remain here waiting for a deal—because Turkey ain't inviting them overseas.'"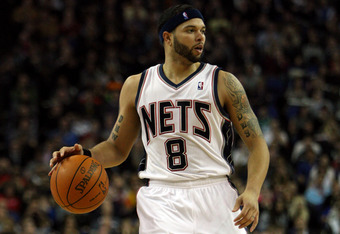 Warren Little/Getty Images
I have trouble believing that the average NBA player couldn't play overseas if they wished.
If the extremely mediocre Josh Childress and his 'fro can find work in Greece, Tiny Earl Boykins can suit up in Italy, and if Turkey and China want pathetically aged versions of Allen Iverson and Steve Francis, I think any other NBA player can at least ride the bench in these countries.
While Smith accuses Williams' overseas ambitions of breaking up the union, some disagree; namely, the NBA Players Association director, Billy Hunter.
ESPN's Ric Bucher quotes Hunter's memo to players across the NBA, "If the owners will not give our players a forum in which to play basketball here in the United States, they risk losing the greatest players in the world to the international basketball federations that are more than willing to employ them."
So, in contrast to Smith's belief of this being a foolish move by Deron, the union feels that the owners would be forced to pay players who can make money elsewhere.
It may not play out like that. Stubborn owners plus stubborn players plus a league that will likely lose money, whether there is a season or not, equal a long lockout no matter what these Euro-hopefuls do.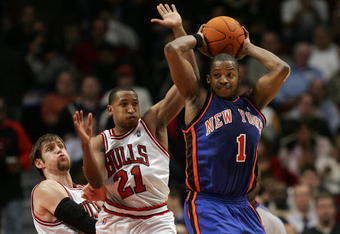 Jonathan Daniel/Getty Images
That being said, I am relieved that Amar'e Stoudemire has decided to stay home until the lockout is over.
Amar'e's alarming list of injuries include his back and his knees (the two most nagging wounds a player can have), and an eye injury that requires him to wear goggles whenever he's on the court.
A little extra rest could help Stoudemire, not putting as many miles on his damaged frame.
Also, a shortened season, as it did during the last lockout, could benefit the Knicks if Amar'e is given additional time to treat a back that failed him during the postseason.
Less playing time might mean less of a chance of Stoudemire getting hurt.
Obviously, nobody wants a longer lockout, but if any Knicks fan needed the silver lining of this black cloud, that's it.
Stoudemire was asked on ESPN's Sportsnation this week to describe in one word, in writing, how he feels about his decision not to play overseas.
Amar'e, accompanied by his cartoonish grin, held up the sheet of paper, which simply read "KNICKS".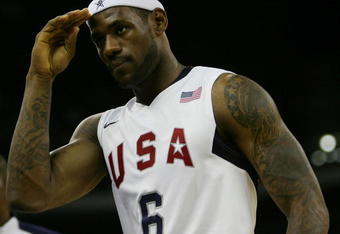 MN Chan/Getty Images
It seems as though the forward is committed to sticking it out with his NBA team, displaying his desire to gel with his teammates and to recover from his ailments.
Clearly, Stoudemire's head in the right place.
Williams doesn't share Amar'e's depressing injury report.
Aside from a thigh and a wrist injury that each sidelined him for no more than several weeks, Deron hasn't missed any significant time. There is no reason to believe that he'll aggravate something in Europe.
Those who don't travel overseas will surely be playing serious games of five-on-five, which can be just as dangerous to a player's health. I'm not sure, but it seems as though a pickup game with the competitive personalities of the NBA would probably be more physical than games in the Turkish league.
D-Will's contract in Turkey allows him to return to the States as soon as the lockout ends, not affecting his time with the Nets at all.
The Nets are right in the middle of a rebuilding stage. Many of Williams' current teammates probably won't be on the roster long after their Brooklyn move, so it's likely that holding a players-only practice wouldn't make much of a difference.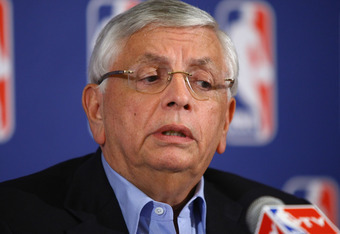 Neilson Barnard/Getty Images
Amar'e, on the other hand, has three other starters who will certainly play a crucial role on the team. Not just practicing, but merely communicating with those players will be helpful for team chemistry.
It is plain to see that when it comes to locked-out NBA with players joining teams overseas, one must look at it on a player-by-player basis.
Williams is at a point in his career (his body and status with his team) where playing in Turkey will not hinder his NBA production.
Stoudemire's body is a cause for concern. If he gets injured playing overseas, his team could miss their window of opportunity to make a deep playoff run.