Sacramento Kings: Are They on Right Path to Becoming a Winning Franchise Again?
July 12, 2011
Jed Jacobsohn/Getty Images
The Kings are, all by themselves, one giant dichotomy between progress and stagnation.
They have one of the NBA's most talented, youthful, potential-laden rosters, yet are considered further away from success than virtually any other team in the NBA.
They have potential All-Stars at several positions on the court, and absolutely zero reasons for optimism off of it.
They are, at once, on the verge of greatness, and teetering on the precipice of nonexistence.
When I refer to the "off the court" Kings, I'm, of course, referring in part to the tenuous chemistry of the team as a whole: Tyreke Evans' questionable work ethic, and the inter-team battles between DeMarcus Cousins and pretty much everyone.
But mostly I'm referring to the ownership, management and day-to-day financial operations of the team.
Cousins' immaturity and Evans' sometimes-prodigious level of ball hogging are problems that are easily fixed—well, maybe not "easily" fixed, but they are at the very least fixable, in that they are basketball problems that have been laid at the feet of Geoff Petrie, one of basketball's best handlers of basketball problems.
The financial/ownership stuff on the other hand…well, you could replace Geoff Petrie with Warren Buffett and this team would still be in serious, serious trouble.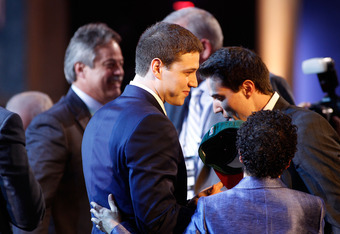 Mike Stobe/Getty Images
This is why it is so hard for even the most die-hard of Kings fans to feel as though their team is on the right path. It seems that every quality roster addition is overshadowed by talks of financial despondency and constant references to the uncertain nature of the team's future.
For every positive step forward that is made in the micro, there is a macro step backwards.
In the past three years, the Kings have taken several small, yet consistently progressive steps forward. They drafted Evans, Cousins and now Jimmer Fredette, all college stars who seem destined to help an NBA team at some point in their careers.
They turned Omri Casspi into JJ Hickson, Carl Landry into Marcus Thornton and rejuvenated the nearly-flatlined career of Samuel Dalembert.
They even managed to finally get a somewhat productive season out of Jason Thompson—a feat that is much easier said than done.
The problem is, all the intelligent roster moves that should be cause for celebration in Sacramento are instead a mere distraction—small potatoes compared to the larger struggle of a once-proud franchise and its once-financially viable ownership.
If there is a season in 2011-2012, the Kings will remain in Sacramento. Beyond the very immediate future however, there is nothing but uncertainty on virtually every horizon.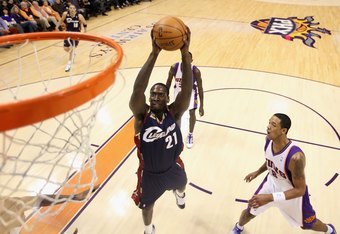 Christian Petersen/Getty Images
Will the Kings remain in Sacramento?
Who knows.
Who will own the team one year from now?
Your guess is as good as mine.
Does anyone, at any position within the team have any level of job security?
Ummmmm….
So are the Sacramento Kings headed in the right direction?
Absolutely. If you don't consider ownership or finances.
Unfortunately, it is impossible not to count ownership, as the moves they make (or don't make) will ultimately handicap everything that is done in the realm of actual basketball operations.
And it's impossible to discount finances because, let's be honest, although Geoff Petrie has done a spectacular job with the limited resources he has been given, a financially troubled franchise is an uncompetitive franchise.
When you think about it, it's really sad.
A young team with young stars rebuilding its way towards NBA relevance once again simply cannot seem to get off the ground, weighed down by the immovable anchor of incompetent ownership.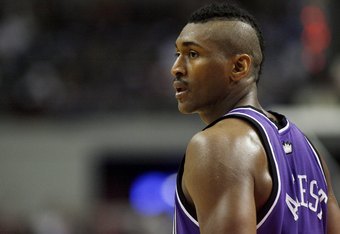 Gregory Shamus/Getty Images
And ownership, as it always does in the NBA, is making all the difference. Sacramento should be talked about as the home of one of the NBA's most exciting young rosters. Instead they are a laughingstock.
As a Kings fan, I feel cheated, and so should you.
I feel cheated because I sat through the years of roster deconstruction. I watched Kevin Martin get traded for fifty cents on the dollar, and saw Mike Bibby, Chris Webber and Ron Artest leave for much less than that.
I sat through the Rashad McCants and Spencer Hawes years, and all the low points that a rebuilding franchise must inevitably go through.
A season like 2011-12, with promising young players and a roster that is beginning to finally—and mercifully—take shape, should be the reward for dutifully following the remaining dregs of a formerly competitive roster.
But the proverbial light at the end of the tunnel, which should (hopefully) be arriving sometime soon here, will be dwarfed by the larger issues of the Sacramento Kings. No matter how great Jimmer plays or how much Evans and Cousins grow, they will not be the lead story on the Kings. The lead story will still be characterized by uncertainty and failure at the highest levels.
The Kings, in a sense, are headed in the right direction. Unfortunately, the story of their progress is secondary, rendered nearly immaterial by larger troubles.
And it truly is a shame.