NBA Free Agency: Could Grant Hill Retire with the Detroit Pistons?
July 8, 2011
Getty Images/Getty Images
If you're a Detroit Pistons fan, then you undoubtedly still love Grant Hill. During his time in Detroit, Hill was widely regarded as one of the league's preeminent talents, and he often led the team in points, rebounds, and assists.
And if you were anything like me in the early '90s you bought Fila shoes and drank Sprite.
The Pistons drafted the former Duke Blue Devil third overall in the 1994 NBA draft.
He entered the league with high expectations in '94 and was thought to be the heir apparent to Michael Jordan's throne.
Hill finished his rookie year as the first Detroit Pistons rookie since Isiah Thomas in '81 to score 1,000 points.
Though Hill had an exceptional rookie year in Detroit, he had to share NBA Rookie of the Year honors with Jason Kidd of the Dallas Mavericks.
He became the first rookie in all major sports to receive the most votes for an All-Star game.
In his first six seasons as a member of the Detroit Pistons Hill totaled 9,393 points, 3,417 rebounds and 2,270 assists. Only Oscar Robertson, Larry Bird, and Lebron James have ever eclipsed these numbers after six seasons in the NBA.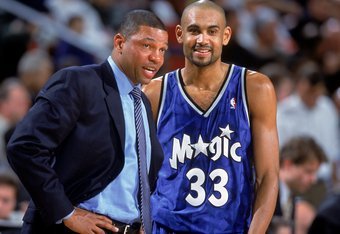 Otto Greule Jr/Getty Images
After either missing the playoffs entirely or being eliminated in the first round, Hill grew tired of Detroit's inability to contend.
And a devastating ankle injury forced Hill—and ultimately the Pistons—out of the playoffs in 2000, which encouraged him to pursue avenues via free agency. 
As an unrestricted free agent, Hill's primary intentions were to sign with the Orlando Magic. However, Hill agreed to a sign-and-trade option between the Pistons and Magic that would allow him a slightly more lucrative contract, while the Pistons received at least some compensation for dealing their franchise superstar.
Injuries ultimately hampered Hill throughout his time with the Orlando Magic.
He only played 200 games in six years with the Magic, as opposed to 435 games in six years for the Pistons from '94-2000.
It wasn't until after signing with the Phoenix Suns in 2007 that Hill finally began to get his career back on track.
In four years with the team, Hill remained healthy enough to play in 313 games, including a 2008-09 season in which he played in 82 games for the first time in his career.
And last season Hill became only the sixth player in NBA history ever to average at least 13 points per game at the age of 38 or older.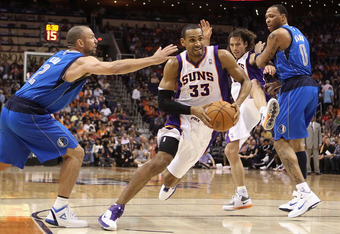 Christian Petersen/Getty Images
Hill excelled in the Suns' up-tempo style of play and greatly benefited from fellow Suns team captain Steve Nash's ability to create on the fly.
The 2010-11 season was the final season of the two-year contract extension that Hill signed in '09, making him an unrestricted free agent in 2011.
Lockout permitting, Hill will most likely re-sign with the Suns or sign with a team he believes is of championship contention.
But I would like to see him finish his career where it started: in Detroit.
The Pistons are a young team in desperate need of veteran leadership. Both Rip Hamilton and Tayshaun Prince have most likely has seen their last days in Detroit, leaving Ben Wallace as the team's only player over 30 years old.
Though the Pistons are a team in rebuilding mode, Hill could take solace in helping mold future superstar rookie point guard Brandon Knight.
I understand Hill finishing his career in Detroit is mostly a pipe-dream, and my Fila-wearing, Sprite-drinking days are a thing of the past.
But seeing Grant Hill in the red, white and blue of a Pistons uniform again would make me a happy man.