Cleveland Cavaliers: Trading of J.J. Hickson Sparks Memories of LeBron James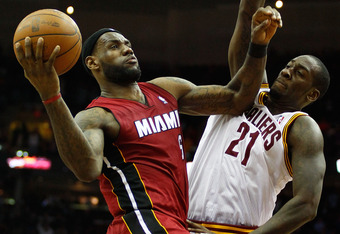 James haunting Cleveland with Hickson there.
Jared Wickerham/Getty Images
It was a long winter in Cleveland. The one-time mecca dead like roadkill, burrowed in the honey comb eye-lids of icy windows.
By spring, a patchwork of cumulus tumbled through the blue and shards of butter-cream spilled through gangly timberline like fingers.
Still no wins; no future.
The Zeus crushed a wounded city plucking at a broken set of heart strings. His insurgence like a shroud is a concrete dead, squeezing the life out of everything.
Yesterday, a menial trade meant more than people can imagine; it signaled a full defeat. Like a one-eyed light house blazing through the dark, victory was warded from the jagged jawline of an unhinged coast.
The Cleveland Cavaliers not only cleaned house by trading forward J.J. Hickson to the Kings for Omri Casspi and a future first-round pick, but cut ties with a memory forever: LeBron James.
If James was the golden boy son, the handsome war veteran with an undeniable heart, then Hickson was the under-achieving junior.
No, the expectations were never that Hickson would take the King's place, but Hickson was the consummate project who warranted team attention.
Nick Laham/Getty Images
An aggressive rim rattler with the ability to step out or take bigs' off the dribble, Hickson showed enough flashes his first two seasons in Cleveland, to placate promises that he alone was the post presence necessary to get LBJ over the top.
Well, not so fast.
A deal involving high-wire superstar Amare Stoudemire from Phoenix in February 2010 for the raw Hickson and Zydrunas Ilgauskas was rumored to be shut-down by Cavs owner Dan Gilbert, a man known for being thrifty, that saw enough in the former Wolfpack big to retain him for a fraction of Amare's cost.
Though James was clearly in need of help, Hickson was the bit that swung Amare elsewhere, where now he and Melo are tag-teaming the league in the bright lights of NYC.
Like a high roller running the 25K a hand table in Vegas, Dan Gilbert went "all in," and is now reaping the consequences of his stupidity. Bringing in a future Hall of Fame forward like Amare to team with James, would arguably been the very thing to keep the Akron native home.
Instead, the bet has rolled bankrupt, and the cryptic NBA god is cleaning house.
When James flew the coop to South Beach, the project grew rot with promise. Though a strong pre-season, where Hickson flashed enough talent to project him as the new franchise face, the 22-year-old 6'9" forward was but a crumb of the promise.
His 13.8 points and 8.7 rebounds on a sub-par 45.8 percent shooting were the case study necessary to delineate his role.
Enter Kyrie Irving and Tristan Thompson, and Hickson is now but a high-promise, under-achieving role guy. He is the B- middle of the pack forward with an upside of nil.
His ousting from Cleveland not only opened up a log jam at forward, but cleaned the dirt from the grimy fingers of Cavs upper management and cut ties forever with the hindrance of James.
Unfortunately for a kid like Hickson, he got caught in the crossfire. Now buried behind DeMarcus Cousins, Jason Thompson, Donte Greene and Hassan Whiteside in Sacramento, the one-time bright and rising star will have to wade in the deep end.
This article is
What is the duplicate article?
Why is this article offensive?
Where is this article plagiarized from?
Why is this article poorly edited?

Cleveland Cavaliers: Like this team?