NBA Draft: Brandon Knight Is Here to Stay, Time for Richard Hamilton to Go
June 28, 2011
Mike Stobe/Getty Images
After all the dust settles from the windstorm that was Brandon Knight's over-eager attitude of being drafted by the Detroit Pistons, Joe Dumars and company have a huge decision to make.
Knight is now in the backcourt with Richard "Rip" Hamilton, Ben Gordon, Rodney Stuckey and Will Bynum. It may be a little early to say, but that seems like one too many men to share a limited number of minutes in an organization begging for a reboot.
The most likely candidate to suffer at the hands of Knight's entrance is Hamilton.
Not saying that he does not have the potential to continue to be an effective effort in Detroit's backcourt, but the controversy surrounding last season with him and Coach John Kuester does not seem like it will be smashed to pieces with Kuester's exit alone. Did anyone forget that Hamilton was not the man this year that he used to be at the times where he was alongside Chauncey Billups?
Brandon Knight comes into the franchise when change is quickly stirring with a new coach, speculated to possibly be Patrick Ewing, and a new owner that showed signs of life at the Pistons' most recent games of last season. Now that he has been selected in the top 10 in the draft, the thought remains that he will not be a bench warmer for long, if at all.
 Joe Dumars already has the utmost respect for the young man and thinks that he can be an instant game changer as he relayed his feelings about Knight during a press conference introducing Knight, Kyler Singler and Vernon Macklin as official Detroit Pistons team members.
"Brandon told me he's tough, although he's a little, slim guy. He told me he's tough so we believe that," Dumars said. "There is no question about Kyle and Vernon's toughness. But by and large what I'm saying is these guys epitomize what we're about going forward.

"These are some good people. These guys have been raised the right way. Their families have done an incredible job with them and we're happy to have these guys represent us on a daily basis."
I had not been the most receptive to some of Dumars' moves or lack thereof in the past. As a resident and avid supporter of the Pistons, it is easy to become frustrated when the face of an organization does not seem to be doing everything in his power to return the franchise to glory. Detroit's best years were years ago with none of the present coming in at a strong second.
The Pistons have been oblivious to success and the mediocrity streaming through the seams of the team have busted through the locker rooms and been splashed all over TV screens in the form of a Charlie Villanueva outburst and Hamilton's bench time.
However, stealing Brandon Knight in this year's draft screams and shouts there is a huge change on the horizon. That change lies in Hamilton's removal from the place he has called home for so long. Fans would not be so receptive to the move because of how faithful Motor City fanatics are towards the men that are supposed to embody the aura of the city.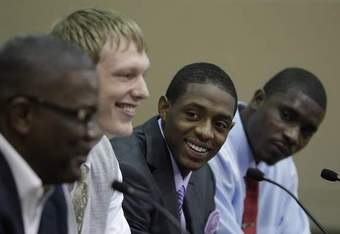 Rip's actions last season did not seem too embody too much of what Dumars' new direction is so he would be the only logical move. Dumars is going to continue to add young talent to the roster and at 33 years old Hamilton does not play with the youth that is going to win another championship.
I would love if he could stay on to serve as a mentor to the young Knight, but I would rather Gordon have a hand at the opportunity seeing as how he is not only similar in size and stature to Knight, but he plays a similar game.
Richard Hamilton did a lot for the Detroit Pistons when he was in his prime. But he is not at that point in his career anymore.
However, at the moment it seems like his talents could be used more productively in other places, such as with the Cleveland Cavaliers. Even though they seem to be looking towards unloading the contract of either Baron Davis or Ramon Sessions after drafting Kyrie Irving, the Cavaliers could be on the market of bringing in a more effective shooting guard than Anthony Parker or Joey Graham.
Both men are on the outs and make a far less impact on a game than Hamilton does.
Whatever Detroit decides to do during this year's offseason, it will be geared towards recreating the epic adventure it once was watching the Pistons during the Bad Boys' era or even the era of 'Mr. Big Shot'. It is never too late to return to glory.