New York Knicks: Meet Iman Shumpert and Josh Harrellson, Highlights & Interviews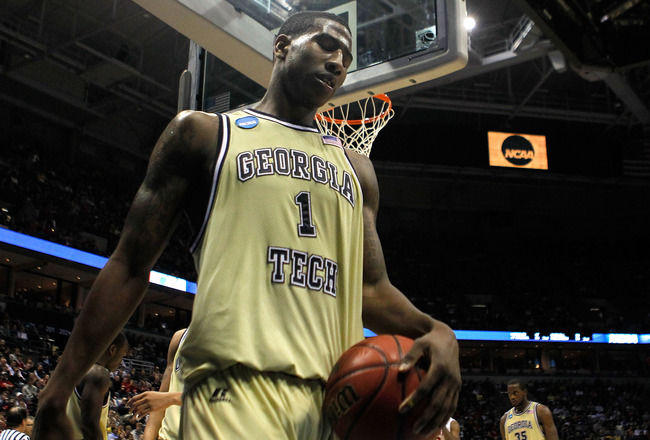 Jonathan Daniel/Getty Images
Iman Shumpert? Who the heck is Iman Shumpert?
That was the reaction from Knicks fans in the Newark crowd, and the average New Yorker alike, when New York made the 17th selection last week.
"When the Knicks' first-round pick, Georgia Tech's Iman Shumpert, was announced, there were indeed boos, and ESPN immediately went to Noted Draft Expert Spike Lee, who admitted he had no idea who Shumpert was." (nymag.com)
It might be a good omen. Landry Fields was booed last year and Spike didn't know who he was either.
But those following the mocks in the weeks leading up to the draft knew who Shumpert was. Shumpert was climbing the charts.
It is still a surprise the Knicks picked him, though. But it's a good pick. Shumpert is going to make it – and it isn't just because of his skills, as you'll see. He's got a good head and work ethic. I believe that is going to make the difference for him.
As for Kentucky center Josh Harrellson, who the Knicks' took at No. 45, well, we'll all have to see. The odds, and the pundits, are against it.
Iman Shumpert Highlights and Skillset
Iman Shumpert, at 6'5", is, in today's NBA terms especially, an oversized point guard. He can play either guard position, but needs to work on his shooting, which is consistently pointed out as his Achilles' heel.
In his third, and last, season at Georgia Tech, Shumpert went for 17.3 PPG, six RPG and nearly three steals a game, leading the ACC in that last category. The Knicks could use those steals and the defense Shumpert brings to the floor. That's one of the main reasons Walsh selected him.
In fact, the Knicks' organization seems dedicated this offseason to improving the team's defense, and Iman wants in on it. On WFAN's Mike Francesa show, Shumpert said, "If [defense] is going to start at the guard position, it'll start at half-court with me." That's sweet music to Knicks fans' ears.
According to draftexpress.com, "Shumpert stole the show at the combine, looking like clearly the most physically gifted player in this entire draft class." Whoa. That is some serious praise.
He has, perhaps, the biggest vertical leap of this year's draft and a nearly seven-foot wingspan that will surely help on the defensive side of the ball.
Feeling better about Shumpert? Wait…
Iman Shumpert Interview Part I
In this must-hear interview with WFAN's Mike Francesa, Shumpert exhibits an impressive maturity beyond his age. This intangible is going to serve him well. It will carry Shumpert through the first few years as he adjusts his game to the pro level.
In this part of the interview, Shumpert talks about why the Knicks selected him and provides interesting insight into the college recruiting experience (with Paul Hewitt at Georgia Tech).
Iman Shumpert Interview Part II
Iman Shumpert is a "people-person." Here, he talks about New York City, Carmelo Anthony, Amar'e Stoudemire and Toney Douglas.
Shumpert oozes maturity when discussing how to improve his jumpshot and where he will fit in next season.
Expect Shumpert to see more minutes than most of the draftees in 2011-12.
Josh Harrellson Highlights and Skillset
Now who is Josh Harrellson? A year ago, no one would have picked him to be selected in the draft. In one of those door-opening twists of fate, Harrellson saw the light of day last year when teammate (and No. 3 pick) Enes Kanter was declared ineligible to play.
Harrellson took advantage of the opportunity, having the best year of his college career and creating a marketable persona. In his last campaign at Kentucky, he officially made his mark in the Wildcats' "run to the Final Four, [where he] averaged almost 15 points and nine rebounds a game while shooting 76 percent." When it counts. When it counts. You have to like that.
Don't expect that kind of offense from Josh in the NBA, though. It's all about defense with this year's Knicks picks.
Harrellson averaged about nine RPG and 1.5 blocks in his last season.
Word is, though, he isn't going to make it in the pros. He "would be one of the most unathletic players in the NBA." (nbadraft.net)
Still, he may find his way onto the floor as an enforcer, and let's face it the Knicks could use a warm body at center.
Josh Harrellson Interview
Josh Harrellson has an optimistic personality that shows in this Senior Night video. He's a confident interviewee. That will serve him well in New York's media-frenzy.
A little work on his physique and game and maybe some time on the floor (which I believe he will see at some point this season, maybe sooner than you think) might eventually allow Harrellson to gain a foothold in the NBA.
All he really needs to do right now for the Knicks is rebound and goon up the middle. "Jorts," at least, can do that. I'll take the rare putback here and there too.
Get those jeans shorts ready.
Keep Reading

New York Knicks: Like this team?