NBA Lockout 2011: Why Next Season Won't Start November 1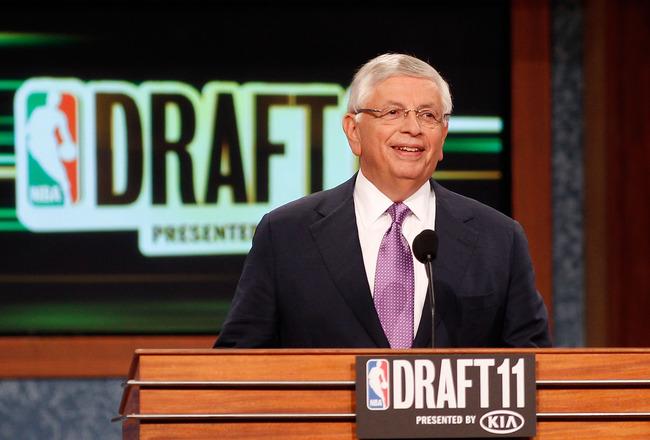 Mike Stobe/Getty Images
Will the current NBA labor negotiations impasse be the wicked stepmother of all lockouts? If you believe in signs and wonders, then it could be.
The clock struck past midnight June 30 on the NBA players, and Cinderella turned into a pumpkin-colored deflated basketball. It would have been a Cinderella story if the players and owners reached an agreement before the CBA expired.
The current bargaining accord turned into a very public and disharmonious symphony of the possibility of a season lost. Where's Milton (Paradise Lost) to warn the players and owners? He's deceased, circa 1674.
Will the NBA's 2011-12 season rest in peace? Possibly. Here are 10 reasons why it could.
10. October Will Arrive Sooner Than NBA Players and Owners Think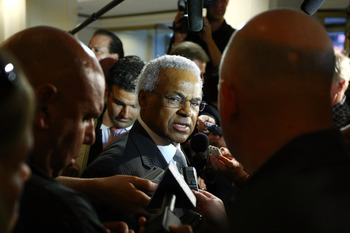 Neilson Barnard/Getty Images
The 16-time NBA champion Los Angeles Lakers are scheduled to begin preseason play on October 9 and end Oct. 27. With July here already, and the next round of negotiations nowhere on the calendar, this could be a cruel summer for NBA owners, players, employees and fans.
Fall could arrive with the NBA facing a severe tumble in popularity.
9. September Arrives Faster Than October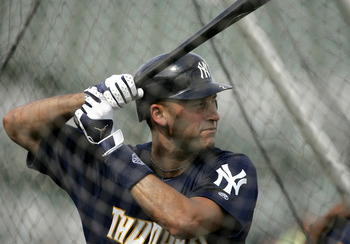 Rich Schultz/Getty Images
Autumn rolls around this year in the United States and Canada on Friday, September 23. The Fall Classic, the World Series, will be around the corner and sports fans in the Northern Hemisphere could be gearing up for it, while forgetting all about the NBA.
With fan apathy looming, the NBA could push games back, behind a marketing campaign to produce excitement for their product.
If the season does start on time, who would care, though? You tell me. When will billionaire/millionaire owners/players learn? Maybe they won't.
8. NBA Types Won't Learn Most Lessons from Past Lockouts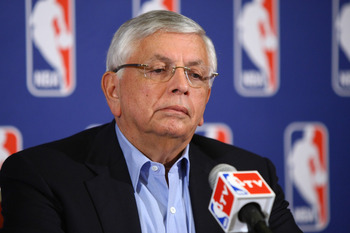 Neilson Barnard/Getty Images
Could stubbornness, greed and lack of memory hurt the possibility of the NBA season starting on time? Without a doubt. Negotiating in New York, the fruits of their labors turned sour in the Big Apple, and it's all over green, moolah, cash, dough, cheddar cheese, chips…the money.
The NFL season is in serious doubt of starting on time and they've been in lockout mode for awhile now.
The 50-game NBA season after the last lockout provided a pseudo-champion in the eyes of some fans—including mine. NBA popularity waned in the aftermath.
One would think the NBA learned. Why hasn't it? Next slide, please…
7. A Plethora of New NBA Team Owners Means Business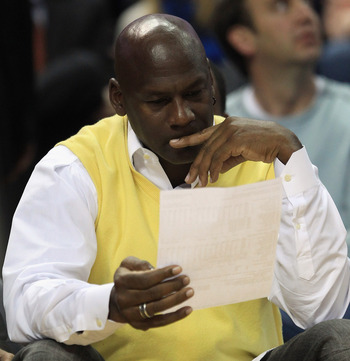 Streeter Lecka/Getty Images
Almost half of the owners bought are new and bought in at higher prices than the old school owners. Newer owners are less willing to take financial losses on basketball.
Atlanta, Boston, Charlotte, Cleveland, Dallas, Denver, Detroit, Golden State, Memphis, New Jersey, Oklahoma City, Phoenix and Washington all have new team owners since the last lockout (1998-9) was set in motion.
6. NBA Players Mean Business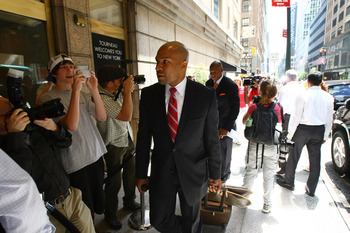 Neilson Barnard/Getty Images
Since the last lockout, Derek Fisher became president of the player's amalgamation. Last time, there was dissension in the ranks, but now the players appear to be more unified.
According to David Aldridge last Thursday evening on NBA TV, the NBPA believes the current system works, but needs nip and tucks. The owners want full blown plastic surgery.
They want the old system and for the owners to share revenue a bit more to stop financial losses. The owners want a new system that eliminates exceptions in the salary cap.
5. Negotiations Will Get Nastier Before They Get More Friendly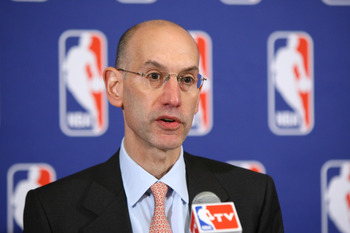 Neilson Barnard/Getty Images
Like Antonio Davis said on NBA TV, to paraphrase: The next round of talks must get started as soon as possible.
There is no guarantee negotiations will continue within the next month. Before the talks can really start, they'll have to reach rock bottom, which hasn't happened.
4. A 50-Game Season Isn't a Bad Happening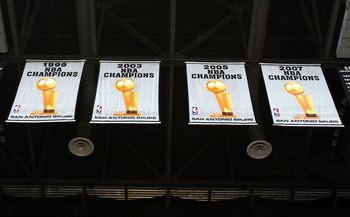 Ronald Martinez/Getty Images
NBA types could possibly believe in this slide's headline of a theory.
The San Antonio Spurs, for example, won their first NBA Finals after the last lockout. They could win their fifth this time around and possibly send Tim Duncan out on top. That's one way to spin it. Stay tuned. I won't be doing the spinning on this one, though.
3. Psychological Warfare Has Just Begun
Stephen Dunn/Getty Images
According to Lake's Psychological Warfare Handbook, at least five months are needed for the full impact to take hold. The tactics started almost immediately after the lockout.
Players are now forced to pay for their own health care. Players aren't allowed to use team facilities. Teams can't practice, meet or play exhibitions. They can't even contact any team's personnel or big wigs.
NBA teams have also taken care to remove current player likenesses from NBA.com and its official sub-sites. Watch NBA TV and you'll find legacy games instead of current NBA players.
The owners mean business. The message to psyches is clear: Current players, indefinitely, are no longer part of the NBA. Notice Dr. Phil in this photo (lower left).
2. NBA Regular Season Games Were Scheduled to Start In October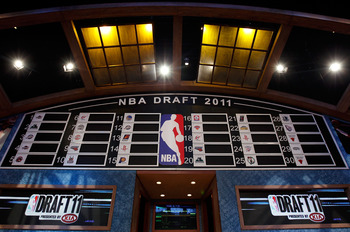 Mike Stobe/Getty Images
As of now, the link to NBA schedules—past and present—is missing from NBA.com. More psychological warfare from the owners, I suspect. I'm not taking sides, just reporting the facts.
Players say they want to play, owners aren't letting them. Free agents and rookies don't know what to do. The free agency period was supposed to start July 1. Rookies were supposed to have the chance to play in the summer. Next NBA season is most definitely in danger.
1. Charles Barkley Predicts Zero Games Will Occur Next Season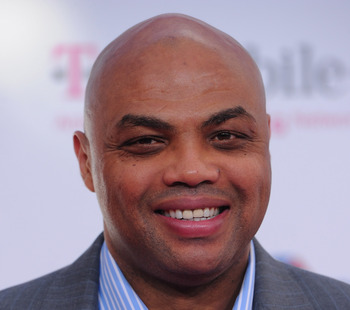 Alberto E. Rodriguez/Getty Images
The AP quoted Charles Barkley as saying, "It's going to get ugly. I've already been on the record saying I don't think they're going to play at all next season."
The Chuckster was one of the few—if not the only—national NBA analyst to pick the Mavericks over the Lakers in the Western Conference second round last season. He was incredibly accurate in picking other upsets.
Barkley, though some see him as a buffoon, is usually on point. He's lasted on television for so long because he's a remarkable analyst.
Thank you all for joining me in this remarkable slideshow. Catch me on the next edition of Lakes NBA Lockout Look.
Keep Reading