NBA Draft 2011: Pros & Cons of Philadelphia 76ers Trading Up in the Draft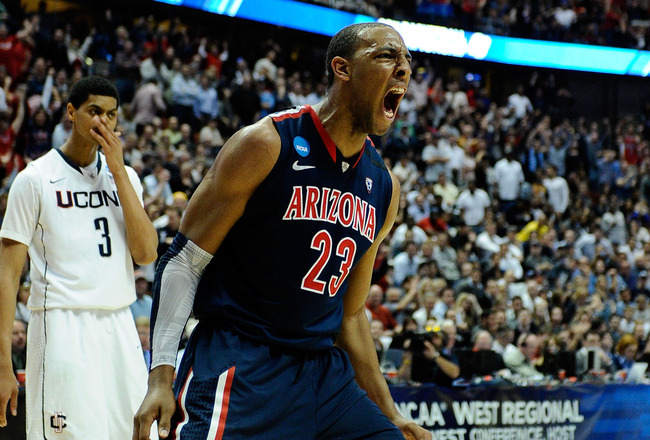 Kevork Djansezian/Getty Images
The clock is winding down, as we are one week away from NBA Draft Day this month on June 23rd.
The Sixers season was without a doubt a great turnaround and improvement. However, there is still other places to improve upon where they did not touch this season.
Those improvements will hopefully take place on the infamous draft day and perhaps the front office will surprise the fans with a big blockbuster deal (or maybe I'm just dreaming).
Pro: More Potential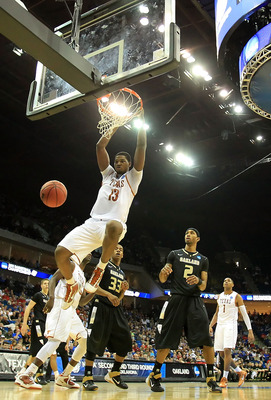 Ronald Martinez/Getty Images
Obviously if the Sixers trade up they are gaining a lot of potential.
It may not seem like a lot, but even a jump into the late top ten is a big difference then the 16th pick. If the Sixers land a top ten pick and draft a big man like Tristan Thompson, the Sixers will have a lot of potential with him and Evan Turner.
Plus, I think that Andre Iguodala is going to hand over the team to Turner for the future soon and just work on complementing the young squad. He already does this, but I think once Turner becomes the number one, then we will see a lot more of it.
An addition of a really good big man with high potential just adds to the possibilities of how scary the Sixers can be.
Con: They Need to Give Up a Lot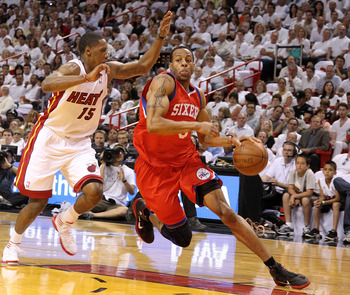 Mike Ehrmann/Getty Images
Because of the very little depth this draft class has, the top ten picks have much more value.
In order for the Sixers to get a higher draft pick, they would need to give up the one they have and most likely Andre Iguodala or even Evan Turner.
Even though you may not like Iguodala, he is more valuable than you think. Once he is gone you will realize what is missing and all of the things he brought to the table, which could be a big help for the future.
I'm not saying we should not trade Iguodala because every man has their price. I am just saying that the Sixers should not trade him just to trade him and be so quick to pull the trigger.
Pro: Better Selection of Big Men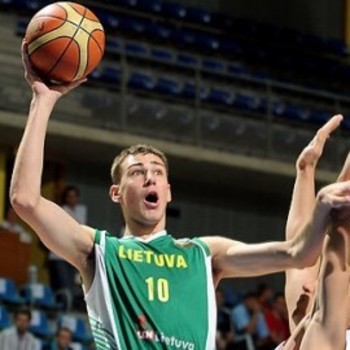 The Sixers main target in this draft will be and should be a big man.
After you leave the first ten picks, the amount of big men becomes extremely scarce. Therefore, with a higher draft pick, the Sixers will have the option to choose from the likes of Enes Kanter, Jonas Valanciunas (pictured) and Tristan Thompson.
Spencer Hawes is not meant to be the Sixers' starter, however I believe he is still a great fit for the team coming off the bench.
If the Sixers do end up trading up in the draft, they should draft one of those big men. If they pan out to full potential, then our lineup is complete.
Con: There Are Still Good Players Available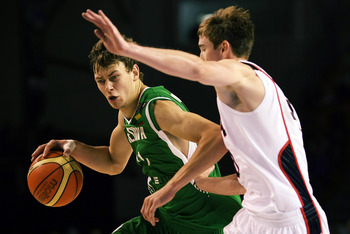 Hannah Johnston/Getty Images
Although taking one of the higher big men on the draft board, there is still talent around the 16th pick.
Yes, this draft is not a deep one, but there are certainly players that I think could be a good fit for the Sixers in the mid-first round.
Players like Donatas Motiejunas (pictured), Bismack Biyombo, Chris Singleton and Kenneth Faried are all players with upside that would be great fits for the Sixers if they have a positive turnout.
Conclusion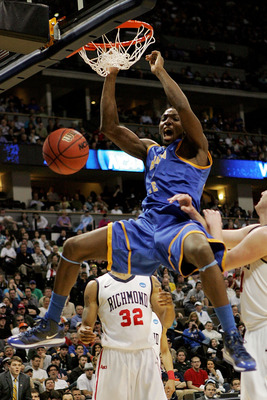 Justin Edmonds/Getty Images
The NBA draft is one of, if not, the most important day for a front office and the coach together. The decisions made by them that day can have a long lasting effect for the future, whether good or bad.
The Sixers have a lot of options to weigh in to decide if they should trade up in the draft. I would be happy if they did trade up, but at the same time you have to realize what they would be losing.
Plus, you never necessarily know for a fact what you're getting no matter how high the potential is.
But either way, there are a handful of players in this draft that I think fit perfectly with the Sixers, early first round or not.
Keep Reading

Philadelphia 76ers: Like this team?