NBA Draft 2011 Rumors: 6 Potential Draft-Day Trades That Make Sense for Warriors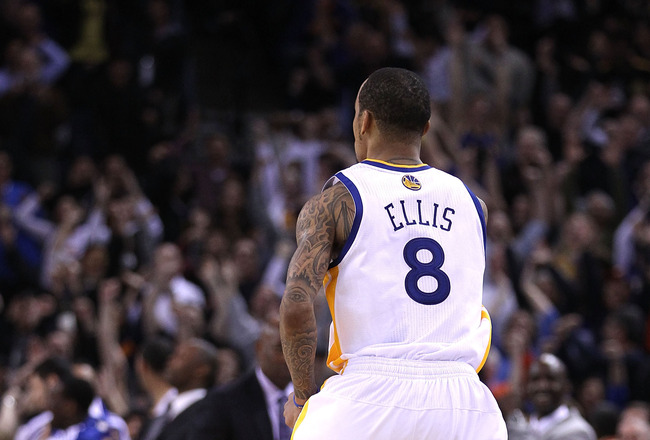 Ezra Shaw/Getty Images
With the season now over and ending with perhaps the best NBA Finals in years, for the Golden State Warriors and the rest of the NBA, next season is underway.
With the NBA draft right around the corner, the Warriors have already seen major changes with more sure to follow.
This draft is as pivotal as any in the last few years (although that has been the case for most of the last 15 years) as the new regime is preaching change and Monta Ellis looks like he will be the first one to go. Especially with word traveling around that David Lee and Ellis are at odds with each other.
You can't read the word phrase "NBA rumors" without seeing the name Monta Ellis attached to it.
Owner Joe Lacob stated, "All the Ellis rumors lately are simply not true." Well Joe, that's what most rumors are, but here are some that might actually work, assuming other teams know who they need to talk to in the front office to make any deal possible.
1. Rudy Gay for Monta Ellis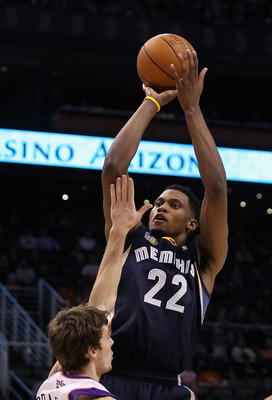 Christian Petersen/Getty Images
I think this one makes sense for both teams.
Rudy Gay would give the Warriors an athletic wing who can defend and was really coming into his own before an injury cost him the rest of the season. The Warriors couldn't be thrilled to take on his contract, but with Jerry West's ties to Memphis as well as Ellis', who has a home there, it looks like a potential landing spot.
Memphis would have to love this deal, especially if it meant they could re-sign Shane Battier. They would basically have the same team that looked like Western Conference contenders, while adding a dynamic scorer in Ellis.
2. Josh Smith for Monta Ellis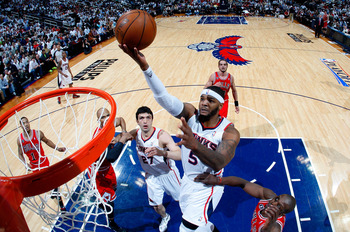 Kevin C. Cox/Getty Images
The Atlanta Haws have seemingly wanted to get rid of Josh Smith for years and Golden State seems like an ideal landing space.
His defensive presence would ease a lot of pressure off everyone else and eventually make them all better defenders. His offense is pretty erratic, but on this Warriors squad he could be the fourth option at times, easing any pressure he might have to make something happen on offense.
Especially coming from the sometimes anemic offense that was the Atlanta Hawks offense when he possibly tried to do too much.
3. Andre Iguodala for Monta Ellis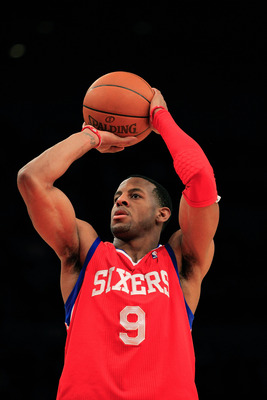 Chris Trotman/Getty Images
The hottest rumor in the NBA seems to be a tepid one among Warrior fans, but it seems like this rumor has the legs to work.
It seems like both teams are trading one player who doesn't seem to fit with their respective team for another; how often does that work out for both teams?
However, this is a shot the Warriors might have to take it they are set on moving Ellis. The Warriors need a strong defender and Iguodala is that, and he should improve by not having to be the number one option on offense, giving David Lee and Stephen Curry a much bigger role on offense.
With the Dallas Mavericks winning the NBA championship with a starting backcourt of Jason Kidd and J.J. Barea, people have said that if that backcourt can win a title, why can't Ellis and Curry make it work?
Because the Warriors don't have a Shawn Marion, Dirk Nowitzki and Tyson Chandler behind them. They have two guys who have a shoot-first mentality and Andris Biendris, so maybe swapping Ellis and Iguodala might need to happen just to bring in some defense.
The Warriors can't be thrilled with taking on the extra money that is owed to Iguodala, and if the Sixers were willing to take on Andris Biedrins' contract in order to get Ellis, I'd make this trade in a heartbeat.
I'd still like to see the Warriors pick up another player or a draft pick by making this trade, but if that's not an option this still might be a trade that might happen anyway.
4. Wesley Matthews and Gerald Wallace for Ekpe Udoh and Monta Ellis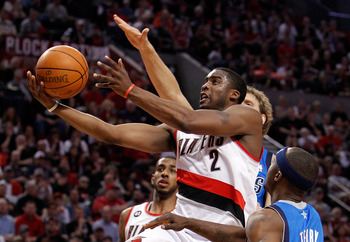 Jonathan Ferrey/Getty Images
I haven't really heard of this trade anywhere so maybe it will catch on.
I am a big fan of Matthews, he has a great contract, and I think would be a great fit alongside Curry. Wallace has been rumored to the Warriors for years and might finally play in Golden State.
If the Warriors are going to lose Ellis I can't imagine getting a much better return than this one, and with Wallace coming on board I don't think we should be worried about how good Udoh "could" be. Even if they had to swap first-round picks in this years draft, I love this trade for the Warriors.
5. Nene for Monta Ellis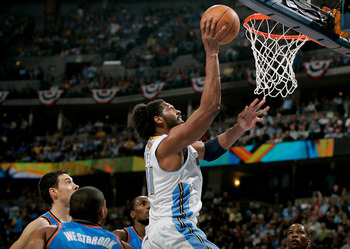 Justin Edmonds/Getty Images
In terms of any deal on this list this would be my favorite; in terms of this deal actually happening it has to be the least favorite.
Not only would the Denver Nuggets have to take on another shooting guard, Nene would have to agree to come to the Bay Area and agree to a new contract.
I would love to see Nene in a Warrior uniform and he could actually come over even without having to deal Ellis, but if we are parting with Ellis, getting Nene in return should be fine with anyone. Here's hoping.
6. Darko Milicic, Wesley Johnson and the No. Two Pick for Monta Ellis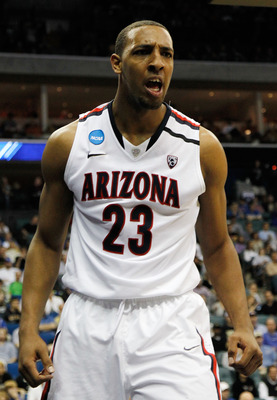 Tom Pennington/Getty Images
I can't believe I wrote Milicic into a trade to the Warriors, but this might be something to look at.
The Timberwolves would get Ellis to play alongside Ricky Rubio, Kevin Love and Beasley, which they would have to love even though defensively that lineup would make the Warriors look like a strong defensive unit. They should love to add a talent like Ellis.
The Warriors get two lottery-talent players in Wesley Johnson, who only has one year under his belt and has potential, and with the number two pick likely Derrick Williams. Darko has three years left and is owed a little under $16 million. That's not that bad considering he can block shots and run the floor, and when we look at Andris Biedrins' contract, Darko's deal looks like a bargain.
This deal would really be a gamble, but if those two lottery picks pan out it might be a gamble worth taking.
Although I'm worried that any trade involving Darko just won't work out for any team that acquires him, not to mention have their sanity questioned.
Ideally I would want to include Andris Biedrins contact in any deal involving Ellis, but the Warriors are more likely stuck with him until he plays better. Then, or until his contract expires, which is more likely.
Keep Reading

Golden State Warriors: Like this team?