NBA Draft 2011: 5 Teams That Should Consider Trading Down with Their Pick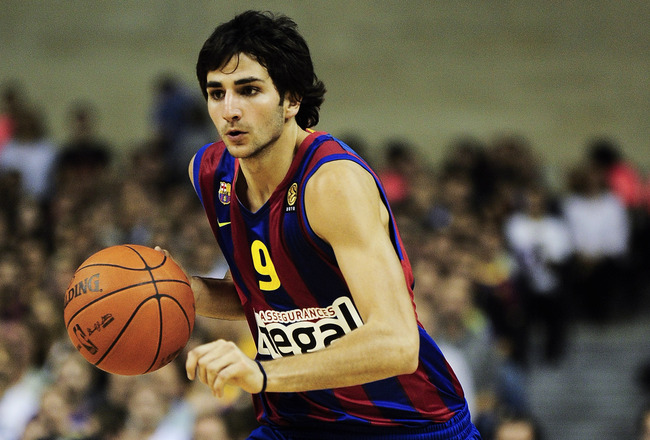 David Ramos/Getty Images
As teams prepare for the upcoming NBA Draft, they will undoubtedly explore every possible option, even ones that may currently seem unlikely.
This means inspecting every prospect that could fill a need, as well as plotting possible ways to trade up or down in the draft, depending on what voids must addressed.
Some teams have just one gap that can easily be plugged by the insertion of a young prospect. However, many teams have multiple holes and require contributions that can only be provided by proven veterans.
Here are five teams that should seriously consider trading down in the draft in order to improve.
Portland Trail Blazers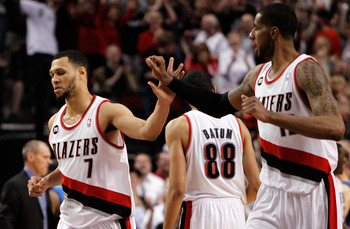 Jonathan Ferrey/Getty Images
The Blazers hold the 21st overall pick, which isn't exactly an ideal place to be in such a weak draft class.
Portland certainly shouldn't be expecting to get an impact player where they currently sit.
Plus, they already have three seldom-used players from last year's draft (Luke Babbitt, Elliot Williams, Armon Johnson) sitting on their bench, as well as three prospects stashed overseas (Victor Claver, Joel Freeland, Petteri Koponen).
Oft-injured center Greg Oden is a restricted free agent and the Blazers may end up matching another team's offer for him. They also have long-term contracts committed to LaMarcus Aldridge, Brandon Roy, and Wes Matthews.
Simply put, Portland doesn't have enough room on this team for another player who won't crack the rotation and yet will earn the guaranteed rookie salary for a first rounder.
Portland's best play is to just trade the pick away for a future first round pick, hopefully one that comes in a more talent-rich draft class.
Detroit Pistons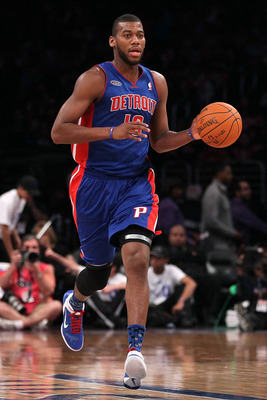 Jeff Gross/Getty Images
The Detroit Piston's 2010-11 season was defined by locker room tension, losses, and the eventual firing of head coach John Kuester.
The lone bright spot was rookie big man Greg Monroe, who was excellent in his first season.
Unfortunately for Detroit, this team has many holes, and the eighth pick in the draft doesn't offer up a ton of solutions.
ESPN's Chad Ford has them taking Lithuanian center Jonas Valanciunas. Although Valanciunas has tremendous upside, he has contractual obligations that will likely cause him to remain in Europe for a year or two, and the Pistons need help immediately.
Detroit would be wise to package the No. 8 pick with Ben Wallace's expiring contract to try to find a proven commodity at either the center or small forward position.
Sacramento Kings
Mike Ehrmann/Getty Images
The Sacramento Kings desperately need a point guard so they can slide Tyreke Evans over to the shooting guard position.
Kemba Walker would be a beautiful fit—a tough, fearless competitor who would also provide some much needed leadership in the Kings dysfunctional locker room.
However, it is unclear whether Walker will remain on the board at No. 7.
Utah will likely take Brandon Knight third overall, and if Toronto looks to go point guard at No. 5, Walker would be their obvious selection.
If Sacramento finds themselves in such a situation, they would be smart to shop the pick around.
Houston and Philadelphia are both looking for a defensive big man, but may find themselves out of the Bismack Biyombo/Tristan Thompson running with the 14th and 16th overall picks, respectively.
Sacramento could send their pick to the Sixers for Lou Williams or to the Rockets for Goran Dragic, along with the 14th or 16th pick, depending on who they dealt with.
Philly/Houston would be guaranteed the interior defender of their choice and Sacramento would solve their point guard problem for at least one season.
Toronto Raptors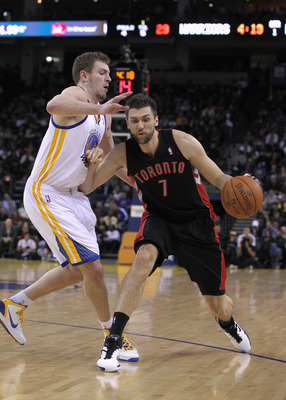 Ezra Shaw/Getty Images
The Raptors hold the fifth overall pick, but like many young teams, have multiple voids to fill.
Amir and James Johnson likely aren't the answers at the forward positions, and they are also looking for an upgrade at point guard.
If Brandon Knight is still on the board, he won't slide past Toronto. However, he will likely be drafted by Utah at No. 3.
Toronto could go with Kemba Walker, but his game is so similar to that of Leandro Barbosa and Jerryd Bayless that it would surely create problems.
The Raptors best option may be to offer up the fifth pick (certainly a hot commodity) to see if they can get proven veterans at the forward positions, then shoring up their point guard spot in next year's draft.
Minnesota Timberwolves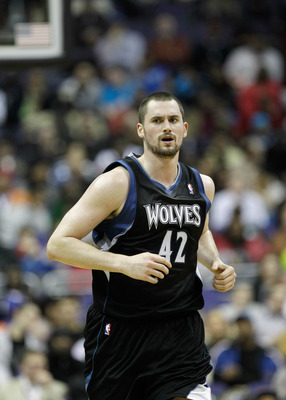 Rob Carr/Getty Images
The Minnesota Timberwolves are in no position to fool around; they must win games right now and adding another rookie isn't the right move.

They've been in rebuilding mode for half a decade now and with just 32 combined wins in the past two seasons, they must become competitive immediately or risk losing everything they've worked for.
Franchise power forward Kevin Love may not stick around much longer, and general manager David Kahn's job is about as safe as a 2:30 a.m. drunk drive to Taco Bell.
With Ricky Rubio finally coming to America, point guard can be scratched off the list of Minnesota needs. However, they have gaping holes at the center and 2-guard positions.
Luckily, the second overall pick is great trade bait.
The 'Wolves can package the pick with one or two of their multiple assets (Michael Beasley, Wes Johnson, Johnny Flynn, Anthony Randolph or No. 20 pick) to bring in a proven veteran contributor at either poistion.
Chad Ford of ESPN offers up several tasty options, namely Pau Gasol of the Lakers, Monta Ellis of the Warriors, or even JaVale McGee of the Wizards.
All would be dramatic upgrades over what the Timberwolves currently have and would put them in a great position to improve next season and beyond.
Keep Reading