2011 NBA Draft: The Best Prospects Still Available for Philly at Pick 16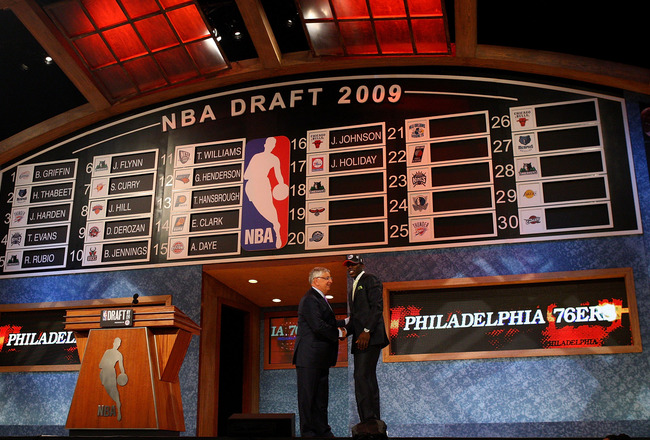 Jim McIsaac/Getty Images
The 76ers were knocked out of this year's playoffs by the Miami Heat, who may very well be the NBA champions when this season is over. Although suffering a first round knockout, the Sixers have a lot to look forward to in the near future.
After his second season, Jrue Holiday is continuing to emerge as one of the best young point guards in the league. Jodie Meeks is young also and played well in a starting role this season. Rookie Evan Turner struggled for most of the season but had a solid postseason. It will be interesting to see how he plays next season now that he has a year under his belt.
Thaddeus Young, assuming the Sixers bring him back, will continue to be a force off the bench along with Louis Williams. For the team as a whole, a second year together in Doug Collins' system will only exude more confidence and continuity. The team is full of young and talented players all growing together to achieve the ultimate goal of winning a championship.
Notice I did not mention Andre Iguodala. That's because it is unlikely he will be with the team next season. It has been rumored that the Sixers are actively pursuing a trade for him.
With the 16th pick in the draft, the Sixers will be looking to draft a player who fits the team persona and team needs. If you have read my articles before, I have talked about a few of these players before as a potential picks for the 76ers.
Here are the players the Sixers realistically have a chance of drafting I believe will best serve the team in the near future and the long run…
Bismack Biyombo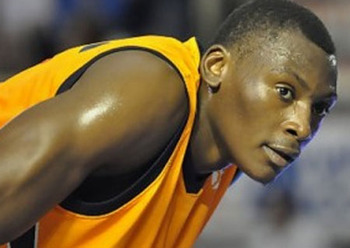 Perhaps no player has moved up the draft boards over the past six months quicker than Bismack Biyombo out of Spain. He is 6'9", 243 pounds but has an amazing wingspan of 7'7".
Without question, he is the best defender in this draft.
Biyombo is a big-time shot-blocker and shows tremendous overall speed from end to end. He protects the rim at all costs. In just 17 minutes per game, he averaged five rebounds and over two blocks a night. His wingspan, coupled with his extraordinary athleticism, make him a nightmare when driving to the lane.
Not yet fully developed, he still showcases a powerful frame and a strong work ethic. The downfall to Biyombo's game is that he has almost no offensive ability. His most efficient way to score is through offensive rebounding. He doesn't have great hands and brings the ball down low in the paint, which makes him susceptible to turnovers.
As a raw talent and with many questions about his game, he is seen as one of the bigger risks in the draft. I beg to differ though, defense and rebounding are the two stats that translate the easiest to the NBA. If the Sixers draft him, he instantly gives them a credible defensive presence on the court.
Tristan Thompson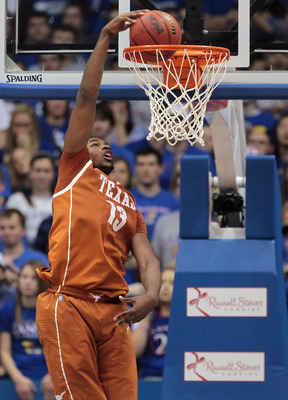 Jamie Squire/Getty Images
Tristan Thompson is entering the draft after just one season at Texas. He is a lefty post player with a 7'5" wingspan and a frame that can effectively carry more weight.
He uses his length, energy and superior athleticism to make plays on both ends of the floor. He runs the floor well, which translates into easy buckets when he beats his man down the court. His exceptional hands allow him to catch the ball and finish in traffic as well.
On offense, Thompson battles for position and seals off his defenders well to give his passers a target. His long arms let him get his hands on a lot of missed shots, and he poses a problem on the defensive end as well. His quick feet allow him to recover quickly when beaten off the dribble or playing help defense.
Even without a polished offensive game, Thompson's potential is sky high, which makes him an irresistible prospect. If he falls to the Sixers, Elton Brand will certainly speed up his offensive development because he plays a similar game. Not only that, Thompson is a good fit because he gets up and down the court quickly and would get easy buckets on their transition-based team.
Jordan Hamilton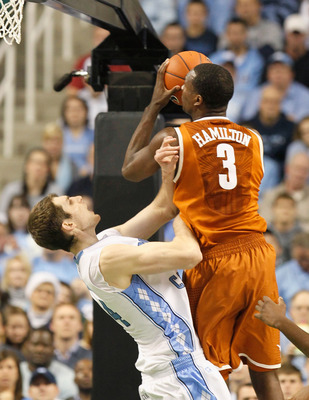 Kevin C. Cox/Getty Images
If the Sixers decide not to draft a big man, depending on if they bring back Thaddeus Young they may need someone to fill that void.
Jordan Hamilton is a small forward with range and shooting guard skills. At 6'8" and nearly 230 pounds, he can be a load for shooting guards and small forwards to handle.
He is a streaky shooter who already has NBA range on his three pointer and can get open without the ball. He isn't just a spot-up shooter though. He can use his size to back down smaller defenders, and also has a decent pull-up jumper.
Hamilton is a good passer for his size and finishes well in transition. He averaged almost 8 rebounds a game for Texas last season, a credit to his intensity.
As stated, the Sixers should only draft Hamilton if they don't like any of the big men left on the board and don't plan on resigning Thaddeus Young. Hamilton's skillset would be perfect with Jrue Holiday and Evan Turner creating looks for him.
Keep Reading

Philadelphia 76ers: Like this team?