2011 NBA Free Agency: 5 Reasons Chris Paul Will Not Be a Hornet in 2012
May 21, 2011
Ronald Martinez/Getty Images
The New Orleans Hornets did as well as they could against Los Angeles, pushing them to six games. Without David West, that was a good result for this team.
You might say it was miraculous. You might even say it was the perfect stage for Chris Paul to show-case his ability to put his team on his back from the point guard position.
Paul showed that he still may be the best pure point guard in the league. Therein lies one of his biggest problems.
Even with teams like San Antonio, L.A. and Boston in decline, it will be difficult for the Hornets to put together the necessary talent to make them a serious title contender.
The biggest storyline of the offseason (along with Dwight Howard) will be whether or not CP3 signs a new deal with the Hornets and where he ends up.  The free-agent frenzy of last year captivated everyone, and this year will be no exception.
Welcome to the new NBA. The landscape has changed. The owners might not like it, but for the fans and the players, it doesn't get any better than this. Let's get to why Paul will be out of the Big Easy soon.
1. Paul's thirst for a championship
Even though CP3 is still young, the clock is ticking on his championship aspirations. He sees the fact that the league is going through a kind of realignment, and he can't afford to be buried on a team that won't contend on a yearly basis.
He's got the money, the fame and the good name. At this point in his career, he doesn't want to end up like Patrick Ewing, Charles Barkley, Reggie Miller, Karl Malone and a host of other stars that are ring-less.
You have to feel like you have a chance each year to win it all, and right now, Paul doesn't have that belief.
2. New Orleans will not be able to attract top free agents
You would think that playing with Chris Paul would be attractive for a Dwight Howard or another star, but you never hear about anyone wanting to go to New Orleans.
Their organization has ownership issues, as the NBA is the de-facto owner, which creates a lot of problems when it comes to making trades and signing free agents.
Why would a grade A star go to an organization that is in that kind of shape? The Hornets are an organization that you would stay away from if you are a free agent in search of a ring.
The funny thing is that they have cap room to play with, but the question remains, what star would sign with them knowing that Paul may not be there for the long haul, and that the organization at the top is in disarray?
3. The Power Factor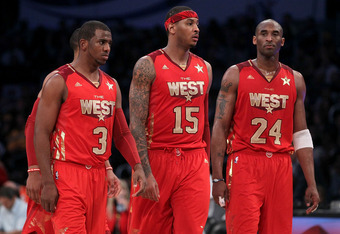 Jeff Gross/Getty Images
Whether we like it or not, the top players in the league have figured it out.  They now know how to get out of any situation they don't want to be in and play where they want and with who they want.
The best thing is that no one can stop them because it is well within the rules.  They have figured out what corporations have been doing for decades with their mergers and back door deals to build bigger stronger companies, with less competition.
Gone are the days where the stars with the long term contracts have no choice but to labor in obscurity with a franchise that will not, or cannot build a championship caliber team.
They will now sign shorter deals, and use the last year to force their way out to get to another situation if necessary. They will figure it out in advance, with other players, of course. Collusion at its finest. The American way, right?
The owners will rebel with the next collective bargaining agreement, because they have egos too and they do not like the fact that the players are deciding what goes down instead of them.
They will try to close the loop holes so they can exercise more control over the top players.  Chris Paul has to make his move now and exercise his power and force a deal.
The Hornets will have no choice because they want to get something for him as opposed to losing him for nothing.
 4. The Friendship and Competition Factor
Paul is a great guy with a good reputation, but he knows now is the time (and it might be the only time) for him to get with some other stars that he likes and compete with the Miami's of the NBA.
These guys talk to each other, and it has become the game within the game.  What I mean by that is which big three or which group of stars can beat the other teams group of stars.
That is what CP3 was talking about at Carmelo Anthony's wedding when he was overheard saying, "We can form our own big three," while talking with Amar'e Stoudemire and Melo.
The egos among of the elite players are too big for them to just sit back while Wade and LeBron do their thing and admit defeat. Their competitive nature demands that they do something about it.
Well, what is good for the goose is good for the gander. 
It is no different than when I was younger growing up in the inner city.  Where I lived good ball players were a dime a dozen, and while we all knew each other, and were friends to some degree, you always had your groups of guys that hung out together and were a close knit group.
Invariably, one group would end up challenging another group for bragging rights, or just to prove that their crew was better.  It would actually draw crowds when the neighborhood found out that it was going to happen.
There was camaraderie on the last Olympic team, but make no mistake about it.  There is a competitive streak that runs hot when they have to face each other to prove who is best. 
That would be true whether it was the playground or the biggest stage on the NBA.  Ask Michael Jordan and many others. After a while, it is the competition that drives you, not the money.
Chris Paul wants to show the best, that he is the best, and that a big three with him as the point guard would be better than any other big three.
5. CP3 Needs a Change in Venue
Chris Paul, and for that matter, David West, have gone about as far as they can with this franchise. 
They went through their time of being the next big up and coming team, then they regressed to what they are now.  A good team but not good enough.
Sometimes change is needed. The last time Paul was in New York he almost looked disinterested.  A change of venue and a new challenge would revitalize him and be better for the league as a whole.
He needs a different market and a different venue. He knows that, and I believe the league knows that as well. Change has been good for LeBron, and it has been good for Melo as well.
Melo said he wanted to step up to the plate and take the challenge of winning in his home town of New York. Just like many of us who has changed jobs or companies for a variety of reasons, Paul knows in his heart that he needs to go.
It is just a matter of how he does it.
If I was advising him, I would tell him to do what is in your heart, play where you want to play, and with whom you want to play with regardless of what the public or media might think or say.
Everything will be forgotten when you are playing with other stars in an exciting conference final, or an NBA Final.
Look at LeBron James.  He is playing the best basketball of his career while putting the Heat team on his back in these 2011 playoffs, and we are all loving it and watching with great interest and amazement (leaving out Cleveland fans of course).