NBA Playoffs 2011: Miami Heat vs. Chicago Bulls Game 2 Live Blog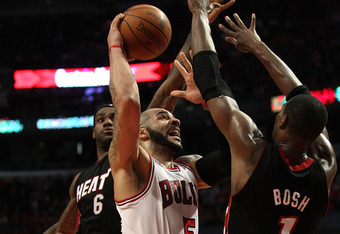 Jonathan Daniel/Getty Images
For tonight's live blog, we feature a play-by-play of Game 2 of the Eastern Conference Finals series between the Miami Heat and Chicago Bulls.
The Bulls routed the Heat in Game 1 with a 103-82 victory after a dominating second half performance.
MVP Derrick Rose led the way with 28 points and six assists in a game where the Bulls size, length and aggressive defense proved to be too much for Miami to handle
The story of the game was the Bulls large edge on the glass, in which they out-rebounded Miami 45-33. In addition, they outscored the Heat in second chance points, 31-8.
Despite Chris Bosh's 30-point, nine rebound effort, the Heat didn't get much production from the rest of the team. Dwyane Wade and LeBron James were limited to an uncharacteristic 33 combined points as the Bulls defense shut down Miami's superstar duo.
Luol Deng also came up big for the Bulls with 21 points and seven rebounds. But it was his defense on LeBron that was the noteworthy part of his Game 1 effort.
Chicago's huge advantage in rebounding, second chance points and overall effort put down the Heat in Game 1.
Now, they are facing a deficit for the first time in the 2011 postseason and are trying to avoid an 0-2 hole before the series heads back to Miami.
Miami will look to rebound in Game 2 and attempt to even the series at one a piece.
Game 2 begins at 8:30 pm ET with the Heat keeping the same starting lineup of LeBron James, Dwyane Wade, Chris Bosh, Mike Bibby and Joel Anthony and the Bulls sending out Derrick Rose, Joakim Noah, Luol Deng, Carlos Boozer and Keith Bogans.
Inactives for the Heat include Erick Dampier, Dexter Pittman and Zydrunas Ilgauskas, while the Bulls sit John Lucas, Jannero Pargo and Brian Scalabrine.
Thanks for tuning into my live blog. I hope you enjoyed it. Game 3 is set for this Sunday at 8:30 in Miami. Series tied at one a piece.
Oh, and before I go. Heat outrebounded Bulls 45-41. That and UD made the difference in the game.
Rose leads Bulls with 21 points. Only other Bulls player in double digits is Deng with 13. Rose didn't get the help tonight.
LeBron led all scorers with 29 points, as well as 10 rebounds and 5 assists. Wade finishes with 24 points and 9 rebounds. Bosh has 10 points and 8 rebounds.
No question about it. Udonis Haslem the MVP of Game 2. 13 points, 5 boards, and a whole bundle of energy off the bench.
That will do it folks. Heat will take game 2 by a final score of 85-75. Great comeback game for the Miami Heat.
Wade gets fouled. All the Bulls fans have left already. Series going to be tied at 1.
Another bounce back game for LeBron. Had 15 in game 1. Has 29 now.
Heat up 9 with 47 seconds to go. It's been the Lebron show.
Who said LeBron wasn't clutch in the 4th quarter? Nails a long jumper with the shot clock winding down.
Heat up 82-75 with 1:01 left in game.
Rose airballs. Heat looking like they have this.
LeBron follows up his miss with a layup. Heat up 7
Wade with 6 points in second half... after pair of FTs.
Wade draws the foul. He might have sold the refs on that one.
he misses the ft however.
Taj Gibson with a slam dunk, and 1.
Coach Spo called it right- its gunan be "mental and physical endurance"
Hope everyone bet the under. This is a really low scoring game at 78-73.
LeBron 5 straight points after having zero points in the fourth. Miami up 5 with 3:14 to go.
Chicago's D stepping up on Miami.
Bibby with another nice flop. Foul on Deng.
This article is
What is the duplicate article?
Why is this article offensive?
Where is this article plagiarized from?
Why is this article poorly edited?

Miami Heat: Like this team?