2011 NBA Draft Lottery: Rating the Chances for Each Team to Take Jimmer Fredette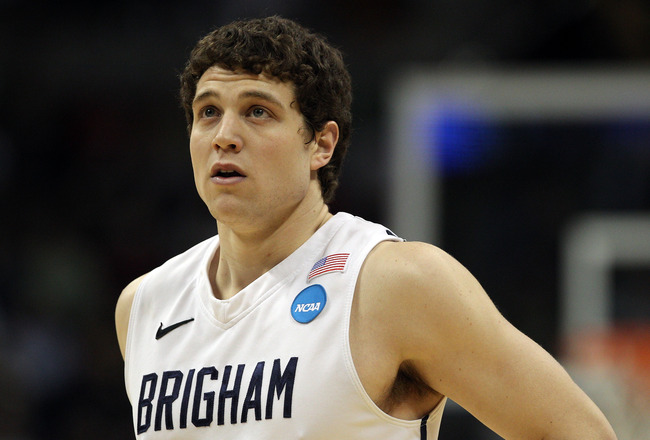 Justin Edmonds/Getty Images
As the 2011 NBA Draft Lottery has concluded, so too has a new chapter in the life of Jimmer Fredette begun.
After a jaw-dropping career at Brigham Young that included a super 28.9 point per game average, as well as a 4.3 assist clip, Jimmer will move onto the professional ranks.
With the order in the draft now set, how many teams will take a chance on Jimmer?
Assuming he doesn't slip past the lottery, there are 12 teams that could snag him, and I will grade each team's chances to grab hold of the Glen Falls, New York native.
I will reveal this and more in the following slides.
Thanks for reading!
Cleveland Cavaliers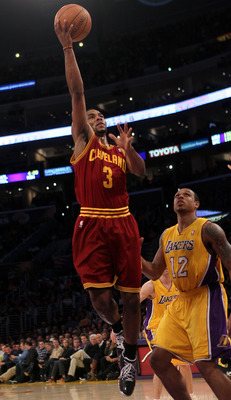 Stephen Dunn/Getty Images
With two relatively decent point guards in Baron Davis and Ramon Sessions and Kyrie Irving likely on the way, the Cavs seem like they would have no use for Jimmer.
So unless Dan Gilbert has some sort of weird fetish for him, there is no chance he is selected by Cleveland.
But Gilbert is crazy, hence the below percentage.
Chances: Less than one percent
Minnesota Timberwolves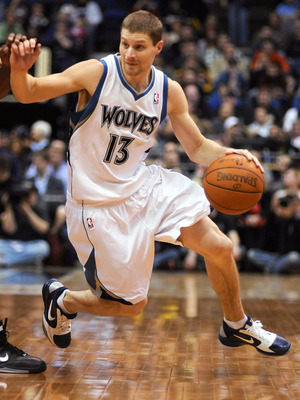 Hannah Foslien/Getty Images
As the Minnesota Timberwolves prepare to embark upon yet another mysterious offseason, one can only wonder what David Kahn has up his sleeves.
I don't think Jimmer fits the Wolves' bill very well, as there is now a great chance Ricky Rubio will join the club next season.
But their stupid general manager, David Kahn, likes point guards, so who knows?
He might call Jimmer "rigged", like he did today with the draft lottery.
What a nightmare of a general manager, and I'm a Wolves fan too!
Chances: Two percent
Utah Jazz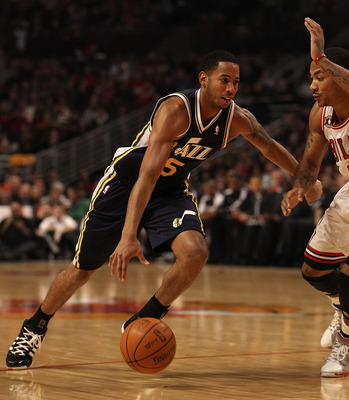 Jonathan Daniel/Getty Images
Now this is the pick that everyone wants to see.
Jimmer would be a fabulous fit in Salt Lake City, the state he played college ball in, and just about everyone in the state knows this is a true statement.
He fits in well with the offense, and the team could use a point guard. Besides, who knows how much longer Devin Harris will be apart of the Utah roster?
The Jazz currently have both the third and 12th picks in the first round, and they most likely would use the latter on Jimmer. They need a shooting-orientated guard, and Jimmer fits the bill perfectly.
Chances: 40 percent
Toronto Raptors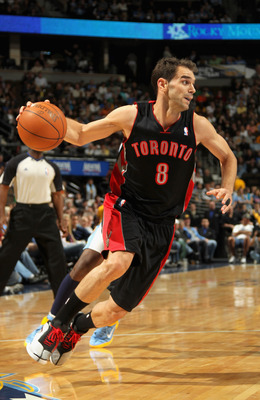 Doug Pensinger/Getty Images
Now this is an intriguing and perhaps overlooked pick.
What if the Raptors somehow traded with, say, the Warriors or the Bucks and landed Jimmer before the Jazz could with their second pick?
It's unlikely a scenario like that would happen since they possess two true point guards in Jose Calderon and Leandro Barbosa, but you never know.
Chances: Eight percent
Washington Wizards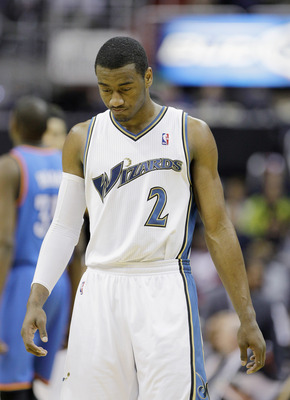 Rob Carr/Getty Images
If the Wizards were to pick Jimmer with the sixth pick overall, it would exclusively be a backup role at the point guard position.
That's not to say they won't pick him; after all, Wall and Fredette would compliment each other very well.
If they do pick him, though, it wouldn't be at the sixth pick. Expect them to trade down if they go for the sharpshooter.
We really have no idea how Jimmer will turn out in the NBA, so why not go to a place that already has a starter ensured? He can always up his trade value by playing well his first two seasons or so.
Chances: Five percent
Sacramento Kings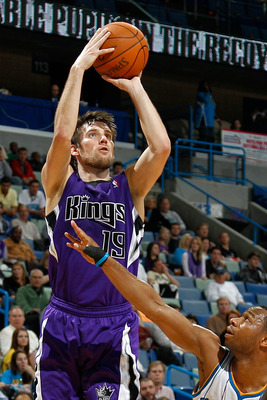 Chris Graythen/Getty Images
Since Tyreke Evans realized his true potential at the shooting guard position rather than the point, that leaves us with two point guards—Beno Udrih, a relatively dismal performer, and Pooh Jeter, an unexperienced piece of work.
Could Jimmer fit in with the team?
Certainly he could, but like the aforementioned clubs, this may be a bit early to take him. Still, a good fit for a team that could use an offensive boost at the position. Udrih averaged 13.7 points per game this season, sure, but when you play close to 35 minutes, you expect to be more productive.
There's a chance, Sacramento.
Chances: 15 percent
Detroit Pistons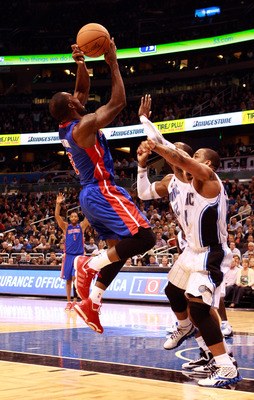 Sam Greenwood/Getty Images
Rodney Stuckey is a decent point guard, a guy who can go off for 15 points and dish out five assists on any given night.
Tracy McGrady played some point guard this season, too, and Will Bynum is also on the roster.
Any chance Jimmer joins the crew?
I don't think so. If they will take a point guard, it'll be Kemba Walker or Brandon Knight. They'd have to be desperate to choose Jimmer.
Chances: Four percent
Charlotte Bobcats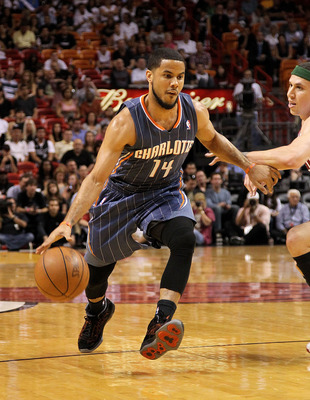 Mike Ehrmann/Getty Images
D.J. Augustin might become trade bait over the next few seasons in order for the superstar rumors to become true.
Jimmer most likely wouldn't be a good fit on Michael Jordan's team, and the likelihood of him going to Charlotte isn't all that high.
Chances: Two percent
Milwaukee Bucks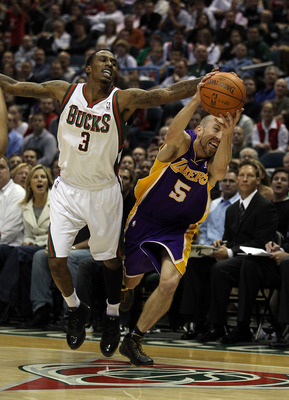 Jonathan Daniel/Getty Images
Brandon Jennings might be on his way out, but that shouldn't affect the status of Jimmer at all.
The Bucks still have Keyon Dooling and Earl Boykins on the roster, and I can't imagine they would draft Jimmer unless they were preparing to make a draft day deal.
Chances: Two percent
Golden State Warriors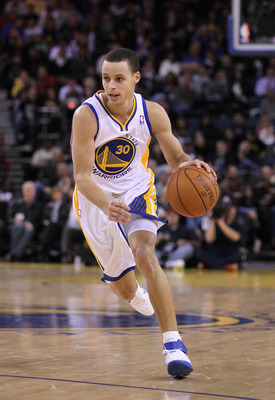 Ezra Shaw/Getty Images
Here's my darkhorse of the slideshow: a young, talented, Golden State Warriors squad.
Jimmer Fredette is like Stephen Curry in the fact that they are molded offensive players who both can drain just about any shot from any tile on the hardwood.
Jimmer has drawn comparisons to Steph. They were both from mid-major programs, and they were both the most prolific scorers in the country in their respective seasons.
So why not take a chance?
Jimmermania might be coming to Oakland.
Chances: 20 percent
Phoenix Suns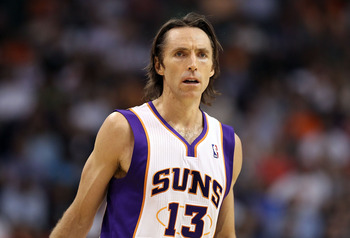 Christian Petersen/Getty Images
Steve Nash, at 37 years young, is showing no signs of slowing down.
Since Jimmer is practically a poor man's Nash (great shooter and plays no defense) in some aspects. How great of a mentor would the future Hall of Famer be for the 22-year-old?
The selection would be especially good if Aaron Brooks hit the road, opting to find greener pastures over the sticky Phoenix situation.
However, it won't happen most likely, since the Jazz loom above the Suns by just one selection.
Chances: One percent
Houston Rockets
Ezra Shaw/Getty Images
Kyle Lowry is the future here.
If the Jazz for some reason didn't take Jimmer, the Rockets might—and that's probably a stretch. But there's really no real feasible explanation for why he wouldn't be off the charts.
There is no chance he goes to Houston.
Chances: Less than one percent
Joseph Fafinski is currently a freshman at the University of Missouri. Originally from Chaska,Minnesota, Joseph is an NBA and Minnesota Timberwolves Featured Columnist and a frequent writer on all things NBA, NFL and MLB.
You can email Joseph at jef3m8@mail.missouri.edu or follow him on Twitter at @JosephFafinski.
Keep Reading