Derrick Rose and LeBron James: Comparing Our Last 2 MVPs in 5 Categories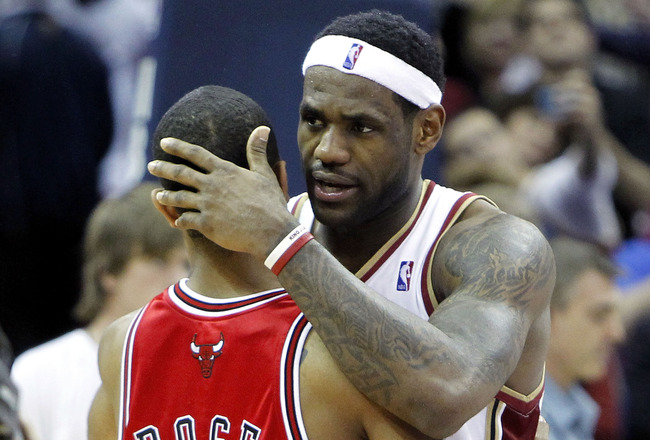 Gregory Shamus/Getty Images
Hardware
Giving up the MVP crown is a difficult thing to do, especially for a man who is referred to as "King James." Maybe LeBron's performance in the playoffs this year will earn him a team-ring for his finger to replace the individual-crown for his head, a head that some believe is home to an ego big enough to be checked at airports before boarding. This ego has certainly proved to be controversial baggage, baggage that Cleveland fans were nonetheless still not so pleased with losing. That baggage was sent to Miami, and Cleveland was sent to one of the worst records in franchise history. Could this be a case for LeBron staking claim to his third straight MVP?
A sharp-shooting, hard-driving, team leading point guard from Chicago provided plenty of reasons why LeBron's run as MVP should (and did) come to an end. Rose is now focusing on ending LeBron's playoff run as well as his Bulls face-off against LeBron's Heat in the Eastern Conference Finals.
According to Cleveland Cavaliers owner Dan Gilbert, all LeBron haters have nothing to worry about. Hardly on par with the curse of the Bambino in Baseball or the curse of the Billygoat in Chicago, Gilbert told fans in a letter that "the self-proclaimed 'King' will take his 'curse' with him down south." Unfortunately, Gilbert himself seems to be the one cursed to own a team that may never sniff the opportunity for NBA championship hardware again.
Winner: LeBron
The Controversy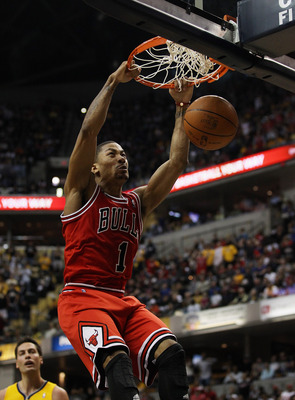 Jonathan Daniel/Getty Images
Controversy
Aside from a gang-sign thrown in 2009, which he called "a bad joke," Rose has impressively avoided the public's ire, preferring instead to anger opposing team defenders and coaches with his maddening skills.
LeBron, on the other hand, upset an entire city (albeit one that has a history of fan related frustration) and then pulled an Earnest Byner when he fumbled at the goal-line with his "Decision" to take his talents to South Beach. LeBron's decision to essentially take off the deciding fifth game in Boston last year was another decision that angered not only Cleveland fans, but LeBron fans and Celtic detractors across the nations. Result? Countless jerseys were fittingly burned when Lebron moved to the Heat.
LeBron has returned to the top of the NBA jersey sales rankings, but Rose still remains in the top five of jersey sales, and I don't believe that any fans will be taking threads with his name and number on them to fire anytime soon. There were the tears at the press conference when Rose accepted the MVP trophy, but these tears were much less critiqued than the ones that Heat coach Eric Spolestra claimed that LeBron's Heat teammates were shedding after a March loss to the Bulls.
Was the great King James the one doing the crying? We may never know.
Winner: Rose
The Commercials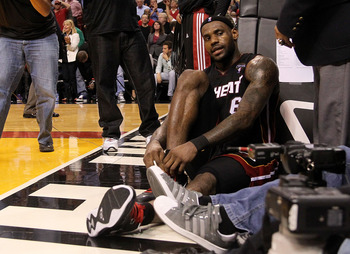 Mike Ehrmann/Getty Images
The Commercials
Of course, Derrick Rose may not be able to accept those Air Jordans, seeing as he is endorsed by Adidas. "Fast Don't Lie" is the motto that is repeated over and over again in these shoe ads and is one that Derrick Rose himself adheres to, admitting that he has a "very quick first step." Could it be the shoes? The Adidas commercials don't really do him any favors and feature a "15 minutes of fame" comedian famous for his appearance in "The Hangover." The ads try as hard as Nike has to force James down our throats as the next King of the Hardwood.
In the famous commercial "Still I Rise", produced by Nike, LeBron asks us all "Should I be who you want me to be?" LeBron is his usual arrogant self in this commercial, although he seems confused that so many people would be upset with how he handled leaving Cleveland as well as how he handles himself on the floor (being called Queen James for his theatrics by many of my fellow Wizards fans). Does he really not know who he should be?
A much better Derrick Rose commercial consists of him, Rajon Rondo, and a few other players sitting in an apartment trying out the new NBA 2K11 game. They are all joking around as if the camera wasn't even around and this was reality. They present themselves as highly likeable, which is how many fans view Rose after his first few years in the league. Rose and his friends look like a team on screen, while LeBron's commercials are composed solely of himself playing every member of a fictional family (The LeBrons). Other than Dwyane Wade, LeBron may have to play the part of ever other member of the Miami Heat if they stand to take down the Chicago Bulls in the series.
Winner: Rose
The Technical Fouls
Marc Serota/Getty Images
Technical Fouls
LeBron spent more time in the ref's face than he does at the free-throw line this year. When he doesn't receive one of his much relied-upon foul calls, he can turn into a teenage boy who just learned that his father won't allow him to use the car that night. This kind of detrimental behavior earned LeBron more than three times the technical fouls that Rose picked up this year (seven for LeBron vs. two for Rose). A leader on the court should leave his battles on the court to use his voice for team leadership and be able to swallow his words when necessary.
Speaking of words, before the Bulls' game 6 victory over the Atlanta Hawks, Rose proclaimed that this was "the biggest game of their lives." LeBron, on the other hand, finally apologized to the fans of Cleveland. Rose's words are chock-full-of team references, while LeBron's tend to be full of more "me" than even Terrell Owens himself could handle. "Me" loses the battle with the refs and loses the battle with Rose on this one as well.
Winner: Rose
The Skills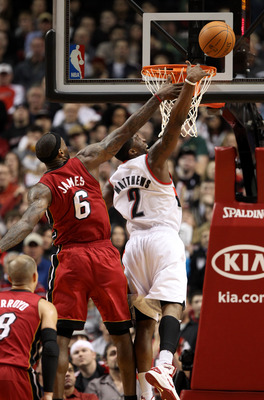 Tom Hauck/Getty Images
Skills
Both of these talent giants have tamed the three point line, mastered the mid-range and used the paint to brush the rim with greatness. LeBron is the man child, while Rose is so fast that he can't even be stopped by the pause button. Rose is the point guard, but LeBron has never passed on an assist either, sometimes opting for another teammate rather than doing what were all thinking; "drive to the lane you winged footed Hercules!" Of course, Rose has engraved his name on the paint as well, slamming home ferocious dunks with the two hands it takes to hold an oversized Chicago deep-dish slice of pizza up to your mouth.
This is a difficult one, but I am going to give the nod to LeBron just based on his ability to score at will and due to his immensely intense defense. He has improved on it and applies devoutly on the other end of the court. Rose can step up to almost any other guard in the league as well, but LeBron earns the slight edge overall.
Winner: LeBron
The Overall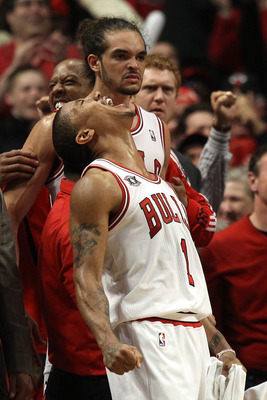 Jonathan Daniel/Getty Images
Overall
Will Miami prove to be tough enough to corral the charging Bulls after falling behind 1-0 in the series? Will the midseason tears return? Where will Lebron be when the Heat are put under the flame? Do the Bulls have many more "biggest games of their lives" left in them? How will Rose and LeBron handle themselves throughout this series? Will there be any controversy? This will go a long to solving the puzzle that is "Rose vs. Lebron," but for now, we must go on what facts we currently have, and I believe these point to the Derrick Rose, the unselfish-leader as the winner.
Overall: Rose
Keep Reading

Miami Heat: Like this team?