2011 NBA Mock Draft: What the Entire First Round Might Look Like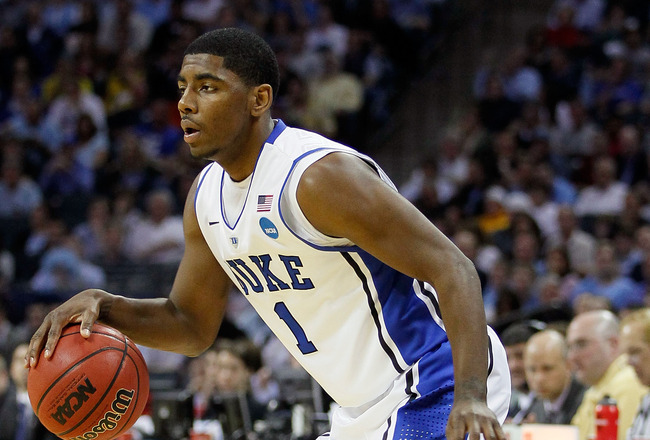 Kevin C. Cox/Getty Images
The NBA Draft Lottery is being held Tuesday night, so before everything gets mucked up with a brand new order, I figured I might as well throw out my updated mock draft.
Kyrie Irving and Derrick Williams are jostling to be picked No. 1, while Enes Kanter is coming on strong and some European players are either rocketing up the list or limping down depending on how they have been perceived in NBA circles.
The threat of a lockout has hurt the field a bit, as Perry Jones, Jared Sullinger and Terrence Jones have all said that they will be returning to college, when they all could have been very high lottery picks.
As of right now, the Minnesota Timberwolves hold the best chance of nabbing the No. 1 pick in the draft, so we will start with them and go down the list of all 30 picks before they get shaken up tomorrow night.
1. Minnesota Timberwolves, Derrick Williams, SF/PF, Arizona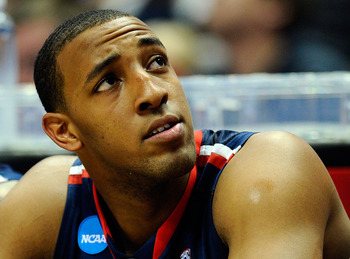 Kevork Djansezian/Getty Images
As far as I'm concerned, Derrick Williams is the best player in this year's NBA draft. He was the most dynamic player in this year's NCAA tournament, taking Arizona into the Elite Eight, losing by two points to the eventual champions.
Williams is the most NBA-ready player in the draft, with the athleticism that every NBA team seeks right now.
He has the most potential to become a franchise player compared to the rest of the field with his great jumper, developing post skills and a lot of room to grow in terms of skills and body size.
2. Cleveland Cavaliers, Kyrie Irving, PG, Duke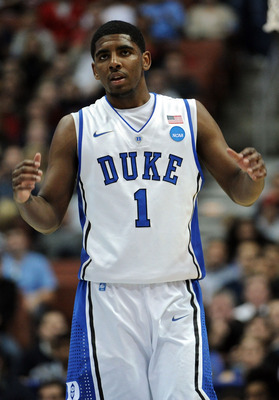 Harry How/Getty Images
Kyrie Irving is the obvious choice at No. 2 for the Cleveland Cavaliers, as he has the most potential of any player left in the draft, and as they aren't really looking for immediate impact, they will have the patience to wait for him to develop.
Irving is lightning quick with great ball-handling skills and a jump shot that is getting better with every game he plays.
There are many things that he needs to work on, but that will allow the Cavs to draft around him to play to his strengths.
3. Toronto Raptors, Enes Kanter, PF/C, Kentucky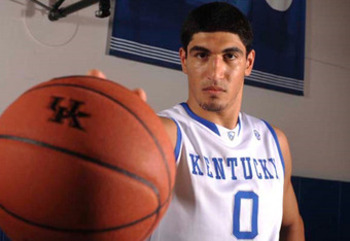 Enes Kanter could end up being better than either of the top two picks in the first round, but he has too many questions right now to be picked first or second.
Kanter is a big, strong man who has a developing offensive game that is getting better both from in the post and from the mid-range.
The problem is that he has some questions with his injuries and he has yet to play a game in the USA.
4. Washington Wizards, Jan Vesely, SF/PF, Czech Republic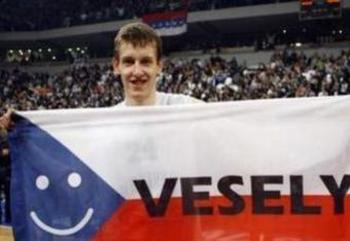 Jan Vesely has been coming on strong in the past month or so, with his highlights circulating around the internet. He has good speed for a guy his size and will be a big power forward with some great dunking skills.
He needs to continue to improve his offensive game, but he has great potential to turn into an above-average NBA player.
5. Sacramento Kings, Brandon Knight, PG/SG, Kentucky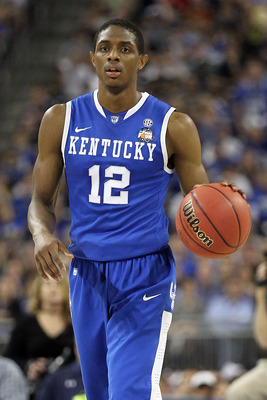 Andy Lyons/Getty Images
Brandon Knight was a terrific scorer for Kentucky, and it's not hard to imagine him becoming a great scorer in the NBA, and he could be one of the better lottery picks in this draft.
Knight has been compared to Jason Terry when it comes to scoring ability, so he is in good company there.
6. Utah Jazz, Jonas Valanciunas C, Lithuania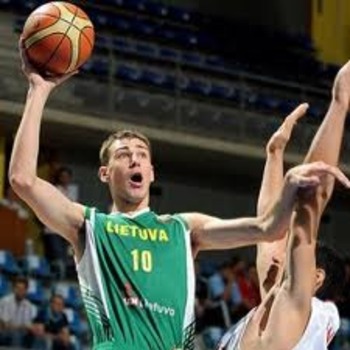 One of two Lithuanian big men in this draft, Jonas Valanciunas probably has the most potential when it comes to the two guys.
Valanciunas is big, athletic and pretty fast for a guy his size and of his whiteness. Plus, he has some good low-post moves and a good jump shot, both of which are still developing.
7. Detroit Pistons, Alec Burks, PG/SG, Colorado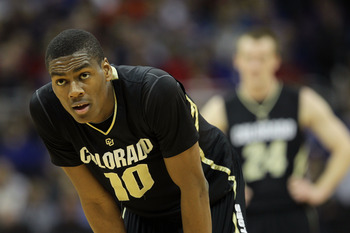 Jamie Squire/Getty Images
There are two things that point to Alec Burks going to Detroit in this year's draft.
First, Alec Burks has been called a hard worker, which should help the people of Detroit identify with the guy after watching Charlie Villanueva and Ben Gordon show how not to work hard after getting overpaid.
Second, Alec Burks has been working with Chauncey Billups in the past few weeks on developing a better jump shot.
8. Cleveland Cavaliers, Donatas Motiejunas, PF, Lithuania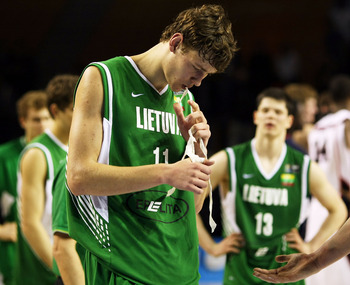 Hannah Johnston/Getty Images
What better way to get back on track for the Cleveland Cavaliers than to get a guy similar to who got them back on track back in the late 90s.
Donatas Motiejunas is quite a bit like Zydrunas Ilgauskas, in that he is a seven-footer from Lithuania who has a silky-smooth jumper.
The only problem is that here have been signs of him not trying his hardest all the time, which people in Cleveland will pick up on right away (see Game 5, 2010 Eastern Conference Semifinals).
9. Charlotte Bobcats, Kemba Walker, PG, UConn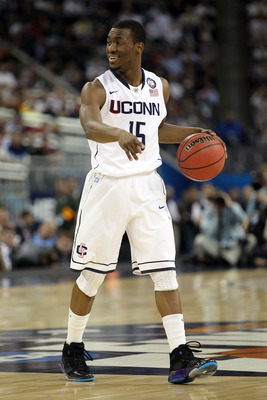 Ronald Martinez/Getty Images
Kemba Walker absolutely rocketed himself up the draft board with this year's NCAA tournament run.
He showed off so many different skills that teams look for in the NBA that he went from being a potential top-20 pick to a guaranteed lottery pick.
Walker showed that he is a clutch shooter, he is a born leader and he has the ability to ratchet up his game when the heat is on.
10. Milwaukee Bucks, Tristan Thompson, PF, Texas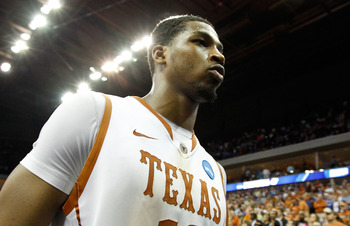 Tom Pennington/Getty Images
He's lefty, he has a tremendous wingspan and he has gone from slightly chubby to absolutely ripped all in about a year, so teams have taken notice of the big man from Texas.
He has a lot of positives, but he has played mostly in the low post, and with his size (6'9"), it will be hard for him to survive in the NBA for long without a mid-range game.
11. Golden State Warriors, Marcus Morris, SF/PF, Kansas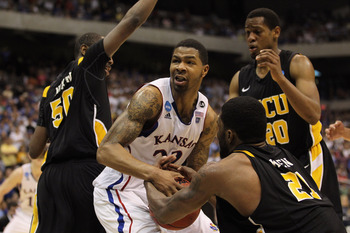 Ronald Martinez/Getty Images
Marcus Morris seems to be exactly the type of guy that Golden State would draft, as he gives off an image of good defense, but his size won't allow it to translate well in the NBA.
Morris emerged last season with a great ability to score the ball and rebound, but his defense wasn't exactly as good as he got the reputation for.
He should make for a good scoring and rebounding forward in the NBA, but might leave some to be desired on the defensive end.
12. Utah Jazz, Jimmer Fredette, PG, BYU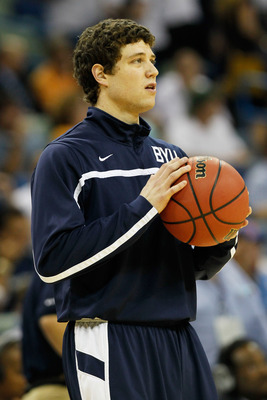 Kevin C. Cox/Getty Images
Everyone talks about these two hooking up because it's almost too perfect, and things that are too perfect seem to happen a lot in the NBA.
Terrible teammates hook up (Ron Artest and Stephen Jackson, Jail Blazers), hard workers meet up (Michael Jordan and Scottie Pippen, John Stockton and Karl Malone), and players seem to gravitate toward cities that seem to be the place they were born to live (Shaq and Kobe, any Knick guard from 1995 to 2008).
Jimmer belongs on the Jazz, even if he will be a bust.
13. Phoenix Suns, Kawhi Leonard SF, San Diego State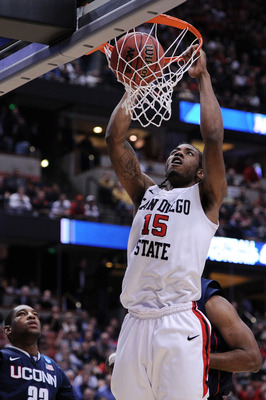 Harry How/Getty Images
I don't know why, but whenever I hear the name Kawhi Leonard, I automatically think of the Phoenix Suns.
The reasoning behind it doesn't really matter, but what does matter is that he is an explosive small forward who can come in and compete with Jared Dudley for the starting small forward spot with Vince Carter's contract expiring.
14. Houston Rockets, Klay Thompson SG, Washington St.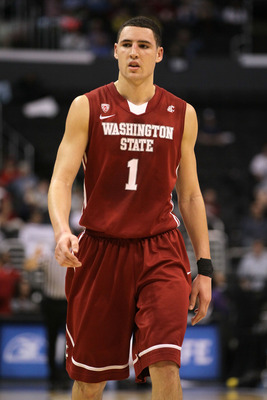 Jeff Gross/Getty Images
Pure shooters are few and far between in this world, and Klay Thompson is one of them.
Thompson is average at just about everything else in his game, but he is such a good shooter that he should end up being a lottery pick.
15. Indiana Pacers, Markieff Morris SF/PF, Kansas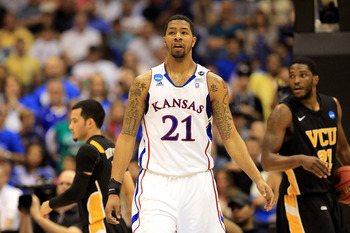 Ronald Martinez/Getty Images
Markieff is projected to be drafted below his brother Marcus, but I think he will end up being a better player in the NBA than Marcus.
He is a much better defender with the ability shoot the ball nearly as well as Marcus. He is much more well balanced than Marcus, and can do almost anything on the court.
16. Philadelphia 76ers, Tyler Honeycutt, SG/SF UCLA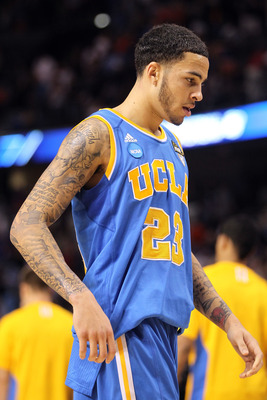 Mike Ehrmann/Getty Images
Tyler Honeycutt is one of my favorite players in this draft, mostly because of his huge potential.
Basically, just imagine Tayshaun Prince back in the early 2000s and you have Honeycutt. He's a guy who is freakishly long, and seemingly too skinny to do some of the things he does, which makes it just that much more impressive to see him float through the air to dunk a ball or block a shot.
17. New York Knicks, Trey Thompkins PF, Georgia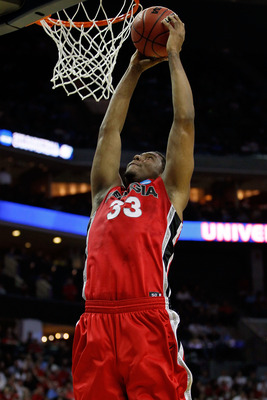 Kevin C. Cox/Getty Images
The first time I ever saw Trey Thompkins, before I ever saw him play, I assumed that he was a physical, low-post defensive presence.
Boy was I wrong.
The big man from Georgia has a sweet jump shot to go along with some decent low-post moves, but really needs to work on his defense to make a smooth transition into the NBA.
18. Washington Wizards, Kenneth Faried PF, Morehead St.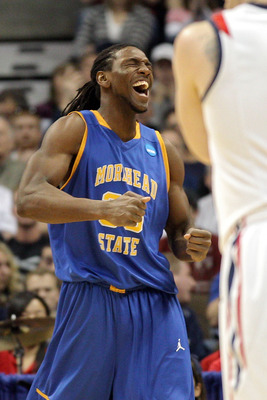 Justin Edmonds/Getty Images
Kenneth Faried could either be a gargantuan swing and a miss or an absolute home run.
He can't score and he's a bit short, so deal with that right now, but he is a monster on the boards and a physical force on defense. Sounds a bit like Ben Wallace to me.
Faried can be a bit clumsy at times, so he needs to shore up some basketball skills, but if he can do it, he could be a good piece to a championship team.
19. Charlotte Bobcats, Jordan Hamilton SG/SF, Texas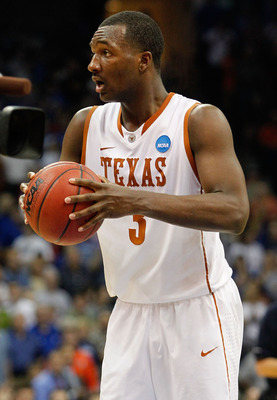 Tom Pennington/Getty Images
Well, my mock draft has Charlotte grabbing a good scoring point guard early on, so why not add a good scoring forward to go along with Kemba Walker.
Jordan Hamilton has a plethora of skills on offense, and he needs to find one to hone, which is the biggest reason he isn't higher on many draft lists. He is good at a lot of things on offense, but not great at just one.
20. Minnesota Timberwolves, Tobias Harris SF/PF, Tennessee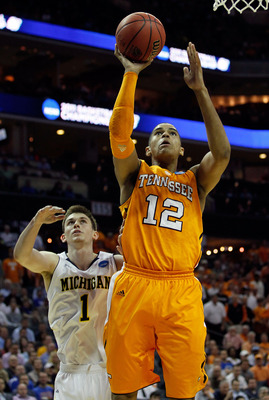 Kevin C. Cox/Getty Images
First, let me just say that I'm pretty stoked that a guy named Tobias will be in the NBA next year. It just seems like no basketball player ever has been named Tobias.
Harris is another jack of all trades, master of none who really needs to hone in on one skill and excel at it.
21. Minnesota Timberwolves, Chris Singleton SF/PF, Florida St.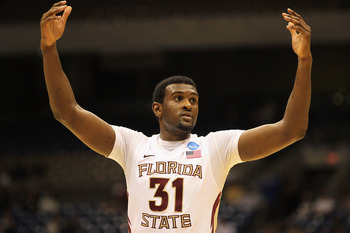 Jamie Squire/Getty Images
This man fits the personality of both what the Timberwolves need and what their fans want.
Chris Singleton is a lockdown defender and an all-around blue-collar guy who has developed his game in his three years at Florida State.
No longer just a great defender, he has turned himself into a good spot-up shooter.
22. Denver Nuggets, JaJuan Johnson PF, Purdue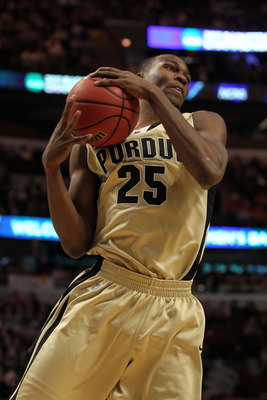 Jamie Squire/Getty Images
JaJuan Johnson is a born leader with great size, length and athleticism that any team would want. It's just a question of how early will a team take a stab at him.
Johnson needs to add some strength to his frame to compete down low with the Zach Randolphs of the NBA, and he really needs to develop his post skills, but his size is enough for teams to give him a second look.
23. Houston Rockets, Bismack Biyombo C, Congo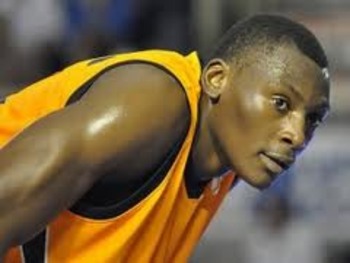 Bismack Biyombo has the coolest name in the draft, but he is also the most mysterious coming from the Congo.
He is small for a center, but if Chuck Hayes has taught us anything this year, it's that a small guy can thrive at center.
What baffles me is that he is listed at just 6'10", but has a 7'7" wingspan. I would have to think that he could touch the ground without even bending his knees.
24. Oklahoma City Thunder, Jordan Williams PF, Maryland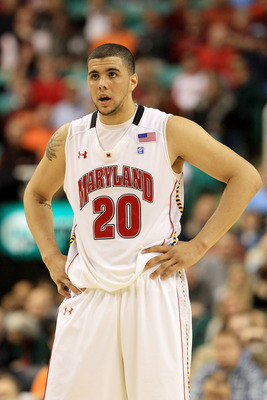 Streeter Lecka/Getty Images
Adding another big man to the lineup would give Oklahoma City another weapon down low, as they pretty much have the scoring locked down with Russell Westbrook and Kevin Durant.
Williams is a big, strong guy who has a nose for the ball, which helped him grab nearly four offensive rebounds a game this past season.
25. Boston Celtics, Nikola Mirotic SF/PF, Montenegro
There was a time early in the 2010-11 NBA season when Mirotic looked like he could go as high as a low lottery pick in this year's draft, but teams have gotten low on him at this point.
With the way teams used to think about him, I wouldn't be surprised to see one of the teams picking later in the round take a chance on the European marksman.
26. Dallas Mavericks, Nolan Smith PG, Duke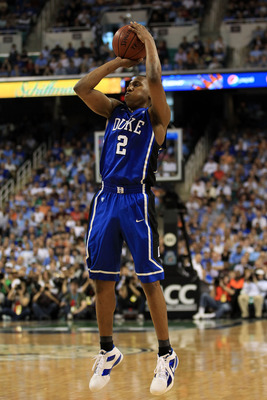 Streeter Lecka/Getty Images
When Nolan Smith filled in for Kyrie Irving during the season, Duke fared just fine, mostly due to his high basketball IQ.
Smith always seemed to know what was going on when he was on the court, plus he's coming out of two basketball factories, going to college at Duke and high school at Oak Hill.
27. New Jersey Nets, Darius Morris PG, Michigan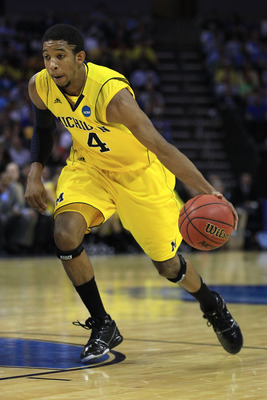 Streeter Lecka/Getty Images
Darius Morris may have taken an early leap into the NBA, but he does have good potential, which could get a team to take a chance on him late in the first round.
He made a huge improvement from his freshman year to his sophomore year at Michigan, and if he continues to improve, any team would be happy to have him.
28. Chicago Bulls, Davis Bertrans SF, Latvia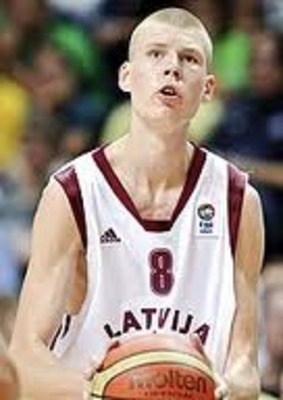 Well, he's European and he is a pretty good-sized old boy, so I'll give you one guess at what he can do. Did you guess that he's a good jump shooter? Well, right you are.
Bertrans looks like he's about nine years old, but he can be a great role player one day so long as he works on his conditioning.
29. San Antonio Spurs, Shelvin Mack PG/SG, Butler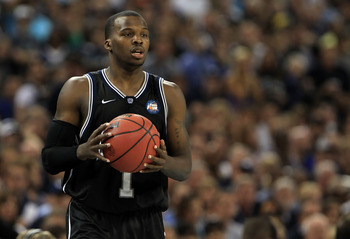 Streeter Lecka/Getty Images
Shelvin Mack was key in Butler's run back to the NCAA championship this year, which really helped his draft stock.
Mack is a great shooter and a strong little guy on top of that, which makes him a tough, tight defender.
30. Chicago Bulls, Kyle Singler SF, Duke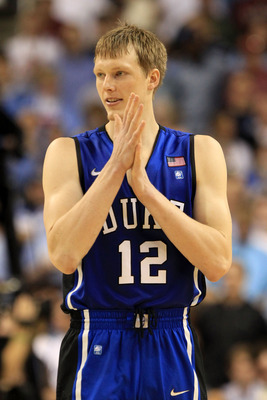 Streeter Lecka/Getty Images
He's a hard worker and always works up a sweat before the game even starts, something that every team in the league values.
Singler at the very worst could become a spot-up shooter who helps stretch out the defense for a few minutes every quarter.
Keep Reading