NBA Free Agents 2011: Greg Oden & 10 Defensive Stalwarts Available This Summer
Chris Graythen/Getty Images
So far there have been some obvious standouts for Detroit in their quest for the Cup—and current quest to dig themselves out of a 3-0 series hole.
Pavel Datsyuk has been nothing but pure hustle n' flow for the Red Wings. Every time he is on the ice it seems that he is dictating the play and creating time and space for his teammates.

Jimmy Howard has been (I'm running out of adjectives to be honest... let's try..) transcendent in his play and is arguably the only reason the Wings are still standing in their current series.
He hasn't stolen any games, but he is making big stops when he needs to. Anytime your goaltender is making 30 or 35 stops a game he is doing his job.
Lidstrom has proven that he still has plenty left in the tank with his outstanding play.

But who are the other guys? The guys playing in the large shadows that the Nos. 13, 40, and 5 cast? Lets take a minute to appreciate the five guys that are currently playing their butts off and not getting quite enough attention for it.

Here is Detroit's five biggest unsung heroes thus far. In no particular order...
Jason Collins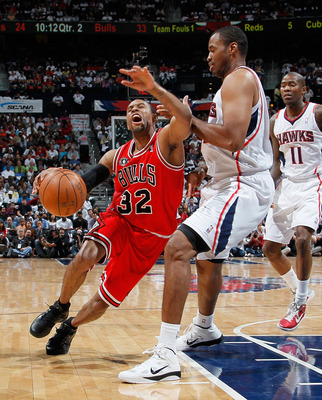 Kevin C. Cox/Getty Images
2011 Status: Unrestricted Free Agent
2010 Team: Atlanta Hawks
Jason Collins isn't one of the more popular names out there in free agency, but his stock is sure to rise. Collins didn't even have the hearts of Hawks fans until he began to deny NBA superstar Dwight Howard towards the end of the year.
Collins also has started and intensified Atlanta's defense in the series against the Chicago Bulls.
He's 7'0" tall and weighs around 255 pounds. He's not a stat machine, but he's a perfect defensive addition for any team that needs a solid interior.
Tyson Chandler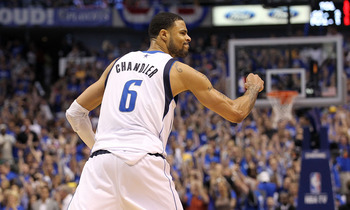 Ronald Martinez/Getty Images
2011 Status: Unrestricted Free Agent
2010 Team: Dallas Mavericks
Tyson Chandler might be one of the biggest free agent names in this summer's market, and his defensive numbers are definitely solid.
He averaged 9.4 rebounds and 1.1 blocks for the Mavericks this year, but it was his performance in the sweep against the Los Angeles Lakers that rose so many eyebrows.
Chandler's stock will definitely rise because of that performance, and his value in free agency will be high.
At 7'1", he's quite the towering prospect.
Zydrunas Ilgauskas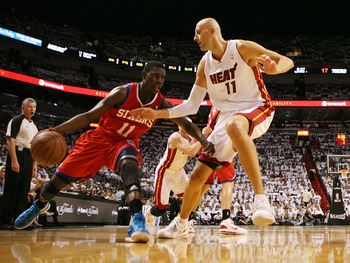 Marc Serota/Getty Images
2011 Status: Unrestricted Free Agent
2010 Team: Miami Heat
Big Z's stats have not been staggeringly impressive, but he was a defensive presence in Cleveland and is a sure talent who just has not been as active in Miami.
He's the biggest man in the free agency market in terms of height, at 7'3", and he's a surprisingly athletic player who can stretch out to the wing to stop penetration.
Whoever gets Ilgauskus as a feature player, especially teams who are in need of a star, will definitely be happy. He's no superstar, and he's not going to sell jerseys, but he can stuff the paint and heavily improve the performance of his entire team.
Mario West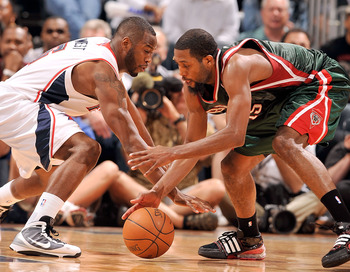 Grant Halverson/Getty Images
2011 Status: Unrestricted Free Agent
2010 Team: New Jersey Nets
Mario West (in the Hawks uniform, pictured above) isn't nearly the big ticket name in this year's summer free agency class.
But, if a team needs a high energy bench player who can make plays defensively, there may not be a better perimeter option to go after than West.
West made himself a popular man, while in Atlanta, with his stingy defense, which included a stand out game against Kobe Bryant in 2008.
His offensive ability is raw, but his defensive presence is actually outstanding.
Samuel Dalembert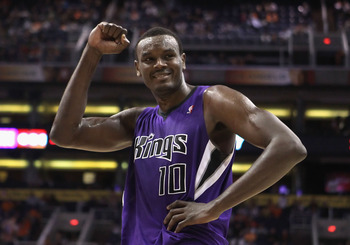 Christian Petersen/Getty Images
2011 Status: Unrestricted Free Agent
2010 Team: Sacramento Kings
Dalembert has been relatively quiet in Sacramento, but teams know just how good he is.
Although his team struggled, Dalembert averaged a solid 8.2 rebounds and 1.5 blocks per game with the Kings this past season.
He's a tall and athletic center who brings offensive ability as well, but his tenacity on defense makes him a huge name in this year's free agency.
Tim Duncan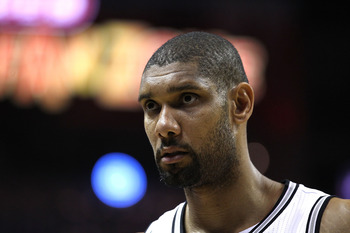 Jed Jacobsohn/Getty Images
2011 Status: Unrestricted Free Agent
2010 Team: San Antonio Spurs
It sure would be weird to see, but Duncan could end up in another uniform in 2011.
The Spurs quick elimination from the playoffs was blamed on their aging team, but Tim Duncan, when healthy, is still Tim Duncan.
Although he is entering his 14th year in the NBA, Duncan was still very good on the defensive side of the ball this year.
He averaged 8.9 and 1.9 blocks per game.
Shaquielle O'Neal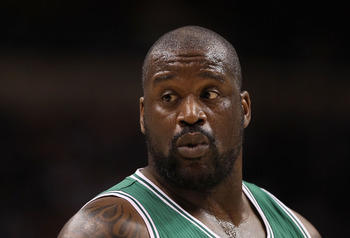 Christian Petersen/Getty Images
2011 Status: Unrestricted Free Agent
2010 Team: Boston Celtics
Shaq is another tenured player who's lost some of his star power over the years, but his defensive presence will always be felt as long as he's on an NBA roster.
He likely won't be on the Boston Celtics roster next season, however, so let the bidding for the man formerly known as "Big Shamrock" begin.
His 9.2 rebounds and 1.1 blocks per game are solid enough to land him on this list.
Also, another element of note that makes him noteworthy: He's Shaquille freaking O'Neal. That sells, especially to teams who are desperate for force (and attention).
Kenyon Martin
Kevork Djansezian/Getty Images
2011 Status: Unrestricted Free Agent
2010 Team: Denver Nuggets
Martin had an okay series against the Oklahoma City Thunder, but it obviously wasn't enough, and his stock might dip just a tad because of the playoff performance.
His statistics are not mightily impressive, in fact they don't raise an eyebrow at all.
But, Martin is talented, big, and capable of being a dominating defensive presence.
Marc Gasol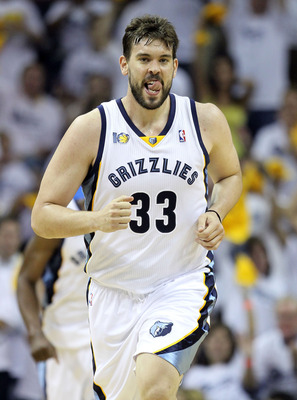 Andy Lyons/Getty Images
2011 Status: Restricted Free Agent
2010 Team: Memphis Grizzlies
Gasol is still in the playoffs, but teams are likely already licking their chops to get this guy.
His restrictions make his move less likely, but if he does move it will be a blockbuster deal with high publicity.
Why?
He's a defensive machine, and potential star player, if he isn't already.
He averaged 7.0 rebounds and 1.7 blocks per game this year, but he's only going to get better and better.
Greg Oden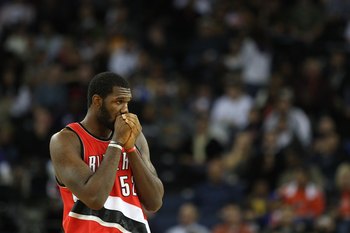 Jed Jacobsohn/Getty Images
2011 Status: Restricted Free Agent
2010 Team: Portland Trail Blazers
Yep, here's the big one.
Greg Oden's NBA career has been riddled with injuries and controversy, but he's set to be healthy and ready to play in 2011.
Will teams really go after him? If Oden gets free this summer, he will definitely be the most interesting free agent name in the market.
His injuries and lack of playing time are definitely bothersome factors, but if anything makes him an inviting selection it's his defensive presence.
In 21 games in 2010 he averaged 8.5 rebounds and 2.3 blocks, which makes him the most defensively impressive player on this list in terms of statistics.
So, he's a risk, but he's potentially a great defensive weapon.
Keep Reading