Los Angeles Lakers' Title Run Ends: Here's What They Should Do Now
May 9, 2011
Ronald Martinez/Getty Images
What a way for a title run to end.
Not to mention for one of the greatest basketball coaches of all time, Phil Jackson, to go out.
Not only did the Lakers have their season and two-year championship reign ended by the Dallas Mavericks in an extremely convincing fashion, but they embarrassed themselves with how they played and their conduct, as evidenced by the cheap shots that Lamar Odom and Andrew Bynum gave.
It's fairly obvious to everyone in Laker Nation that changes need to be made as soon as possible, if they want to maintain their level of excellence and be considered serious title contenders next season.
Provided that there IS a next season, as all indicators point to an NBA lockout this summer.
As I watched L.A.'s quest for a three-peat go down like the Titanic, and immediately afterward, I got to thinking about what the Lakers need to do to rebuild, because the team that they have now won't cut it.
Here's my opinion of what they should do:
1.  Hire Brian Shaw as the next Laker head coach and save the time and trouble of a long search. He's been a longtime assistant with much experience in the organization as a player and otherwise, and most importantly gets along well with Kobe Bryant. His hiring will mean a smooth transition.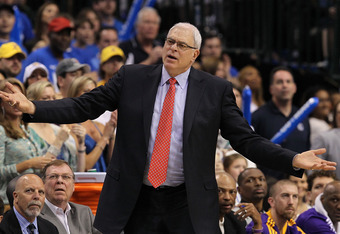 Ronald Martinez/Getty Images
2.  There is talk that Lakers owner Dr. Jerry Buss is going to try and trade for Orlando Magic center Dwight Howard. If Buss can pull it off, he should go for it, as Howard would provide another strong presence in the paint and take some pressure of Bynum.
3.  As much as it hurts to say it, Derek Fisher and Pau Gasol should go. Gasol is a solid player who has played well, but has also shown to lack strength when it really counts, as he was owned by Dirk Nowitzki and others in this recent series.
Fisher is getting old, and I don't think he can keep up with the young point guards on a regular basis anymore. That's why I think he should retire.
4.  On the Lakers' bench, Shannon Brown should stay, but the rest are expendable in my view; would you believe that the Dallas bench in their 122-86 beat down in Game 4 scored as many points as the entire Laker team?
5.  Though many would say otherwise, I would keep Odom and Bynum despite their fourth-quarter meltdowns in Dallas.
Odom is a valuable sixth man, as evidenced by him winning the NBA's Sixth Man Award this year.
And as for Bynum, it's true that he's been inconsistent, injury prone and immature, but he's also a mere 23 years old, and in my view he will either be a star for L.A. or a star somewhere else; I'd much rather have him be a star for L.A.
6.  MOST IMPORTANT: For the Lakers to ensure themselves of another dynasty sooner rather than later, they need to acquire two players when their free agency comes up: The Minnesota Timberwolves' Kevin Love and the Clippers' Blake Griffin.
Love and Griffin are both outstanding forwards who are also young, Love accumulating an embarrassing amount of double-doubles this season, while Griffin did nothing more than win the NBA's Rookie of the Year Award in spectacular fashion.
Another thing they have in common is that both of them play for sub-par teams that are going nowhere and won't go anywhere in the foreseeable future; eventually they will want to play for a team with a chance at a championship.
With Bynum at center, Love and Griffin would make perhaps the NBA's most feared front court, plus they would provide a toughness that L.A. definitely lacked against the Mavericks.
In short, getting Love and Griffin would mean another run of NBA titles.  
That's basically the way I see things in Lakerland. Whether these things will come to pass, however, is anyone's guess.
In the meantime, one thing is for certain: They cannot go on the way things are now.
Something has to change.