Ron Artest Suspension: Blessing in Disguise for L.A. Lakers?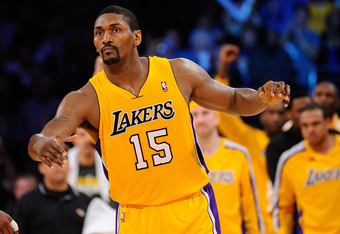 Will Artest be suspended for game three?
Kevork Djansezian/Getty Images
The mighty Los Angeles Lakers have fallen into a 0-2 hole after Wednesday night's 93-81 loss to the Dallas Mavericks, giving the Mavericks a chance to put the Lakers away and end Phil Jackson's illustrious career in Dallas.
It was an ugly loss for the Lakers, who shot a horrid 2-20 from long range. The ugliness climaxed when Ron Artest was ejected after he sent a forearm to the head of J.J. Barea with 24.4 seconds left. The ejection created an instant stir in the social media world, with many wondering if Artest would be suspended for Game 3 on Friday night.
When asked about the foul in question, and the presumptive consequences, Phil Jackson solemnly stated, "Yeah, I saw the replay. He probably will be."
To the naked eye, the potential suspension might be seen as dooming for the Lakers. I decided to dress my eyes and take a little bit of a deeper look.
If Artest is suspended, it will be Matt Barnes who likely takes his spot in the starting lineup at the three for the Lakers. Barnes, who was virtually irrelevant in 10 minutes on Wednesday, finishing with zero points and two rebounds, will be asked to play significant minutes in a virtual do-or-die Game 3.
Artest, who is best known for his lockdown defense, hasn't quite performed to the best of his abilities, or at least to the best of his former abilities, but surely still provides a defensive boost for the Lakers.
Would a one game suspension of Ron Artest benefit the Lakers?
Or does he?
Through eight playoff games, Ron Artest has played 258 minutes and has spent 126 minutes on the bench, which comes out to be almost exactly half of his on-court time. In those 258 minutes, the Lakers defense gave up 103.76 points per 100 possessions. On the contrary, without Artest, the Lakers defense boasts a much stingier rating of 98.51 points given up per 100 possessions.
Could Artest's absence be a blessing in disguise for the Lakers? Not so fast.
While the Lakers actually perform better defensively without Artest on the court, the offense takes an equally critical hit when Artest is off the court, losing 5.58 points per 100 possessions. In the playoffs, the Lakers have outscored their opponents by 5.18 points per 100 possessions with Artest on the court versus 4.58 without him.
So what? The Lakers won't miss a half point difference.
Except, when Matt Barnes takes over in the rotation for Artest, it will present a major challenge to the Lakers on both sides of the ball. In 108 minutes of playoff basketball with Matt Barnes on the court, the Lakers have been outscored by an average of 2.1 points per 100 possessions.
This statistic is subject to change, of course, as Barnes will be playing with the Lakers' best if he, in fact, is called off the bench to fill in for Artest Friday night.
Still, the Lakers' chances look very dubious after blowing the first two games at home. They will need Barnes to provide a spark of energy and a fateful change of pace if they want a chance at decrypting Dallas' code.
The X-factor, ultimately, will be sixth man of the year Lamar Odom, who shot 3-12 in 26 minutes on Wednesday, sporting a team worst -18. And when I say team worst, I mean it, as Ron Artest posted the team's second worst +/- at -9.
With the possible loss of Artest, Odom should expect to get substantially more than 26 minutes which could be beneficial if Odom can hit his stride offensively.
Yet, after Tuesday night's heinous shooting performance, the Lakers would be thrilled to have anyone, outside the realm of Kobe and Bynum, hit their offensive strides.
The defending champs have dug themselves into a deep hole, and the likely one-game suspension of Ron Artest makes the light seem much farther away.
This article is
What is the duplicate article?
Why is this article offensive?
Where is this article plagiarized from?
Why is this article poorly edited?

Los Angeles Lakers: Like this team?