NBA Draft 2011: 5 Bold Predictions for the Washington Wizards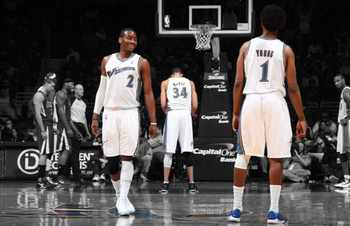 It's been a crazy season for the Washington Wizards.
First, the hype about Gilbert Arenas and John Wall coexisting had fans anxiously waiting for season to start.
Little did they know, Arenas was already on the verge of moving out to Orlando in exchange for Rashard Lewis in the middle of the season.
Right now the Wizards are about moving on and forgetting the growing pains that spread through the franchise as their former veteran filled roster became "stale."
Wizards' Owner Ted Leonsis has made it clear to the franchise and the fans that he is a firm believer in building a franchise through the draft, like what the Oklahoma City Thunder did and the Portland Trailblazers.
With that being said, it has put pressure on General Manager Ernie Grunfeld to pretty much nail every draft they come upon in the next two or three years, no matter how weak of a draft it may be.
Expect the Wizards to be pretty active during the draft to make sure that they come out with a player that can contribute right away or in the near future, and not come out with a prospect that is a "bust."
Here are five predictions on what moves and prospects the Wizards may act upon.
1. Ernie Grunfeld Stays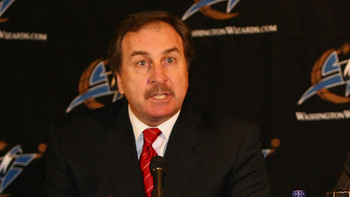 First of, I would like to express my opinion on General Manager, Ernie Grunfeld's future with this organization.
Grunfeld and owner Ted Leonsis don't seem to have any problems in their plot to make this team a championship contending team.
Grunfeld agreed to build through the draft and after getting the cornerstones to the franchise, get free agents around them.
Being that the Hinrich trade turned out to be excellent with the fact that the Wizards got a great prospect in Jordan Crawford and a nice pick in the middle of the first round, Grunfeld's job should be safe right now.
His only mistake that has been made in the past has been trading the fifth pick of the 2009 NBA Draft for Mike Miller and Randy Foye, who both turned out to only play for one season.
Let's give Ernie some credit, he drafted John Wall and removed Gilbert Arenas from the franchise in less than four months into the season.
2. The Wizards Will Attempt to Trade Up to Get Enes Kanter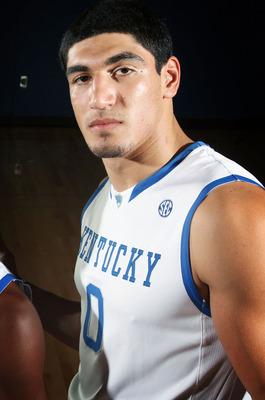 Currently, the Wizards' main struggle is the lack of beef in the paint where both Andray Blatche and JaVale McGee share similar finesse styles which leads to being dominated every game by any team that has a strong body in the post.
Enes Kanter right now is the most NBA-ready prospect in my mind and can make an immediate impact to any team he goes to.
Kanter brings a offensive low post scoring threat that is already polished, a solid mid-rang shot, and good pick-n-roll partner for John Wall.
Another thing that I feel is very important in terms of what he will bring to the Wizards is a consistent motor.
Kanter fights for every rebound on offense and defense which leads to many put-backs and extra possessions, and being that the Wizards are currently in the bottom five in the NBA in field goal percentage, the more possessions the better.
3. The Wizards Will Fail to Get Kanter and Settle with Terrence Jones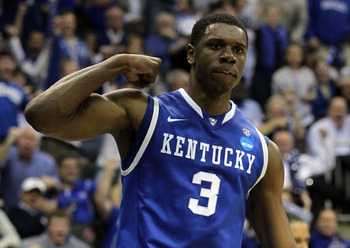 Nick Laham/Getty Images
Any team drafting Terrence Jones in the top five would be a huge reach.
Jones was projected to be the No. 1 or No. 2 overall draft pick in mid-December but with his struggles as of late, his draft stock has crashed all the way to being out of the top 10.
He was the star of Kentucky for the past season and really blew up after his incredible performances at the Maui Invitational Tournament in Hawaii, where he averaged almost 24 points and 10 rebounds, dunking on every defender in his way.
Jones fits well with the Wizards since he brings a lot of physical toughness to the team could be a potential sleeper in this draft.
Although there have been many questions about his maturity, I'm pretty sure former Wildcat John Wall will keep him in check.
4. The Wizards Will Draft Chris Singleton with Their 18th Pick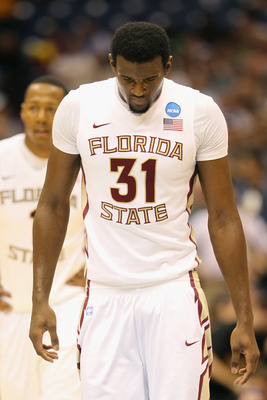 Jamie Squire/Getty Images
After drafting a versatile swingman in Terrence Jones, I feel that if the Chris Singleton is still available, the Wizards have to draft him.
He is THE BEST defender in this draft class and one of the better to come out of college in the past couple of years.
Singleton is a 6'9" small forward who is quick enough to guard players like Lebron James and tall enough to guard players like Kevin Durant. His quickness is what is amazing, when switching off on guards he manages to stay with them.
Although with being a great defensive player, he has a limited offensive game.
This season he has greatly improved his ability to catch and shoot the ball from beyond the arc, even though it is sometimes inconsistent.
Chris Singleton will never be a star, but he is a player that every franchise needs to become championship contenders.
With the Wizards having both Singleton and Othyus Jeffers in the same lineup could cause a shooting drought for the opposing team.
5. The Wizards Will Draft Nikola Vucevic with Their 35th Pick
Gregory Shamus/Getty Images
This year, the Wizards are most likely going to lose a very valuable target for the pick-n-pop in Yi Jianlian due to free agency.
Yi Jianlian gives the Wizards an advantage because he is a seven-footer that can step out to the three-point line and shoot it over the opposing center, but he sometimes creates a disadvantage because he plays soft in the paint.
The Wizards are about one "banger-type" big man to go after drafting Trevor Booker and Kevin Seraphin in last year's draft, but in this draft, Kanter seems like the most legit "banger" out of all the prospects.
If the Wizards don't draft Kanter (where as in my scenario they don't), then they should look for a big man with an inside-outside game but has a knack for getting rebounds like Kevin Love.
Now don't get me wrong, Nikola Vucevic is no Kevin Love, he is a less offensively polished. Vucevic was dangerous at USC whenever they played in pick-n-pop situations.
Honestly, this may be an upgrade from Yi Jianlian due to his athleticism and could fit well with John Wall.
Keep Reading

Washington Wizards: Like this team?