2011 NBA Playoffs: Dallas Mavericks vs Portland Trail Blazers Game 3 Live Blog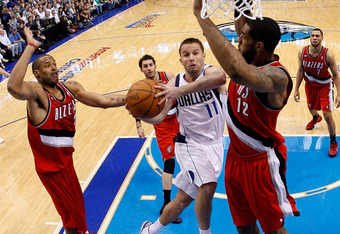 Ronald Martinez/Getty Images
Welcome all to Game 3 between the Dallas Mavericks and the Portland Trail Blazers. The Mavericks have a commanding 2-0 series lead and the Trail Blazers will want to turn things around on their home court.
While the Trail Blazers have executed an effective fast-break, they have yet to limit Dirk Nowitski. He has been getting to the line consistently and has simply dominated at times, taking control of the game.
Jason Kidd has also had a significant impact on the first two games of the series. He has taken the big shot when needed and he finds himself in all areas of the court working hard and hustling for loose balls.
The Trail Blazers will want a big game from LaMarcus Aldridge, who found his scoring touch in Game 2, contributing 28 points in 18 shooting attempts. The Blazers will also need their bench to contribute if they intend on getting back in the series.
The Blazers bench scoring a combined 11 points in Game 2 while the Mavericks bench poured in 39 points, led by Peja Stojakovic's 21 points, and five three pointers.
The Blazers also committed six more turnovers than the Mavericks and will want to take better care of the ball as the Mavericks are known to capitalize in transition.
Join me shortly as the game is just minutes from tip-off, my name is Aaron and I'll be live-blogging on this lovely night.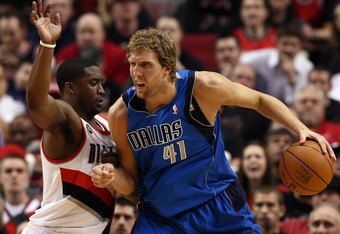 Excellent game from a neutral perspective. Both teams played hard, both teams fought to the end and there were endless lead changes.
The difference was turnovers, Dallas shot the ball exceptionally well for the most part but did not take care of the ball. 16 turnovers could cost you a victory and it did.
The story in the morning will be the controversy surrounding Jason Kidd's three.
In real time, it appeared as if his right foot was on the line. After endless replays, it appeared as though his feet were centimeters away from the line. However the referees felt as though there was not conclusive evidence to turn the call around.
In my opinion, one angle did show his feet clearly behind the line.
Still a difficult call.
The Blazers will be pleased with their performance. Roy played with a chip on his shoulder and showed flashes of his old self, adding 16 points. Matthews jump-started the Blazers to an unbelievably start as he scored 14 in a row.
Nowitzki struggled at times but for the most part, he had his shot working for him. Terry was explosive and excellent from beyond the three point line. He added 29 points and 7 assists.
The Blazers bench should be proud, they stepped it up. After contributing only 11 points in Game 2, they answer with 23 points in today's game.
Improvement.
The Blazers will look to even up this series in Game 4. That's all for now, I'm Aaron and would like to thank you for joining me. Its been a pleasure.
Take care!
Kidd throws up a three, misses by about 10 feet.
Portland run the clock out and get a much deserved Game 3 victory.
Stay tuned for the post-game reaction.
Kidd fouls Miller. 9.6 seconds left in the game.
Miller drains both. 97-92, 9.6 seconds remain.
Blazers forced to call a timeout.
95-92, 12.9 seconds remain.
Very close call on that last attempt but as the replays continue to show, it appears as though his feet were just behind the line. A matter of centimeters.
Portland take time here. Matthews misses. Kidd sinks a long 2. His right foot appeared to be on the line.
Still a spectacular shot. The referees review it. They are taking their time. Very close call, impossible to tell.
The ruling on the floor stands, it is a 2.
Portland lead 95-92 with 16 seconds remaining.
Roy with an air-ball.
Dallas run up the court and Nowitzki banks it in. Such a difficult shot but he made it seem like an open layup.
Blazers lead 95-90 with 42 seconds remaining in the game.
Still not over.
Nowitzki fouled, sinks one of two, 95-88 with 1:25 remaining.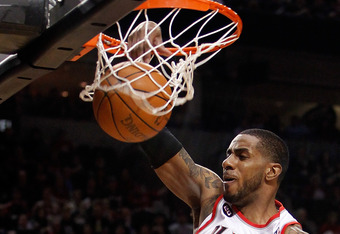 Crowd on the feet here, Dallas are desperate for a basket.
Terry lofts up a three point attempt but misses. 1:30 left in the game, lead still 8 for the Blazers.
Aldridge, 20 points and makes his biggest bucket all game. A two point attempt that doesn't even touch the rim. Lead back up to 8, 95-87.
Does Dallas still have it in them to fight back?
Terry loses the ball, he anticipated contact and went for the pass. Really should have attempted the shot there.
However, Barea gets it back and drives to the net for an easy layup. 6 point game with just over 2 minutes remaining.
Kidd with the steal, who dishes to Barea, who gets fouled hard while attempting a layup.
He makes one of two, 93-85, Blazers lead with 3:30 left.
Kidd leaps for an offensive rebound, legs still fresh as ever. 91-84, Blazers on top.
Haywood gets mauled in the paint. He will go to the line. His team could really use two points here.
He misses both, not even close. Under four to go now, crunch time.
Nowitzki finds his way to the free throw line, something he did in game one when his shot wasn't working, he sinks both.
84-91, Trail Blazers lead with five minutes to go. This one is far from over.
Aldridge gets fouled by Haywood, just over 5 minutes to go now and the lead is back up to nine for the Blazers.
This is Dirk's time to shine. 82-91, Blazers on top.
Blazers turn the ball over. Dallas need to capitalize here.
...and they do.
Nowitski hits a jumper, consecutive baskets, he'll want the ball more.
81-89 Blazers lead with just under 6 to go in the game.
Nowitzki, who missed his last 7 shots, finally gets one, lead back down to single digits. Mavericks train 79-87 with 7 minutes to go in the game.
Mavericks will need to attack the basket to get back here, they've gone cold and shooting under 50% now.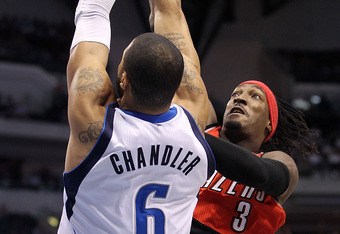 Jason Terry finally quiets the crowd with a three, the Mavericks first points in over four and a half minutes.
Chandler picks up his fifth foul. Again he looks around in disbelief. Back to the bench he goes, he should be familiar with the routine by now.
Gerald Wallace at the line, he sinks both. 74-87 Blazers with the lead and Nowitzki is frustrated. Nothing going right at the moment for the Mavericks.
Chandler back on the floor with our fouls. Brandon Roy dances, then dishes to Gerald Wallace who drains the three. Wide open I might add.
Timeout Dallas, this one is getting out of control. 74-85, the Blazers with a commanding lead. 8:40 left in the game.
Dallas need to attack the paint and rotate better on defense or they will find themselves with a larger deficit in a matter of minutes.
Nowitzki misses a jumper in which it was contested by three defenders....
That's not how Dallas will get back into this game.
Roy wants the ball and dishes to Batum who sinks a beautiful three. Blazers now lead by a score of 74-82.
Dallas call a timeout to stop this run. The Blazers have waited and sought the best shots thus far in this quarter. While the Mavericks have rushed attempts or forced up shots because of the stifling Blazers defense.
Marion gets his own rebound and lays it up, 74-77 now.
Batum spins and connects with a nice little jumper, high degree of difficulty.
Gerald Wallace gets his first bucket of the game, Blazers lead 77-72, one minute into the fourth quarter.
The fourth quarter gets underway. Dirk Nowitzki averaging 16 points in the fourth quarter.
The Mavericks turn the ball over, their 15th of the game.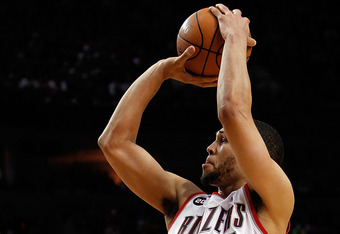 72-75 Blazers lead. The third quarter has come to an end.
Dallas, based on their shooting (55%) should be well ahead but fail to take care of the ball. They have also used a small lineup because Tyson Chandler can't seem to avoid foul trouble.
The Blazers also went small as Camby picked up four fouls however they have attacked the basket and the Mavericks have no response. The Blazers have done an exceptional job closing down the Mavericks attack and forcing them to shoot jumpers.
This game is up for grabs, I have a sneaking suspicion this one will go down to the wire.
This article is
What is the duplicate article?
Why is this article offensive?
Where is this article plagiarized from?
Why is this article poorly edited?

Dallas Mavericks: Like this team?