Remembering Scottie Pippen: A Tribute to All-Around Greatness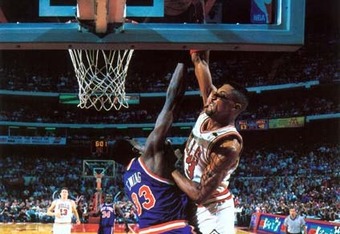 Scottie Pippen spent almost his entire career being under-appreciated by the masses.
Graduating high school at just over 6 feet tall and 150 pounds, Pippen enrolled at the University of Central Arkansas and joined the NAIA school's basketball team as a walk-on.
Despite entering college as a short, scrawny kid, Pippen blossomed into a 6'7" physical specimen. His freakish athleticism and wingspan enabled him to enter the NBA as the fifth selection in the 1987 NBA Draft out of the relatively unknown NAIA school.
A trade between the Chicago Bulls and the Seattle Supersonics (Scottie was stolen from the Sonics for center Olden Polynice) landed Pippen in Chicago for his rookie season.
As crazy as it sounds, the six-time NBA champion Pippen (the all-time leader in NBA history in steals and assists among forwards) is often referred to as a great "second banana" because he played with Michael Jordan.
It is totally unfair to someone as great as Scottie, because anybody who played with Jordan would be at best the team's second-best player.
Although Pippen was known throughout the league as a very good player early in his career, it was not until the 1991 NBA Finals that he got some of the recognition he deserved.
His stifling defense on all-time great Magic Johnson was a key factor in the Bulls' first championship. After a Laker victory in Game 1, the assignment to guard Johnson fell on Pippen.
Sit back and watch the Scottie show!
Scottie responded by harassing Magic into a miserable 39.6 percent shooting and an uncharacteristic 4.3 turnovers per game over the next four games—all Bulls victories.
Add this to Scottie's 32 point, 13 rebound, seven assist, five steal performance in the clincher, and Pippen had stamped himself as one of the game's best all-around players.
Pippen followed up that season with a spectacular 1991-92 campaign averaging 21 points, 7.7 rebounds, 7.0 assists, and 1.9 steals per game for the 67-15 NBA champion Bulls.
In doing so, Scottie reached yet another level in terms of statistical brilliance. That season was also the first in a string of eight consecutive selections to the NBA All-Defensive First Team.
The Bulls went on to win a third consecutive title in 1992-93, and Pippen continued to fill the stat sheet while Michael Jordan got most of the credit.
Scottie Pippen officially got to step out of the shadows and into the light on October 6, 1993 as Michael Jordan announced his retirement from the NBA. "Pip" finally had a chance to prove what he could do as "the man" on his team.
The 1992-93 championship Bulls team had finished the season with a 57-25 record. With the departure of Michael Jordan just before the season's scheduled start, the 1993-94 version of the Bulls were expected to have a hard fall from grace.
A prime Scottie Pippen refused to let that happen. The Bulls rolled to a 55-27 record, dropping only two more games than they had during the previous season despite losing the greatest player of all-time.
There was nothing Pippen couldn`t do on the basketball court.
Pippen absolutely carried the team on his back, averaging 22 points, 8.7 rebounds, 5.6 assists, and an incredible 2.9 steals per game. Pip would finish third in the MVP voting that season, in addition to garnering the first of three straight First Team All-NBA nods.
The Bulls would fall to the eventual Eastern Conference Champion New York Knicks in a grueling seven games in the conference semifinals (The Bulls may have prevailed if not for a dubious call in New York at the end of Game 5).
Despite the playoff exit, Pippen had stepped out of Michael Jordan's shadow and shown the world just how elite he was.
More of the same magnificence followed for Scottie the next season, as he became only the second player in NBA history (Dave Cowens being the first) to lead his team in points, rebounds, assists, blocks, and steals.
Michael Jordan would join the team towards the end of that same 1994-95 season. Although the Bulls would bow out in the conference semifinals, they won the following three NBA championships in record-breaking fashion.
Scottie Pippen and Michael Jordan were the only members of all six Bulls championship teams.
Pippen once stated: "Sometimes a player's greatest challenge is coming to grips with his role on the team". Pippen's role on his team for most of his career was to be absolutely great at everything while deferring the spotlight to a teammate.
Not many players of his caliber could handle this role, but Scottie relished it, and put winning above all else.
We should remember Pippen for being one of the most versatile players ever. He should be remembered as perhaps the greatest defensive forward of all time, capable of guarding anyone—from point guards to centers.
Remember Scottie for his power and his grace on the basketball floor. Just please, when you think of Pippen, don't think of a sidekick.
Scottie Pippen's jersey is hanging alongside Michael Jordan's in the United Center, not in its shadow.
This article is
What is the duplicate article?
Why is this article offensive?
Where is this article plagiarized from?
Why is this article poorly edited?

Chicago Bulls: Like this team?