NBA Playoffs 2011: Derrick Rose and Chicago Bulls Battle Pacers to Wire, Escape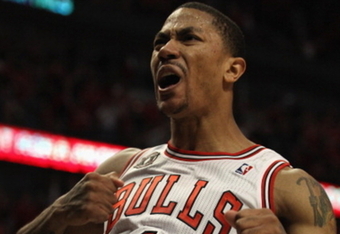 Derrick Rose

Nobody expected the same two teams to show up in Game 2 of the playoff series between the Chicago Bulls and Indiana Pacers. With just over a minute left in the game, it appeared we were all wrong.
The Bulls held on to defeat the Pacers in Game 2 of their Playoff series on Monday night, 96-90. They now take a 2-0 series lead on the road to Indianapolis, but neither of those wins came easy.
The Pacers knew they let Game 1 slip away in Chicago on Saturday, leading for 47 minutes before the Bulls ended the game on a 16-1 run to escape. The big concern on the Pacers side was their mental toughness going into Game 2. Whatever their mindset was, it seemed to be working.
Indiana led the majority of the first half and had a nine-point advantage late in the second quarter. Darren Collison made a lay up over Derrick Rose in the closing minutes, then got tangled up with the camera crew behind the basket. He turned his ankle and never returned.
AJ Price filled in for Collison and preceded to turn the ball over like it was his job. A couple of poor passes and missed shots quickly turned the game around. Whatever he was doing on offense, it seemed to be contagious.
Danny Granger was among many Pacers players who decided to stop moving the ball around on offense and just settled for challenged jump shots.
Indiana still had a three-point lead going into halftime, but it was evident that it was going to be extremely difficult to pull this one out.
The third quarter didn't start well for the Pacers, and the Bulls were able to get the crowd into the game. Indiana's offense wasn't looking good at all, and the Bulls were getting all of the loose balls.
TJ Ford made his first appearance in a long time the third quarter, and it showed. Fortunately for the Pacers, he hit a shot from beyond half court at the end of the third quarter to tie the game.
The Pacers were able to get off to a nice start in the fourth quarter, taking the lead on more than one occasion. The game was close throughout the majority of the final quarter, and Danny Granger hit two big free throws to pull the Pacers to within two points with 74 seconds left.
For some odd reason, they decided to double-team Rose at nearly half court on the next possession, which gave Kyle Korver a wide open look at a three-pointer in the corner, which of course he hit.
Korver hit the Pacers with a deadly three-pointer in Game 1 to give them their first lead of the game with 48 seconds left.
The Pacers called a timeout, but Roy Hibbert was called for a questionable offensive foul on their next possession. The Pacers got the ball back, and Rose fouled AJ Price on a three-point attempt with 23 seconds remaining.
Price made all three free throws and cut the lead to two. Luol Deng hit a pair of free throws with 17 seconds left to give them a four-point lead, and it was basically over at that point.
Derrick Rose finished the game with 34 points, eight rebounds, six assists and six turnovers. Danny Granger led a balanced attack for Indiana with 19 points.
The crowd at the United Center began chanting "Pacers suck, Pacers suck" while Price shot his three free throws. Fans in Chicago not only showed they have no class, but also aren't the smartest cookie in the jar. If the Pacers suck that bad, and they nearly beat you twice in a row on your own floor, what does that say about your team?
While the Bulls were able to win the first two games of this series, neither of them came as easily as everyone predicted. They should have lost the first game, and the second game also went down to the final few possessions.
For a team that had the league's best record during the regular season, they should feel lucky heading into Game 3 with a 2-0 series lead.
The Pacers know that they are turning a lot of heads around the league with their play, but not having it translate into wins is something that has plagued this team all season long.
You can only blame a lack of experience and youth for so long. After being in these situations all season long, you would like to think they could figure out how to actually win some of their close games.
Indiana will now turn their attention on Game 3, where they will host their first Playoff game at Conseco Fieldhouse since 2006. Having a home game won't make it much easier for this team though.
Chicago is just a couple of hours away, and not only will many Chicago fans make the trip, but you can also count on the bandwagon Derrick Rose fans to be in attendance as well. It is technically a home game, but it won't feel like it for the Pacers.
The team has no reason to hang their heads though. Nobody gave them a chance in hell to go into Chicago, and make the Bulls scratch and claw their way to two close, come-from-behind wins. They had the league's best team on the ropes in the final minutes of both games on the road.
Game 3 of this series is set for Thursday at 7 p.m. and will be televised on NBA TV.
This article is
What is the duplicate article?
Why is this article offensive?
Where is this article plagiarized from?
Why is this article poorly edited?

Indiana Pacers: Like this team?