Attack of the Clones!: 10 Professional Athletes/Coaches Who Resemble Celebrities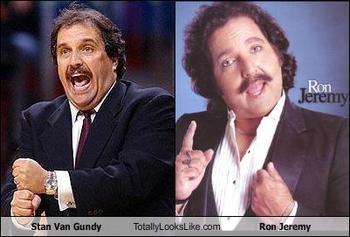 By clicking on this link, you probably already have an idea of who is on this list. Here, we've got cartoon characters, movie stars and world-famous athletes.
That being said, you might be surprised by some of the people that appear on this list.
The list is based not just on the resemblance between the two "characters," but also on how corny and peculiar both of them are.
And, as you can see on the lead picture, we feature Stan Van Gundy and Ron Jeremy, two "talented" men who satisfy our "creative" appetites, especially Jeremy.
No. 10: Denver Nuggets Head Coach George Karl and Actor John Lithgow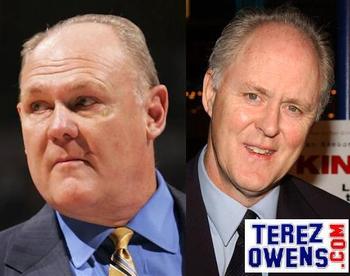 George Karl
Age: 59
Known for: Being the head coach of the Denver Nuggets (2005-present) and for taking the Seattle Supersonics to the 1996 NBA Finals.
John Lithgow
Age: 65
Known for: His role in the sitcom, 3rd Rock from the Sun, as well as his roles in the movies Footloose and Cliffhanger.
No. 9: Browns WR/KR Josh Cribbs and Predator from the Predator Movies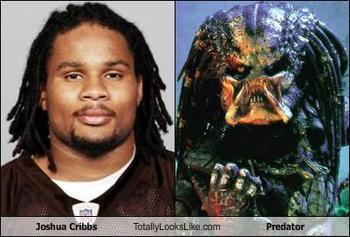 Josh Cribbs
Age: 27
Known for: Being a wide receiver/return specialist for the Cleveland Browns who has returned eight kickoffs for touchdowns, the most in NFL history.
Predator
Age: Unknown
Known for: His role in the movies Predator, Predator 2, Alien vs. Predator, Aliens vs. Predator: Requiem and Predators.
Note: I don't actually believe that Cribbs' face looks at all like Predator's, but, when wearing his helmet with the dreadlocks hanging out, Cribbs certainly does resemble the evil villain.
No. 8: Former San Antonio Spurs Forward Robert Horry and Actor Will Smith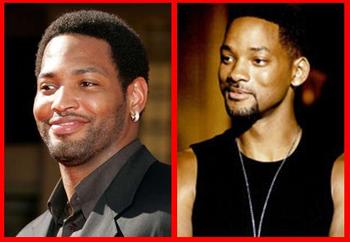 Robert Horry
Age: 40
Known for: Winning seven NBA championships during his career with Houston, Phoenix, the L.A. Lakers and San Antonio.
Will Smith
Age: 42
Known for: One of the world's biggest movie stars, he is best known for his roles in Bad Boys, Bad Boys II, Independence Day, Men in Black, Men in Black II and Ali, among other movies.
No. 7: San Antonio Spurs Guard Manu Ginobili and Actor Bronson Pinchot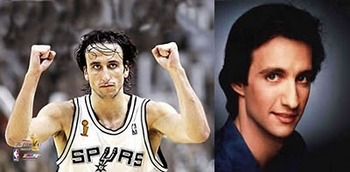 Manu Ginobili
Age: 33
Known for: Winning three NBA championships with the San Antonio Spurs.
Bronson Pinchot
Age: 51
Known for: His role on the sitcom Perfect Strangers (1986-93).
No. 6: Detroit Pistons Guard Rodney Stuckey and Curtis "50 Cent" Jackson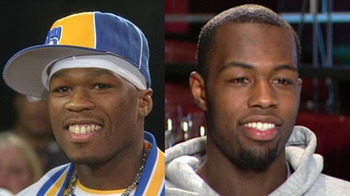 Age: 24 (he turns 25 on April 21)
Known for: Being the point guard for the Detroit Pistons.
50 Cent aka Curtis Jackson
Age: 35
Known for: His successful album, Get Rich or Die Tryin', which was ranked by Billboard as the 12th-best album of the 2000-09 decade.
No. 5: New York Jets Quarterback Mark Sanchez and Actor Mark Consuelos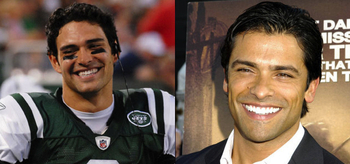 Mark Sanchez
Age: 24
Known for: Being the starting quarterback of the New York Jets
Mark Consuelos
Age: 40
Known for: His role as Mateo Santos on the soap opera All My Children.
No. 4: Pittsburgh Steelers Head Coach Mike Tomlin and Actor Omar Epps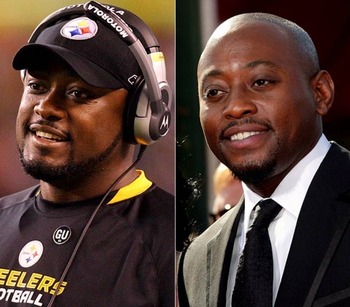 Mike Tomlin
Age: 39
Known for: Being the Super Bowl-winning head coach of the Pittsburgh Steelers.
Omar Epps
Age: 37
Known for: His role as Dr. Eric Formean on the drama House.
No. 3: Cleveland Cavaliers Forward Anderson Varajao and "Actor" Sideshow Bob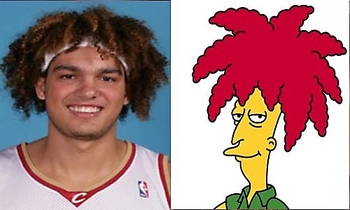 Anderson Varajao
Age: 28
Known for: Being the starting power forward for the Cleveland Cavaliers.
Sideshow Bob
Age: Unknown
Known for: Being Krusty the Clown's sidekick on The Simpson's.
No. 2: Former Miami Dolphins Quarterback Dan Marino and Actor David Hasselhoff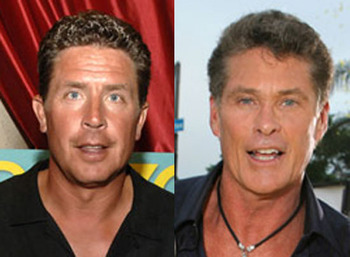 Dan Marino
Age: 49
Known for: Being one of the greatest quarterbacks in NFL history.
David Hasselhoff
Age: 58
Known for: His role as Mitch Buchannon on the popular television show Baywatch.
No. 1: Orlando Magic Head Coach Stan Van Gundy and Porn Star Ron Jeremy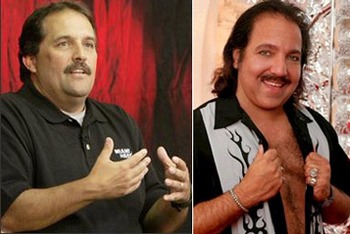 Stan Van Gundy
Age: 51
Known for: Being the head coach of the Orlando Magic.
Ron Jeremy
Age: 58
Known for: Being a porn star.
Keep Reading