Chicago Bulls vs. Boston Celtics: Live Diary of Thursdays Blockbuster Game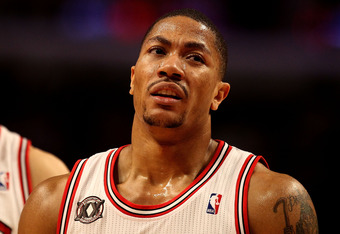 Jonathan Daniel/Getty Images
As a child born in the 1990s, I was privileged to the Chicago Bulls era of "Michael Jordan takes all". I loved it like everyone else did. It was enjoyable, even as an avid Celtics fan. And when Jordan retired, I too took a moment to ponder the shady future of the NBA.
Things turned out just fine. Tim Donaghy bet on a few games, Ron Artest took on The Palace on his own, players met at Carmelo Anthony's wedding to discuss more than "Who will catch the bouquet?", and of course, the Miami Heat cried, a lot.
Nothing out of the norm. All in a decades work, right?
Come to think of it, maybe everything didn't turn out so well after all. This is the time when you play armchair hero, curse David Stern, and claim you could do a better job as Commissioner.
But something has changed: the Bulls. I never thought this day would come. For you see, I've hated the Lakers. I've recently found comfort in disliking the Heat. Chicago, though? Even I didn't see the Bulls causing me stress, yet it has happened. All thanks to Michael Jordan Vol.2, Derrick Rose.
So the Celtics and Bulls meet for the fourth time this season. Chitown are confident, why shouldn't they be? They hold a three game advantage over Boston in the East. Have an MVP point guard. And a guy called the "White Mamba", who somehow electrifies every city he visits.
Yup, it's a sure to be classic. It brings back memories of the 2009 Conference Quarter Finals. But now, this game is like an old dinosaur made up of the Big 3, taking on purebred race horse jockeyed by Rose and Luol Deng.
It's a great time to run a live diary. No holds barred style.
My MVP's from each team:
Chicago, Keith Bogans:
Question: If Ray Allen falls in the woods, and no one is around to hear it, does he make a sound?
Answer: No. Because Keith Bogans is guarding him.
Allen was quiet all game. Celtics needed him in the fourth quarter, but somehow Delonte West was thrown into the hero role. Don't ask me how that happened. But Allen was a no-go.
Boston, Kevin Garnett:
Hit some big shots. Kept the intensity up, and contained Carlos Boozer nicely -- something Jeff Green can only dream of. He'll be an angry man in the locker room. But the playoffs look bright for KG.

That's it. 97-81 is your final. Boston are now identical with the Heat in the East, I'm sure that doesn't sit well with Beantown.
Derrick Rose: "Everyone came out with energy".
Very true. But cut yourself some slack, Rose. Your layups were the killer. And yet still, he won't acknowledge the MVP chants.
Under two minutes left, West hits a jumper. If you'd told me he would be the Celtics main scorer in the fourth quarter I would have laughed, then worried myself to sleep. Long night for Boston.
I used to laugh at Kyle Korver's shooting ability. That trick shot even wowed me. Too bad it didn't count.
Celtics appear to have given the game to Delonte West. Apparently Ray Allen and the rest of the starters are worthless.
Did I miss something?
Carlos Boozer could play the next Hagrid in the final "Harry Potter" installment if he keeps that beard going. A couple of pillows could make up the weight difference.
First blood drawn of the game: Boozer. Marv Albert is more concerned about the time.
Carlos Boozer goes right through Jeff Green. Who wants to take a guess at what color hair dye he uses for that beard?
Rose hits a three moving right to left. Rondo misses another lay up. This game is as predictable as professional wrestling.
Hey Thomas, nice flop. The MLS is calling your name. Take Chad Ochocinco with you.
I've referred to Ray Allen as the miracle man before. But how long is that cut taking to heal on his head? Someone get him some aloe vera. The bald guys really suffer!
I wish Luol Deng luck in talking down to Garnett. For starters, he's about a foot shorter.
Never, and I mean never, will you see Ray Allen toss a shot up like that. Credit Bogans, he's been like a wall.
On a lighter note, Rose vs. Pierce in a mustache contest is a match up I'd like to see. If they only they played hockey.
Time for another Doc Rivers lecture. Hey Doc, direct it at Rondo. He's just cost the Celtics six points and a turnover!
Rewind to what I said earlier about Rondo blowing layups. Yet again, it costs the Celtics points... twice.
Celtics take the lead on a Rondo foul. Chicago falls quiet, Garnett grows louder. Nothing unusual.
No Chuck leads to a who is better question: Kevin McHale or Larry Bird? All I have to say is Word to Big Bird.
The Rondo vs. Rose debate is irrelevant. Rose is the guy that must score for the Bulls. Rondo is the guy that must get the ball to the Celtics scorers. In three years when the Big 3 has retired, then it may be worth discussing.
End of the first half, and Rose has 16. If the Celtics game plan was to keep him out of the paint, they may want to get Kendrick Perkins on the phone. Not much has changed since last time these two met.
No one hits that turnaround jump shot better than Kevin Garnett. He'd be an interesting contestant on "Dancing with the Stars".
Here's the difference between Rose and LeBron: Rose doesn't like to talk about being MVP because he hasn't won it yet. LeBron does like talking about it, because he's LeBron. Can you guess who winds up getting distracted first?
One day LeBron James will master Rose's fadeaway touch. Normally that is his closing game move, but it never works.
Glen Davis can be clutch with that fadeaway jumper. One day he will fade all the way back, hit the deck, and the crowd will yell "Timber!".
Good point by Marv Albert, the Bulls did have a shot at Dwyane Wade. Chris Bosh, though? I think Tom Thibodeau can do without the extra wrinkles of stress. Pat Riley was a lost cause anyway.
This article is
What is the duplicate article?
Why is this article offensive?
Where is this article plagiarized from?
Why is this article poorly edited?

Chicago Bulls: Like this team?