NBA Draft 2011: Top 15 Mid-Major Program Prospects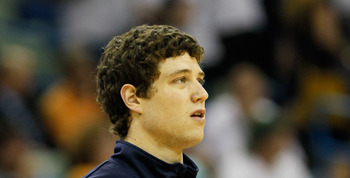 Kevin C. Cox/Getty Images
Not all potential draftees will come from major programs, although most high-profile ones will.
However, there are always diamonds in the rough, and players playing in relative anonymity who possess the prerequisite athleticism to make the jump to the big-time.
Here is a quick-hitter list of some mid-major (and some not-so-mid-major) players who could get a glimpse or more from some NBA types prior to the draft.
Some of these won't be available as they will return to their schools, but will be on the radar nonetheless.
15. Gary Flowers, Southern Mississippi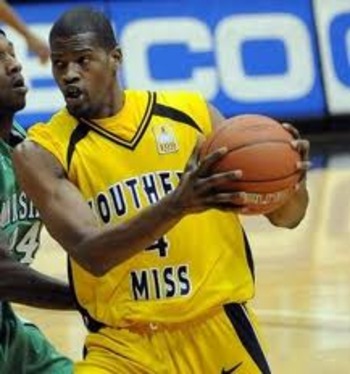 google images
Flowers led the Golden Eagles in scoring (18.8 ppg), rebounding (7.7 rbg) and blocks (1.4 bpg) this season.
He has decent range (41% from three-point range) and can play inside as well.
At 6'8", Flowers would project as a small forward in the Association. He is a pretty well-rounded player and could fill-in nicely at the back end of someone's rotation.
14. Will Barton, Memphis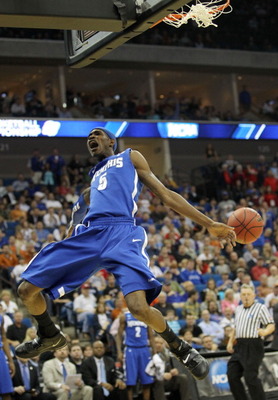 Ronald Martinez/Getty Images
A do-it-all type of player, Barton is likely not on the radar yet, but will be soon.
A 6'6" guard, Barton was in the top three in four key stats (scoring, rebounding, assists, steals), leading the team in scoring at just over 12 points per game.
His three-point shooting needs to improve dramatically (27% this past season) but he is pretty solid on the defensive end and has good length to play at the guard spot.
Although his name is mentioned periodically in relation to the draft, Barton will most likely suit up for the Tigers next season.
13. Kevin Anderson, Richmond Spiders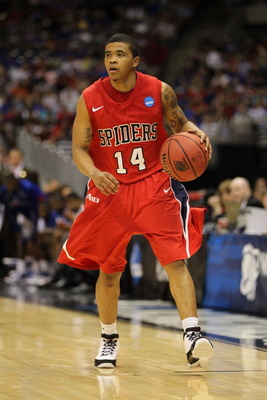 Jamie Squire/Getty Images
I know this guy isn't on anyone's radar, but he should be.
He is a smart, smooth player that can shoot, drive, distribute and handle. His size is the issue in terms of NBA readiness.
Listed at 6'0" (as most players who are under six feet are), Anderson appears smaller.
Anderson was A-10 player-of-the-year in 2009-10 and was second in team scoring (16.6 ppg) and first in steals, while running the Spiders offense all the way to the Sweet Sixteen.
Someone should look at this guy.
12. Adrian Oliver, San Jose State Spartans
google images
Playing on a bottom-feeder in the WAC won't get you much attention.
However, Oliver has received his fair share in the past two seasons.
A transfer from Washington, Oliver has averaged over 23 points per game over the past two seasons, shooting 41% from behind the arc and 85% from the foul line.
His name is found on some second-round draft boards, although his stock from last season has fallen somewhat.
11. Elias Harris, Gonzaga Bulldogs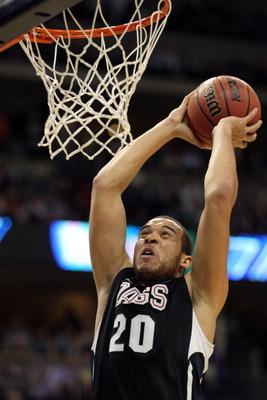 Justin Edmonds/Getty Images
After an outstanding freshman season, Harris struggled with injuries and inconsistent play this past season, virtually eliminating himself from consideration this year.
Although nothing has been reported about his status, it would be a huge mistake for him to declare this year.
This is year's numbers weren't bad (12.4 ppg, 6 rbg) but much more was expected. It is hard to say when and if he was even healthy all year after injuring his achilles tendon against San Diego State in the third game of the season.
10. Lavoy Allen, Temple Owls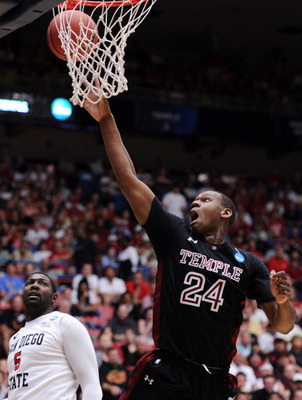 Harry How/Getty Images
Most people are more convinced than I am about his potential for the next level.
He was a great rebounder during his time at Temple but his numbers dropped this season and at times he was completely ineffective.
That said, he also seemed to have his best games against the top competition.
The numbers (11.6 ppg, 8.6 rbg, 1.8 bpg) suggest a solid, two-way player. I guess I just thought we would see more, especially offensively, from him.
9. Norris Cole, Cleveland State Vikings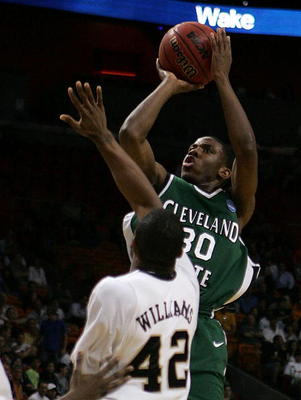 Marc Serota/Getty Images
Horizon League POY and Defensive POY, Cole deserves whatever he gets.
Cleveland State was the only Division I school that approached Cole four years ago. Averaging 21.7 points, 5.8 rebounds, 5.3 assists and 2.2 steals per game, Cole led the Vikings to a share of the Horizon League title.
In one of the rare national television appearances for Cleveland State, he single-handedly kept his team competitive against Old Dominion in a Bracket Busters game, scoring 35 points (including eight threes) and dishing out five assists.
8. Keith Benson, Oakland Grizzlies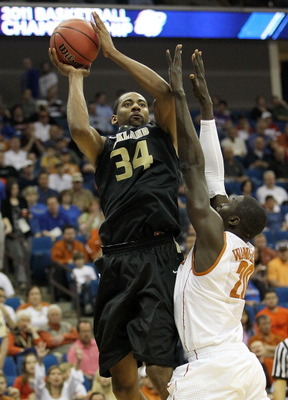 Ronald Martinez/Getty Images
This kid has not been much of a secret for the Grizzlies, especially this season when they came so close to knocking off some of the big boys in the non-conference schedule, and gave Texas a scare in the second round of the NCAA tournament.
The 6'11" center averaged 17.9 points, 10.1 rebounds and 3.8 blocks per game, the latter stat ranking second in the country.
His offensive game is improving but he could have an impact defensively almost immediately.
7. Shelvin Mack, Butler Bulldogs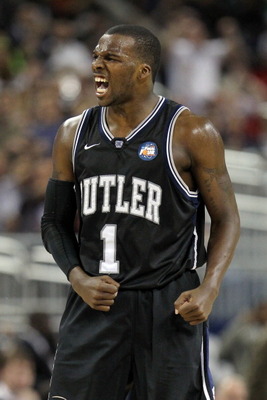 Ronald Martinez/Getty Images
Mack has upped his draft stock steadily over the course of his three seasons at Butler, and at this point it is unclear as to his intentions for next season.
He is a strong guard that can play off of the ball and handle biggest guards defensively.
From three-point range, he is streaky and has made 36% of his attempts in his career.
6. Greg Smith, Fresno State Bulldogs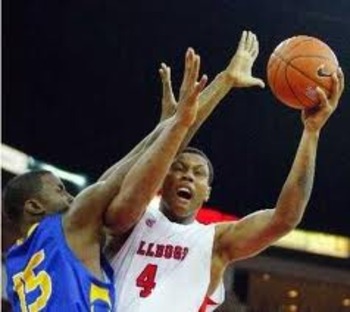 google images
An under-the-radar center from Fresno State, Smith has declared for the draft but has not hired an agent.
In two seasons, with the Bulldogs, the 6'10" Smith has averaged around 12 points and seven rebounds per game, hardly stats that jump off the page, especially when you are playing for one of the weaker teams in the WAC.
Some scouts seem to like his athleticism and his "ceiling", which would likely mean some evaluations and at least one more year of seasoning in college.
5. Ray McCallum, Detroit Titans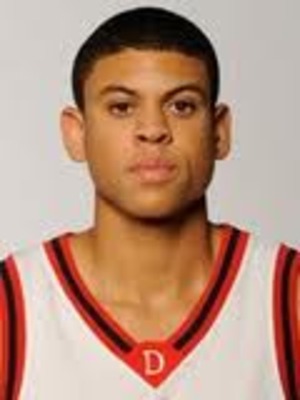 google images
The freshman point guard spurned offers from bigger schools to stay with his father, Ray Sr., at Detroit and while the move hasn't paid off in terms of national exposure, NBA scouts are aware of the kid.
Ray Jr. had a statistically good season - 13.5 points, 4.9 assists, 4.7 rebounds and 1.6 steals per game.
His output and his leadership skills will only improve next season.
It is very unlikely that he will declare this season, but could be very much in play following his sophomore campaign.
4. Justin Harper, Richmond Spiders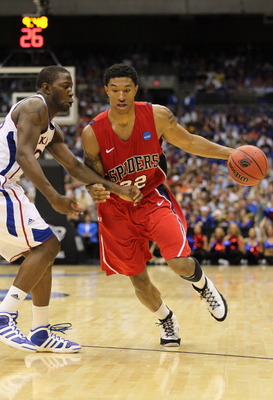 Jamie Squire/Getty Images
Harper had an outstanding season with the Spiders, teaming with Kevin Anderson to carry Richmond to the Sweet Sixteen and a school-record 29 wins.
He has huge upside. At 6'10", he can handle the ball decently, is athletic enough to play inside and is a very good three-point shooter (45%).
He could sneak into the first round, but is likely an early second-round pick.
3. Kawhi Leonard, San Diego State Aztecs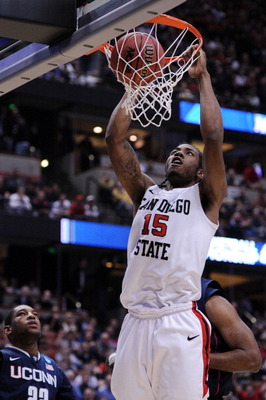 Harry How/Getty Images
Undeclared as yet, Leonard is almost certain to be a top ten pick in this year's draft.
Although his outside shooting and ball-handling need to improve, Leonard is a good defender and a great rebounder at both ends.
He averaged a double-double for the Aztecs, who had an outstanding season end with a Sweet Sixteen loss to UCONN.
2. Kenneth Faried, Morehead State Eagles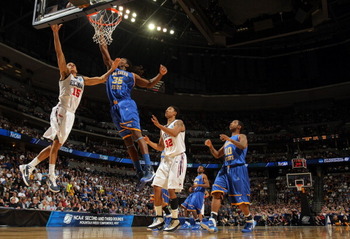 Doug Pensinger/Getty Images
Though he will be picked after Leonard, he's in this spot because of his incredible athleticism and his ability to find the ball off of the glass.
After surpassing Tim Duncan as the leading rebounder in the modern college era, Faried led the Eagles to a huge second-round upset of Louisville in the NCAA tournament.
He doesn't have much of an offensive game yet, but he reminds me of a hybrid version of Paul Millsap and Tyrus Thomas.
He'll work hard enough to make it work.
1. Jimmer Fredette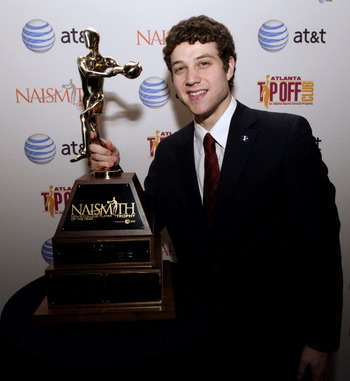 Bob Levey/Getty Images
Jimmer was the National POY, carrying BYU to the Sweet Sixteen.
People can question his size, his athleticism, etc., but really he can flat out play.
He seems mature enough to understand that no one is going to give him anything at the next level and the improvement in his game over the last four years shows his willingness to work - something that makes me think he can make it at the next level.
He may not be an overnight sensation, but in the right situation on the right team, Fredette will be able to succeed in the NBA.
Keep Reading