Usain Bolt vs. Chris Johnson and Others: A Race Between the World's Fastest Star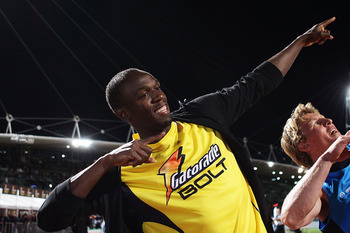 Matt King/Getty Images
Speed is vital in virtually every major sport. The fastest athletes are constantly boasting about their speed, challenging others to race; however, none of these races actually ever unfold.
Chris Johnson has challenged Usain Bolt to a 40 yard race before, a race people would surely pay to see, but for one reason or another the race has never come to fruition.
If a race was to take place between Usain Bolt, Chris Johnson, and the fastest athletes in a number of major pro sports who would be the victor? Who would eat the dust of the worlds fastest person?
The races competitors and their respective sports:
Usain Bolt : Track and Field
Chris Johnson : Football
Brett Gardner : Baseball
Rajon Rondo : Basketball
Christiano Ronaldo : Soccer
The following slides will give the projected finish of the athletes as well as a projected 40 yard dash time using data from the athletes respective sports.
5th Place: Brett Gardner, Outfielder, NYY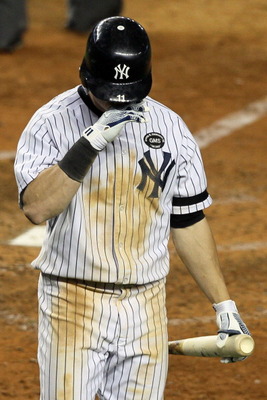 Jim McIsaac/Getty Images
The Yankee speedster would be able to hold his own in any sport in terms of speed, but simply does not stand a chance against the top finishers in this race.
Gardner comes in at a projected 4.39 seconds in a tight race against the 4th fastest competitor.
4. Christiano Ronaldo, Midfielder, Real Madrid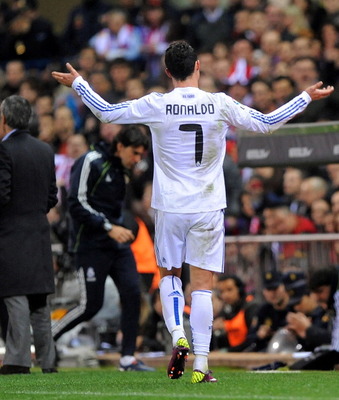 Denis Doyle/Getty Images
Ronaldo may not always give it his all on the pitch, but when he does his immense talent and speed are unmatched. He may not get the credit he deserves for his speed and skills here in the U.S. due to the unfortunate lack of popularity for Soccer; however, this guy can move.
Ronaldo is said to have run a 10.6 hundred meter dash and has been recorded running with the ball at over 20 mph during a game.
His projected 40 time is 4.35 which is only good enough for 4th place in this race.
Surely his good looks and super model girlfriend will ease the pain of this loss.
3. Rajon Rondo, Point Guard, Boston Celtics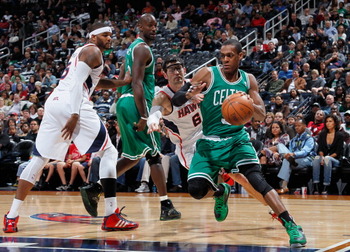 Kevin C. Cox/Getty Images
Rajon Rondo can blaze around defenders on the basketball court as well as anyone in the game today. He relies on his quickness, speed, and agility to find his teammates and occasionally his own shot.
Rondo challenged Chris Johnson, who by now you know is in the top 2, to a race last year. Chris Johnson said he would race the confident Rondo for $200k but the event never came to fruition.
This may have been lucky for Rondo who lands in the bronze medal position in this race in a projected 4.32 seconds.
2. Chris Johnson, Running Back, Tennessee Titans
Andy Lyons/Getty Images
Chris Johnson is the fastest player in football today, at least until Florida's Jeff Demps makes the jump to the NFL to challenge him. Not many people are aware that Chris Johnson actually was a big time track athlete in high school before earning a scholarship to ecu to play football.
In his Senior year of high school the one athlete to beat Johnson in the 100 meter dash was Olympian Walter Dix. Johnson's best time in the 100 was 10.38, a number he would have surely improved upon if he had continued to compete in track rather than football.
Johnson finishes second matching his time of 4.24 from the NFL combine.
There should be no shame in losing to the fastest man of all time....
1. Usain Bolt, 100 M 200 M World Record Holder, Jamaica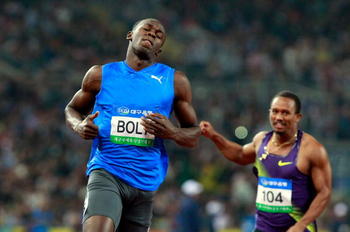 Chung Sung-Jun/Getty Images
Usain Bolt is simply put, the fastest man the world has ever seen, and it does not look like anyone is going to catch him anytime soon. He has demolished the 100 meter record, lowering the world record time to 9.58 seconds, a time some people thought to be impossible for a person to run.
Chris Johnson may be confident he can hold his own against Bolt in a 40, but he is foolish to think so. Bolt has improved his start over the past few years, obliterating any doubt anyone should have about who would win this race.
Bolt breaks the tape in a blazing 4.09 seconds, which would be the fastest 40 ever recorded, another world record for the worlds fastest man ... ever.
Keep Reading