NBA Power Rankings: Tim Duncan and the Most Fundamental Player from Each Team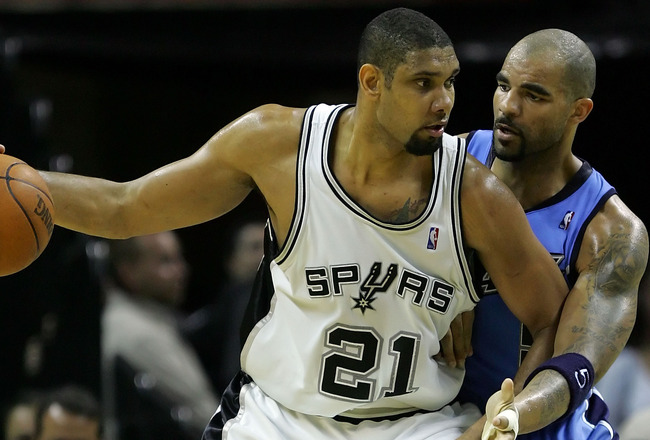 Lisa Blumenfeld/Getty Images
Fundamentals are an often-overlooked trait nowadays in the NBA, where style, potential and versatility have taken over the thought process of many scouts and analysts.
It's not that these particular people in power are morons for not valuing it enough.
But recently, it seems that things such as good footwork, shrewd post and perimeter tricks on both sides of the floor and keeping a cool head have taken a backseat to flash and pop.
Here is a list of one player from every NBA team that has proven to be the most fundamentally sound:
Atlanta Hawks: Al Horford, C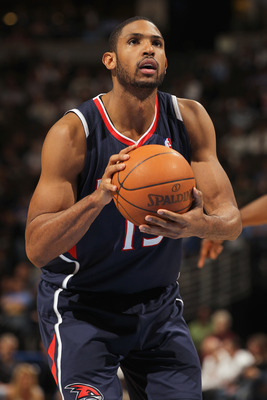 Doug Pensinger/Getty Images
While possessing an unorthodox jump shot that occasionally drifts too far outside its range, Horford still remains one of the more underrated big men in the NBA.
A possible reason that Horford is often not seen on "top players" discussions is due to his overall solid, workmanlike post moves that go unnoticed most of the time.
The Hawks are without question one of the weakest mid-level seeds one can recall in recent memory.
They lose by 30 points at home, meaning one has to question their will to win.
While Josh Smith remains their most versatile player and overall best defender, Horford's length and good post moves help keep the Hawks from slipping into the oblivion they were trapped in for much of the early 2000s.
Boston Celtics: Kevin Garnett, PF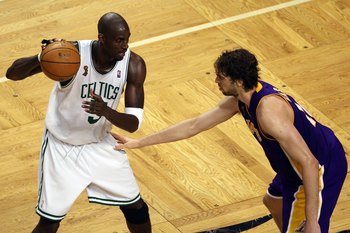 Kevin C. Cox/Getty Images
Unsurprisingly, Garnett takes the cake here.
After all, his career will be remembered for his ability to get any shot he wanted in the post, thanks to unreal footwork, nice pump-fakes and the ability to get the ball high above defenders.
Not only is he phenomenal on offense, but his defensive instincts have remained firmly intact for the duration of his career.
This was a huge reason the Celtics won the NBA Championship in 2008.
He is not the same player he was in Minnesota, but the sheer heart and passion he exerts daily is what keeps the Celtics going strong.
As long as he can stay patient and not let his super-intense demeanor boil over when his team needs him the most, the Celtics will remain a legitimate threat in the East until Garnett decides to hang it up.
Charlotte Bobcats: Boris Diaw, PF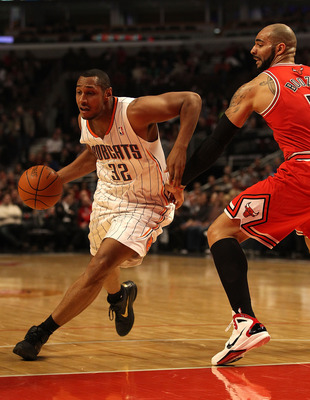 Jonathan Daniel/Getty Images
There was a time not too long ago where the 'Cats looked like they were on the way up, thanks to a couple of great trades that brought Stephen Jackson and Boris Diaw to the club.
While the team still has an outside chance of getting the eighth seed this year, they have to be viewed as a massive disappointment considering how good they potentially could have been.
While he does not possess the superior post moves that Garnett or Tim Duncan do, Diaw is still a post threat thanks to his quickness and size.
For a power forward, he has also averaged four assists per game for his career, which is very impressive at his position.
That means he knows when to kick it out to a shooter if he encounters too much defense in the post.
Diaw's stats have significantly decreased this year, but no one doubts his ability to put numbers on the board.
He has some nice post tricks to make blocking his shot difficult.
As mentioned, he knows when to kick the ball out. Here's hoping we see a resurgence very soon.
Chicago Bulls: Carlos Boozer, PF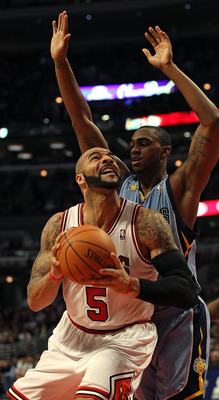 Jonathan Daniel/Getty Images
Also kind of a no-brainer, Boozer's mid-range game and hard-to-block shooting form is a huge reason the Bulls have to be considered the current favorite to take the Eastern Conference crown.
He is not known to be a standout defender (0.3 blocks per game this year), but he is an exceptional rebounder (an average of 10 for his career).
His size and shrewd post ability is what makes him such a dangerous threat, especially when you throw in the fact that his shot is almost impossible to block.
The Bulls signed him in hopes he would be the missing piece to a title, and so far he's proven to be outstanding (when not tripping over gym bags and getting knocked out for a couple months, of course).
Cleveland Cavaliers: J.J. Hickson, PF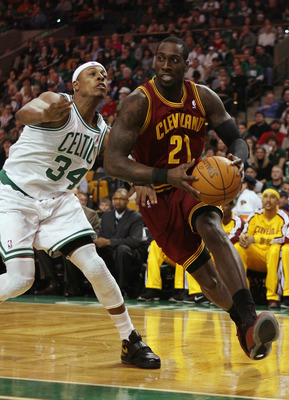 Elsa/Getty Images
While definitely still raw and needing coaching, Hickson has proven to be one of the few bright spots on a now-rebuilding Cavaliers team.
He gets a little carried away with his shooting sometimes.
But when you consider what the Cavs have, he is far and away their most fundamental player.
He rebounds well for his position, has shown flashes of great athleticism and is only 22 years old. Sure, he still has a long ways ahead of him, but so far he appears to have the basics down right.
It's just a matter of working hard in the offseason to take that next step.
The Cavs are counting on him to. Badly.
Dallas Mavericks: Jason Kidd, PG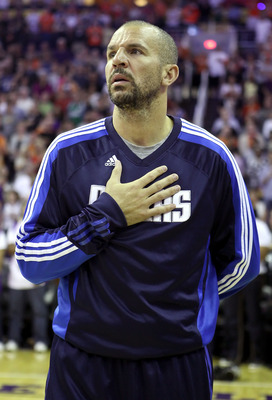 Yes, you
Christian Petersen/Getty Images
Somewhat surprising, I know—I can hear many screaming "Dirk!" at me right now.
Dirk is definitely a terrific player who is irrefutably one of the best power forwards to play the game, but Jason Kidd is one of the most fundamentally sound players in NBA history.
At the point guard position, you want a guy who makes the right decision most of the time.
Kidd has done that for whomever he has played for at every stage of his career.
Whether it was being asked to be a big-time scorer and master distributor with the Suns and Nets or just becoming a good pace-setter in Dallas, Kidd has done it all.
He is just one of the smartest guys to ever play in the league, one of those guys who you would love to see win a title someday.
One has to think this is his last big chance to do so, as the Mavs continue to surprise everyone by winning without their second-best player in Caron Butler.
Denver Nuggets: Nene, C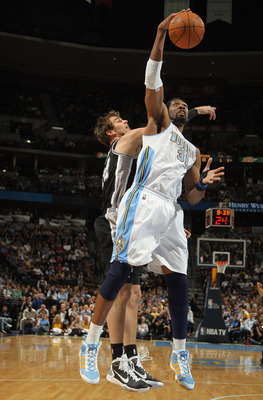 Doug Pensinger/Getty Images
Nene is pretty much the only fundamentally sound player on this team—the Nuggets have a ton of players that are not shy about taking some awful, awful shots (that go in sometimes).
He has proven to be solid as a rock at the center position for the Nugs, who appear to be back on pace to being a legitimate threat in the West, thanks to the 'Melo trade.
Nene has some nice post moves centers must possess, not to mention an ability to alter shots and excellent defensive instincts.
Throw in his size and experience in the league, and every GM would kill to have a Nene on their squad.
Detroit Pistons: Tayshaun Prince, SF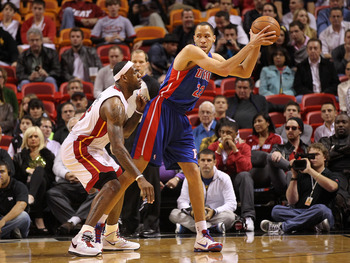 Mike Ehrmann/Getty Images
Prince has remained a consistent defensive pest for the duration of his career.
He has a slightly unorthodox-looking shot, but he still shoots a very good percentage from both ends the field.
His defense has remained intact, mostly thanks to his length and ability to bother perimeter scorers who thrive on wide-open shots.
Prince is very fundamentally sound on both sides of the ball.
He has shown great patience when he is on the court getting starting minutes and on the bench wondering what his role is.
If only Prince could find a new home where he could fit in to being the "defensive stopper," maybe we would hear a lot more of his name.
Instead, it appears he is trapped in a living hell in Detroit, where attitudes run rampant and questions surround the current state the team is in under head coach John Kuester.
Golden State Warriors: David Lee, PF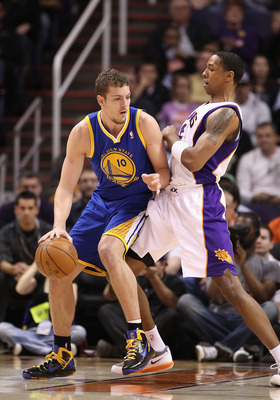 Christian Petersen/Getty Images
Perhaps in one of the most underrated transactions of the 2010 NBA offseason, the Warriors swooped in and grabbed an excellent post threat in David Lee.
While the Warriors have not experienced the success they pictured when you consider how this season has gone, Lee is without question one of the more fundamentally solid players in this league.
His post moves are excellent, and his ability to get rebounds—both offensive and defensive—has remained largely undetected by many when one puts together a "top power forwards" list.
Not only that, he has a pretty nice midrange game as well.
His offensive post moves are exceptional—now it is just his defensive skills that could use some work.
After all, as a power forward, 0.4 bpg is a pretty poor stat.
Nonetheless, Lee is still one of the most impressive post scorers in the league.
Houston Rockets: Luis Scola, PF
Jeff Gross/Getty Images
If Yao Ming were healthy, he would definitely be the right choice here.
However, with his career in jeopardy and the Rockets caught in a state of mediocrity, the team has turned its attention towards their other foreign star, Luis Scola.
As a Spurs fan, it pains me to see Scola do so well for Houston. He is undoubtedly one of the craftiest post players in the league, due to his Euro-style of play.
He knows how to get his defenders up in the air and draw fouls.
He also knows how to get by them and lay it off the glass with a ridiculous amount of pizzazz.
Defensively, he could be a little better, but you can bet that the Rockets are still thrilled to have his services.
Indiana Pacers: Roy Hibbert, C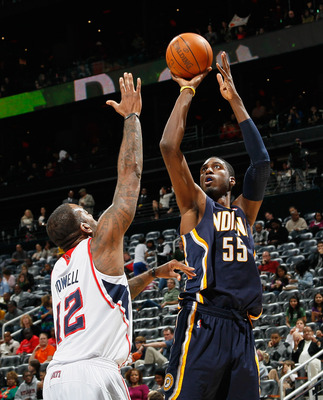 Kevin C. Cox/Getty Images
Doing an offseason of work with Bill Walton will definitely do you a lot of good.
While Hibbert's rebounding numbers could definitely still use improvement, his footwork looks tremendously better, and he looks much more in control of himself than in years past.
Certainly he still has some work to do if he wants to become an elite big man. But he is well on his way considering his dedicated work ethic and insane length and height.
If the Pacers can give him a post buddy or some shooters to kick out to, it will make him all the better.
Then again—no offense—what big-name free agent is going to want to come to Indiana?
Hibbert might have to become a nightly double-double if the Pacers want to look attractive to anyone soon.
L.A. Clippers: Blake Griffin, PF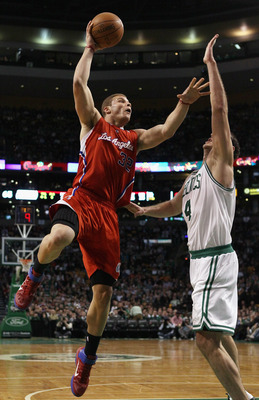 Elsa/Getty Images
Is it even a contest?
Griffin is undeniably the future of this Clippers organization, and much of this has to do with his ability to score the ball in a variety of ways as well as provide defensive intensity.
Even though he is a rookie, he is already one of the most skilled rebounders in the league.
Throw in some nifty post moves that usually lead to SportsCenter-type dunks, and Griffin seems like he should be in his prime years, not just 22 years old.
If he can improve his shot-block ability and sharpen his defensive skills a little bit more, the Clippers should be a team to be reckoned with in the near future (but we've said that before, haven't we?).
Los Angeles Lakers: Kobe Bryant, SG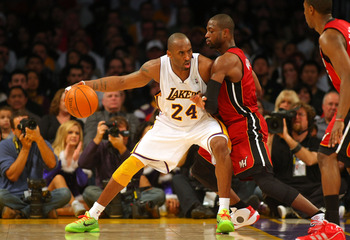 Victor Decolongon/Getty Images
With an unmatchable basketball I.Q., some devilishly deceptive pump fakes and fierce "tiger blood" coursing through his mamba-esque veins at crunch time, Kobe Bryant might be the most fundamentally sound player in the league right now.
His patience on both sides of the floor has gotten much better.
Whether he's shooting or knowing when to time his blocks on defense, Kobe remains the best player in the league.
One has to think he has a couple years left before he inevitably starts to tail off.
As long as his fundamentals stay consistent and his patience continues to improve, Kobe will always be respected by anyone in the NBA.
Memphis Grizzlies: Zach Randolph, PF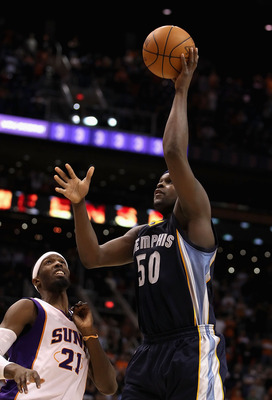 Christian Petersen/Getty Images
Randolph has to be one of the most underrated players in the NBA, since you rarely hear his name despite him being a solid 20-10 guy.
Perhaps it is the smaller market that is Memphis, but Randolph is definitely a reliable big man who knows when to take shots.
He also knows how to get great position when it comes to snatching up rebounds.
When a guy is shooting at least 50 percent from the field (in Randolph's case, exactly 50 percent) and grabbing 12 boards a game, he is a legitimate star in the league.
Z-Bo is a tad undersized at his position, but his ability to rebound at a high level and get good shots is what makes him a fundamentally sound player the Grizzlies certainly treasure.
Miami Heat: LeBron James, SF
Mike Ehrmann/Getty Images
Hate 'Bron all you want, it still does not change the fact that he is one of the most fundamentally sound players in the league.
He does everything in the game exceptionally well.
Whether it's shooting, rebounding, passing, blocking shots—you name it, he is very skilled at it.
While his patience and shot selection could certainly be improved, he is still an MVP-caliber player due to his ability to do anything he wants on the floor.
A ring would definitely erase a lot of the criticism surrounding James' inability to be clutch in the most important settings.
But that still does not excuse the massive achievements he has attained thus far, thanks to his incredibly fundamentally strong game.
Milwaukee Bucks: Andrew Bogut, C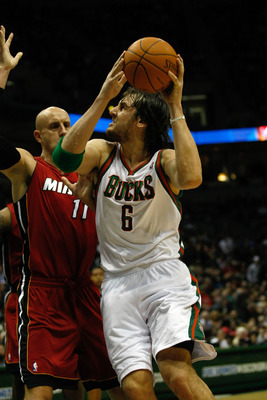 Scott Boehm/Getty Images
Again, it is kind of not even a contest.
Bogut's very good field-goal percentage (49.6 percent), great rebounding ability (11 per game), excellent shot-blocking timing (2.6 per game) and fantastic patience on both sides of the floor make him the fundamentally strong center the Bucks need him to be.
Sure, his free-throw percentage could be much, much better (44 percent).
Then again, so could Tim Duncan's—and Duncan is by far one of the most fundamentally sound players in the game.
If Bogut could increase his points per game average, the Bucks would definitely be a much scarier team than they are right now, since no one right now really "fears the deer."
Minnesota Timberwolves: Kevin Love, PF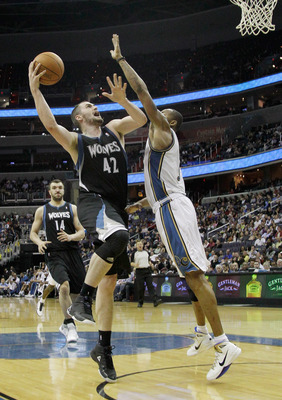 Rob Carr/Getty Images
Love is far and away the most underrated player in the league.
The guy did not even make the All-Star team before being selected by the commissioner to replace Yao Ming!
How insane are fans for not voting in a 20-15 guy who gets to places on the floor guys his size should not be?
Much like Zach Randolph, one has to think it is the "small market" effect.
Love is already one of the best players in the league that no one talks about, and that is due to his strong fundamentals.
Not only is he scoring and rebounding at a high level, he can also shoot the three-ball at a consistently good clip (41.9 percent).
If he can improve his shot-blocking and ability to interrupt passing lanes to get steals, he could be the most fundamentally solid player in the NBA.
However, like the 'Wolves, Love is still a work in process.
It is scary to think what kind of player he can become in the future.
New Jersey Nets: Deron Williams, PG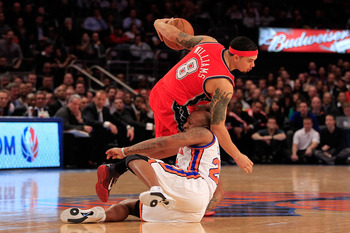 Chris Trotman/Getty Images
This was a tough one. Williams is definitely an All-Star talent, but his turnovers have been pretty high this year.
The only other players that give him competition in this area are Brook Lopez (low rebounding numbers) and Kris Humphries.
Williams definitely possesses a high basketball IQ and has the ability to find players in the most difficult of spots.
For Williams to take himself and the Nets the next step forward, he needs to limit his turnovers, which have ballooned to over four per game.
There is no doubting this guy's skill at both ends of the floor and the fact that he knows when to shoot and when to pass better than most guys in the league.
My gut tells me he just needs more time to get accustomed to his team and get over the still-present shock of his surprising departure from Utah.
New Orleans Hornets: Chris Paul, PG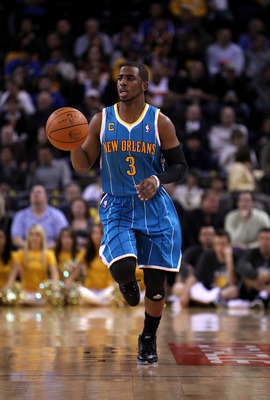 Ezra Shaw/Getty Images
Unlike Williams, Paul has been able to keep his turnovers down for the most part this year (2.2 per game).
The Hornets are probably still a first-round exit kind of team, but Paul is still a tremendous talent that could give a team like the Lakers fits during a seven-game series.
You would be hard-pressed to find a faster player in the league.
The Hornets will need to find another post threat for Paul to dish the ball to if they hope to go anywhere in the playoffs, considering David West's season-ending knee injury.
This might force Paul to have to take over games from a scoring standpoint.
He can certainly do that, given his knowledge for when he should be the distributor—getting other guys involved—or when he should be the guy taking a large portion of shots.
New York Knicks: Carmelo Anthony, SF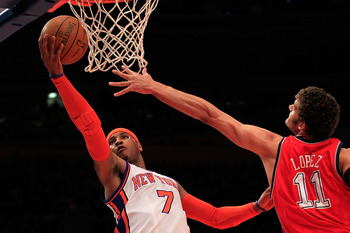 Chris Trotman/Getty Images
While lacking in the defense department and occasionally getting a little too shot-happy, 'Melo knows how to get any shot on the floor, which is certainly no easy feat.
He has proven to be one of the most lethal scorers in the league, the is the primary reason the Knicks traded for his services in the first place.
He is also an above-average rebounder (7.3 per game this year). There is no questioning his fundamentals—the guy knows how to do a lot of things on the floor well.
He just needs to improve on the defensive end to help the Knicks take that next step forward into "elite team" status.
Oklahoma City Thunder: Kevin Durant, SF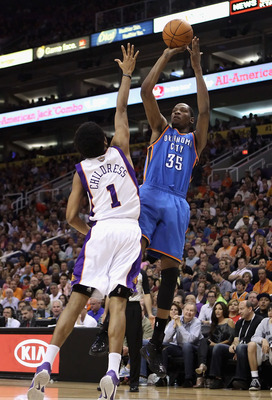 Christian Petersen/Getty Images
At only the young age of 22, Durant has already mastered the art of scoring the basketball.
Despite a thin frame one would assume gets pounded on a fairly regular basis, Durant has been very durable throughout his short career thus far.
The man knows what shots he wants to take probably better than anybody in the league.
His super-quick release is what helps him get practically any shot he wants.
Not only that, you can sense that he has the wisdom of a 70-year old man as well, for part of staying on top is knowing how to stay humble and to keep a diligent work ethic.
If Durant can bring a couple of titles home to OKC and improve his defense throughout the years, he will definitely be viewed as one of the best players to ever play the game one day.
One can bet his fundamental knowledge of the game will be a huge factor.
Orlando Magic: Dwight Howard, C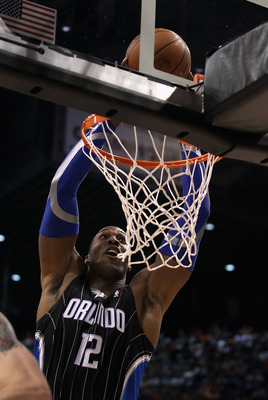 Christian Petersen/Getty Images
Say what you want about Howard's temper getting the better of him sometimes—the guy is still one of the best players in the league due to his natural ability to gobble up rebounds and spike down dunks over anybody in the league.
I am not a fan of the Magic, but I think Dwight gets a raw deal most of the time.
He gets hacked and hit more than any player in the league, so who would not get pissed off if a large number of those fouls go uncalled?
Yes, he does need to work on being more patient; every player has some sort of weakness.
However, he has vastly improved his post game and is shooting the ball at nearly 60 percent, which is downright insane.
There is no questioning this man's ability to get to any place on the floor due to his massive size and superhero muscles.
This is because of his fundamental knowledge of how to get rebounds, blocks and shots from areas he can score from.
Philadelphia 76ers: Andre Iguodala, SF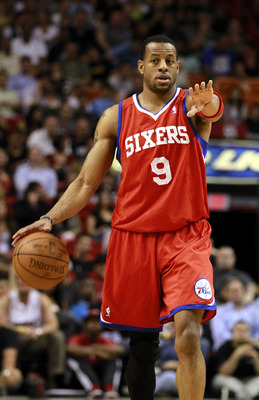 Marc Serota/Getty Images
Andre Iguodala is essentially Scottie Pippen trapped in a city that wants him to be Michael Jordan, aka, their go-to scorer.
While this probably will never happen because Iggy is not that kind of player, he is still one of the smartest players on the floor who can post triple-doubles whenever he feels like it.
He also has a great, often-unnoticed ability to run the outside outlet lanes on the fast break exceptionally well.
Iggy has definitely improved on his shot selection from years past, as he is shooting the three at a higher clip.
He is still rebounding, passing and stealing the ball at very good levels for his position.
If he can improve on his perimeter shooting even more, the Sixers will be that much more dangerous of a team.
They can be deadly when firing on all cylinders.
Phoenix Suns: Steve Nash, PG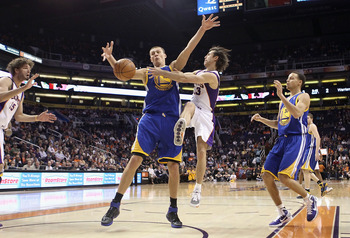 Christian Petersen/Getty Images
Ok, I promise that I'm not just compiling a list of the best players from their respected teams. But oftentimes the case is that the most fundamentally sound player is the team's best one.
Nash falls into the same school Jason Kidd does in the sense that you want to see this guy finally win a title.
Unlike Kidd, who still has a realistic chance, Nash has a zero percent one.
One has to wonder how he is keeping his patience and sanity considering how close he has sniffed an NBA Finals appearance in the past (just last year, in fact), but has not just gotten to the ultimate stage yet.
He might be the most patient player in the league, which is definitely important for a great fundamental player to be.
In addition to this, he still dishes out some of the nicest passes you will ever see, not to mention his sweet shooting stroke is as firmly intact as ever.
Here's hoping the Suns do the right thing and work on a deal in the offseason to send Nash to a team that is closer to a title than they are.
The guy deserves it.
Portland Trail Blazers: LaMarcus Aldridge, PF
Mike Ehrmann/Getty Images
Aldridge has gone from Brandon Roy's wingman to sole savior of the Trail Blazers organization, who are still in relatively good shape considering the unfair amount of injuries that have been slung their way.
Now, with rumors that Roy's career is in serious jeopardy, Aldridge has become the No. 1 go-to guy for Portland, and he has not disappointed.
Forget for a minute that no hand in his face ever bothers him when he is going up for a shot.
Considering his lean size at his position, he still grabs almost nine boards a game, which is definitely something when you have rebound-hog Marcus Camby on your team.
Aldridge can improve a little on the defensive end—and perhaps extend his range even farther out—but he is undeniably a player who knows his strengths.
He will exploit any mismatches or open shots teams give him.
Sacramento Kings: Tyreke Evans, PG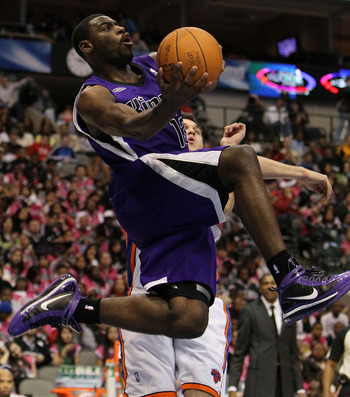 Jed Jacobsohn/Getty Images
This was a tough one, seeing that the Kings are so young and largely inexperienced, and many of them could improve on the basic fundamentals of the game.
Evans is definitely the best of the bunch.
Unlike the hot-headed DeMarcus Cousins, Evans keeps a cool head, which is absolutely important. The Kings really cannot afford to lose him.
His three-point shooting needs massive work, but he is certainly a player who knows how to get to the hole well, and that is what you want from your point guard/shooting guard.
He is not an outstanding fundamentals player, but he is not a horrible one by any means.
He is only 21 years old, so he has plenty of time to work on the basics to make himself a much better player.
That is great if you are a Kings fan, considering he is already an megawatt kind of talent.
San Antonio Spurs: Tim Duncan, PF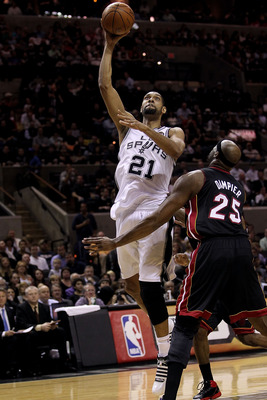 Ronald Martinez/Getty Images
Seeing what the name of this article is, this one is a pretty easy one.
Yes, Duncan's stats have declined, but it is not necessarily because of "old age" like the media would like you to believe.
More so is that the Spurs have done an excellent job controlling his minutes throughout the season, and saving him for the postseason where his good footwork, "gotcha" pump-fakes and defensive tenacity take over and win the Spurs valuable games.
Granted, Tim is not the same player he was five or six years ago, but he is far from awful.
He is still a quality player in this league who has been continually forgotten and counted out, even after four championships.
Do not be surprised to see him rip off a couple of incredible games in the playoffs that will the send the Spurs past an opponent and on to the next round.
Toronto Raptors: Ed Davis, PF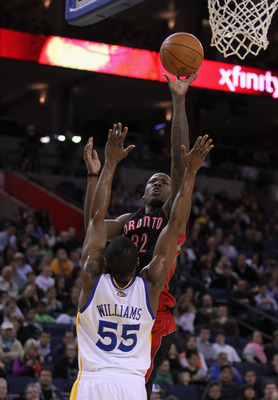 Ezra Shaw/Getty Images
You would think this would be Andrea Bargnani, but given his not-very-impressive shooting percentages this year and less than stellar defensive stats, Davis appears to be the runaway favorite here.
He is only a rookie and there is definitely some rawness still evident in his game, but his footwork appears to be outstanding.
He's shooting 57.6 percent from the field.
He also appears to be solid already on defense, averaging at least a block a game in just under 24 MPG, which is quite impressive.
He looks to be one of the chips the Raptors will be building around, which is an excellent choice given what he has provided them with so far this year.
Utah Jazz: Paul Millsap, PF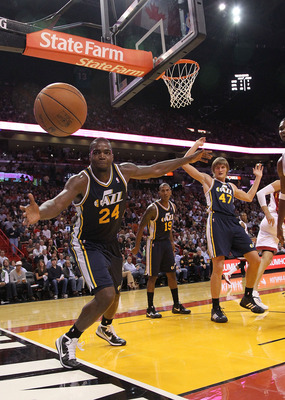 Mike Ehrmann/Getty Images
Paul Millsap is also deserving of a spot on the "most underrated" list. What he lacks in size he makes up for in heart and confidence.
Ever since Carlos Boozer departed Utah, Millsap's playing time has skyrocketed. He has officially become the go-to scorer for their team.
Obviously, he could rebound a little better at the power forward position.
But considering his somewhat low turnover average (1.86) and ability to remain consistently aggressive on defense despite his short frame, this guy is without question a fundamentally sound basketball player.
The Jazz look to be in somewhat dire straits right now, but they at least count on Millsap to remain strong as a rock down in the post.
Washington Wizards: John Wall, PG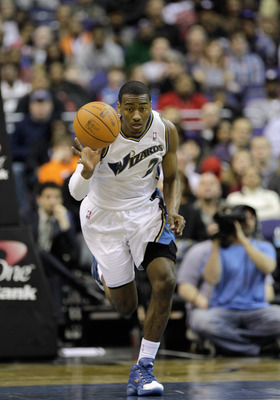 Rob Carr/Getty Images
Can we go ahead and say that John Wall is absolutely going to be the next great point guard in this league?
He's quick, he's confident and he will absolutely stand up for himself and not get pushed around (he doesn't care if you are 7'3" and Lithuanian, Big Z), even if he's a rookie.
You have to love this guy's creativity and skills, and he gives those poor Wizards fans some hope that the future is indeed bright.
If he can further improve his defense and gradually implement some hard-to-intercept passes into his arsenal, do not be surprised to hear his name in "top five point guards" discussions in only a year or so.
Keep Reading