Los Angeles Lakers: Predicting Each Game for Kobe Bryant and the Lakers in April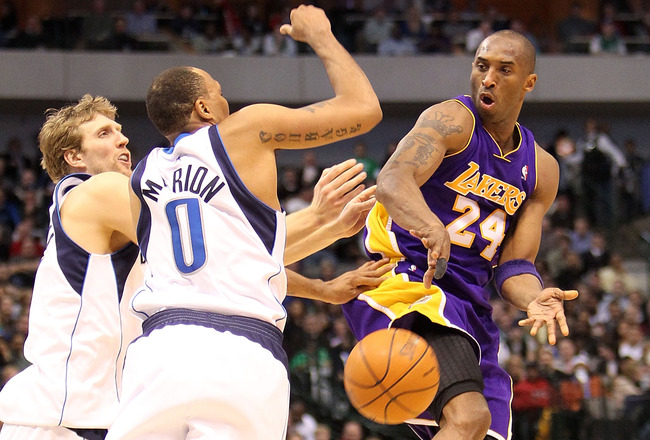 Ronald Martinez/Getty Images
A month ago, everyone was wondering if Kobe Bryant and the Los Angeles Lakers had turned the corner after the All-Star game. I think that has been answered with a resounding "yes." Or, it is a 15-1 record since Kobe won All-Star MVP honors.
Now, the last bit of the NBA's regular season remains, and the Lakers find themselves not only back in form but also in serious contention for the league's best record. LA is only three-and-a-half games behind the San Antonio Spurs. I even find writing that startling.
Seriously, with all the doom and gloom that surrounded the Lakers like sharks going after a bleeding diver, it is hard to believe the Lakers are tied right now for the league's second best record and actually have the Spurs in sight.
LA is claiming they don't' care if they catch the Spurs or not, and I believe them. But it sure is amazing and fun to laugh at all those writers and detractors who wrote off the Lakers all season long.
But putting the money where your mouth is comes in the playoffs and the Lakers know that better than anyone. That's why they didn't care about regular season ups and downs and still don't.
These last nine games remaining in April are important. It will determine final playoff seeding, and the Lakers can really control their own destiny.
I don't think they will catch the Spurs, but more than likely, the Lakers will end up with the league's second best record overall. That is important, especially if the Lakers can make it back to the NBA Finals. That would mean LA would have home court advantage over any Eastern Conference opponent.
We saw how valuable that was last year with Game 7 against Boston being in LA. I don't even want to think about what would have happened if the Lakers had to play that game on the Celtics' home floor. Not good.
Anyway, April will be the time for the final push, but it also might be a place for the Lakers to slightly ease up on the gas. They've proven in March that they are still the team to beat. Now, it's time to make sure everyone is healthy as the playoffs approach.
I have no worries that head coach Phil Jackson won't have the Lakers both physically and mentally ready for the playoff run.
While most people didn't' expect the Lakers to have the winning streaks in March, I sure did. So, my predictions for March ended up being very strong, as I predicted a 12-1 record for the month which ended up 11-1 with the Dallas game tonight (Thursday) to end the month.
If the Lakers win this game, they will finish March where I predicted them. Not many people believed in LA like I did at the end of February. I'm glad the Lakers proved me right.
I'm not so sure April will see the Lakers playing quite as strong. We might even see Jackson rest some of his starters before the playoff run, especially if the Spurs end their losing ways and the Lakers edge ahead of Dallas and any Eastern Conference teams.
So, here are my April predictions.
Friday, April 1 Vs. Utah Jazz @ Utah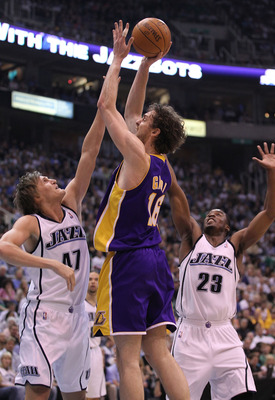 Jed Jacobsohn/Getty Images
Loss.
A back-to-back after Thursday night's game versus the Dallas Mavericks. This game Friday is one of the "scheduled losses" that Phil Jackson blames TNT and the NBA for.
The Lakers will play the late game Thursday night, end late, jump on a plane around midnight and fly to Salt Lake City. They'll lose one hour for the time zone change and then play Friday night.
Jackson will cancel the shootaround. The only saving grace is that Utah is not even remotely the same team it used to be only two months ago, so there is the possibility for a Laker win.
But I'm not hopeful, and I'll go with Jackson's theory. Loss.
Sunday, April 3 Vs. Denver Nuggets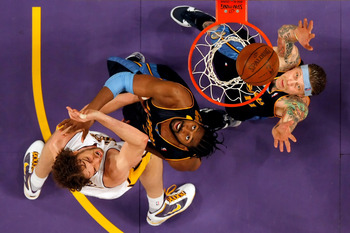 Jeff Gross/Getty Images
Win.
This one won't be easy. What you'd think would have been an easy win after the Nuggets traded Carmelo Anthony to the New York Knicks will be far from it.
As a matter of fact, the Lakers had Melo and his Nugget's number pretty much these last 10 regular season and playoff games. Not the case with the New Nuggets.
Look for a super tight game and LA barely getting out of Staples with a super tight win.
Tuesday, April 5 Vs. Utah Jazz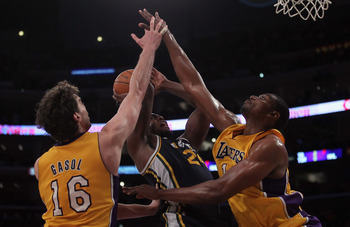 Jeff Gross/Getty Images
Win.
Compared to the game just a few days earlier in Utah, the Lakers should cruise in this one. The game in Salt Lake was a back to back coming off of the Dallas home game. Not the case.
And, if the Lakers lose in Utah, they'll have even more motivation for a victory in this one at home. Look for a blowout.
Wednesday, April 6 Vs. Golden State Warriors @ Golden State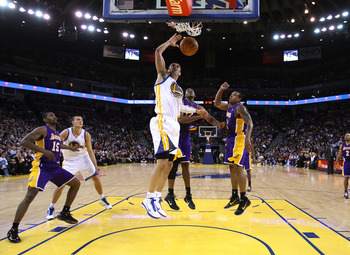 Ezra Shaw/Getty Images
Win.
Lakers will want easy wins as they get the chance to rest their starters for the playoff run. This will probably be one of those games.
Get out early, pound the Warriors and run up the score. Then, sit the vets in the fourth. I like that scenario.
Friday, April 8 Vs. Portland Trail Blazers @ Portland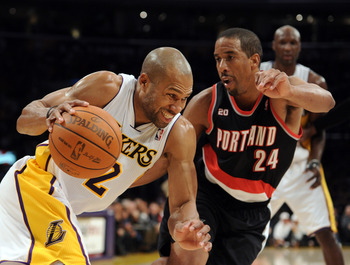 Harry How/Getty Images
Loss.
Portland will be highly motivated in this one as they are jockeying for final playoff seeding.
Unless it looks like LA will be playing Portland in the first round of the playoffs, look for the Lakers to phone this game in and lose.
If the seedings do look like the Lakers will play the Trailblazers in the first round, then all bets are off on my loss pick as I then would say the Lakers would play hard and send a message to Portland that not only will LA see them in the playoffs, but we can win on your home court.
Don't think it will happen, and with Portland needing the win far more than LA and the Lakers' recent history of struggling in the Pacific NOrthwest, I'll stick with a loss in this one. But, it could be close.
Sunday, April 10 Vs. Oklahoma City Thunder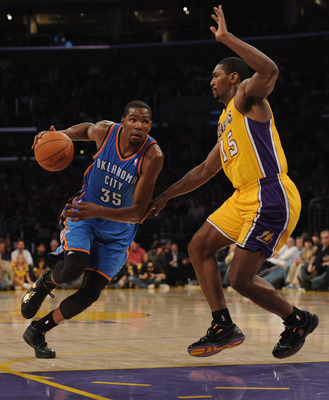 Harry How/Getty Images
Win.
This one will have the Lakers' attention. Even if they have eased off the gas a little in April, Oklahoma City will have them refocused and sending a playoff type message.
The Lakers did this exact thing in March on the Thunder's home court to make a statement and they might do it again here.
This one could have a playoff-type atmosphere. Or, the Lakers could bag this one and get blown out. Look for this one to be all about psychology and what kind of message Phil Jackson and the Lakers want to send Oklahoma City.
I say it will be a statement so win. But should be a close one.
Tuesday, April 12 Vs. San Antonio Spurs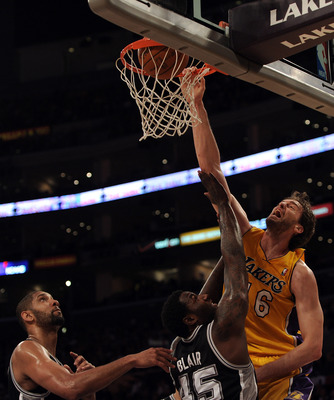 Harry How/Getty Images
Win.
That's because the Spurs literally will be limping to the finish line. Tim Duncan might not even play in this one, nor could Manu Ginobli or Tony Parker as the Spurs try to get their Big Three healthy.
That's why I like the Lakers at home in this one. And, there is the added motivation that if they Lakers have been closing the gap with San Antonio, they might need this win to tie the Spurs or overtake them for the league's best record.
Either way, this bodes well for the Lakers and doesn't for the Spurs. Laker win, possibly double-digit.
Wednesday, April 13 Vs. Sacramento Kings @ Sacramento
Ezra Shaw/Getty Images
Win. Blowout.
The final game in Sacramento will see the Kings going out with a loss to their dreaded rivals, the Lakers. I'll personally miss the Kings as I like them in Sac Town, don't understand why Los Angeles (call it Anaheim if you want) needs a third NBA team and most importantly, remember how bitter rivals the Kings were in the early 2000's, during the Shaq/Kobe years.
If that duo weren't standing in their way, the Kings would have put up a few NBA title banners in ARCO Arena or whatever it is called. Now, it will be called an Old West Ghost Town. So long Sacramento to the NBA. I'll miss you.
So will the Lakers and that's why this will be a LA win.
Who is Kobe Bryant? Want to learn the details of Kobe Bryant's legendary work ethic? Or why Kobe considers himself a "talented overachiever" or an "outcast" for much of his life? Check out the new book, The Kobe Code: Eight Principles For Success- An Insider's Look into Kobe Bryant's Warrior Life & the Code He Lives By, at www.PatMixon.com.
Keep Reading

Los Angeles Lakers: Like this team?