NBA Free Agency 2011: 8 Instant Scorers Each Team Can Sign This Summer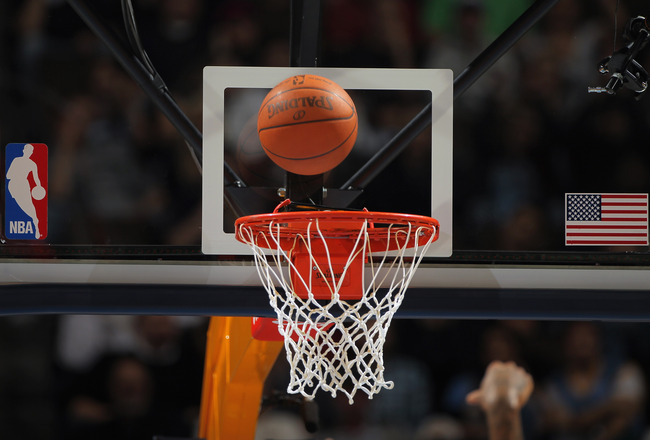 Doug Pensinger/Getty Images
An electric scorer is immensely valuable to an NBA team. The 2011 free agent class has several players who fit that bill and will be welcome additions teams looking for scoring this summer.
The NBA is full of guys who can put the ball in the basket. We, the fans, frequently criticize players for their shortcomings, whether it be outside shooting, technique or otherwise.
However, these players are in the NBA for a reason: They know how to shoot, and they know how to score better than those who can't make the league.
Furthermore, some guys were seemingly born to score the basketball. This small subset of players, for whatever reason, possess unique abilities to score in large bunches, with suddenness and force. Often times, these players aren't as well-rounded as the average player, but their ability to generate scoring is deeply coveted by teams across the league.
With the summer of 2011 free agent period just around the corner, here's a look at eight players with unique scoring abilities who will be hotly pursued.
Aaron Brooks, PG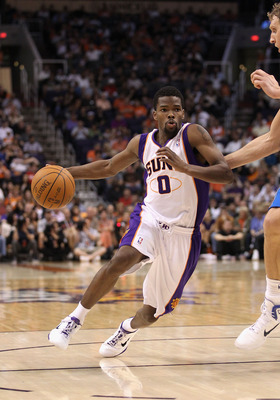 Christian Petersen/Getty Images
The fourth-year point guard out of Oregon hit his stride while starting for the Rockets last year. He averaged 19.3 points in 35 minutes while shooting a career best 43 percent.
The spark-plug-type of player that he is, Brooks has a penchant for quick scoring. His lightning fast dribble-drive allows him to finish deceptively at the rim equally well as hitting a three (39.8 percent last year).
Brooks is a capable starter at point, but would be dangerous off the bench for a contender with an established starter as well. I could see him imitating what Jamal Crawford has done with the Atlanta Hawks.
The $3 million qualifying offer that Phoenix must give Brooks would be a bargain if no other team gives him a big offer sheet, which is unlikely.
Brooks will be coveted by many teams as a restricted free agent, but would be a nice fit to stay in Phoenix in preparation for Steve Nash's near departure or retirement.
Michael Redd, SG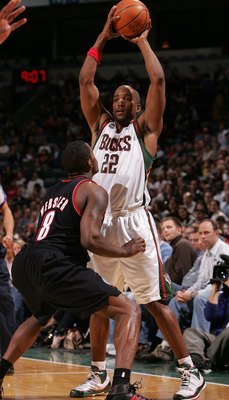 Jonathan Daniel/Getty Images
Poor Michael Redd.
The fifth-highest salaried player in the NBA has sustained season-ending ACL injuries the past two seasons, and has only played 52 games over the past three seasons.
Before his first injury in 2009, Redd was in the middle of a five-year prime that saw him drop no less than 21.7 points per game in a season. He was one of the best scorers in the game, and possibly the best outside shooter.
Now, at age 31, Redd is finally recovered from his injury nightmares and looking to earn himself a new contract. He will not approach even half of his $18.3 million salary in his next deal, but could prove himself to be a great rotation player for whoever takes a chance on him.
Zach Randolph, PF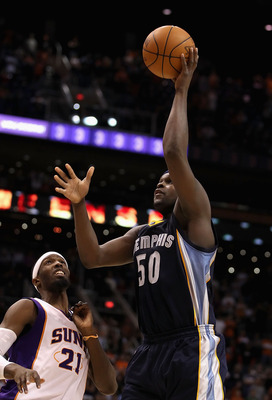 Christian Petersen/Getty Images
The 6'9", 260-pound power forward has experienced a renaissance in Memphis, returning to and exceeding the 20-10 averages of his early days.
Still just 29, Randolph is among the NBA's most unstoppable low post scorers. He scores at a ridiculous 62 percent clip in shots at the rim. It has gotten to the point that he commands frequent double teams to slow him down and force a pass.
He also thrives on the perimeter, with the ability to step all the way out to 20 feet, although his percentage from 16-23 feet has dipped below 40 this year. He might be surpassed by only Pau Gasol in offensive versatility among bigs in the league.
His $17.3 million expiring contract means that he will be a marquee acquisition by whoever he chooses. He certainly won't have a shortage of options, as teams will certainly value his maturation as a player and person.
Leandro Barbosa, PG/SG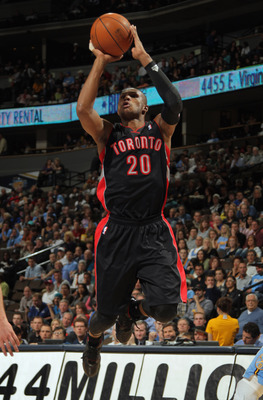 Doug Pensinger/Getty Images
The eight-year Brazilian blur has really fallen off without Steve Nash giving him wide open looks. He has struggled to find any rhythm in Jay Triano's uptempo version, because he only gets 24.1 minutes a game off the bench.
He doesn't seem to be a part of Toronto's plans, so his quiet 13.1 points and blazing foot speed could really help a team wanting a change of pace off the bench.
He will almost certainly forgo his $7.6 million option for next season to become a free agent. He won't get that amount of money next year, but no team will undercut him knowing what he is capable of in extended minutes.
Glen Davis, PF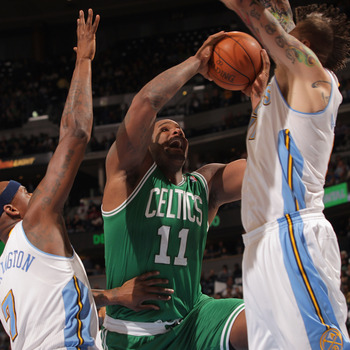 Doug Pensinger/Getty Images
At the end of last season and throughout this one, Big Baby has morphed into a reliable sub for Doc Rivers.
No one really knew what he'd be in the NBA, but it turns out that he is a tough rebounder, physical presence and bunch scorer. He is fourth on the team with 11.8 points in just under 30 minutes per game.
Davis rarely shoots poorly, and often gets hot for a full game. Fifteen times this season he has shot better than 55 percent for a game, and several of those were in the mid-60s and even 70s.
I don't see Boston letting Davis get away, but if he does, he'll be a cost-effective pick up for some team needing an active big man.
J.R. Smith, SG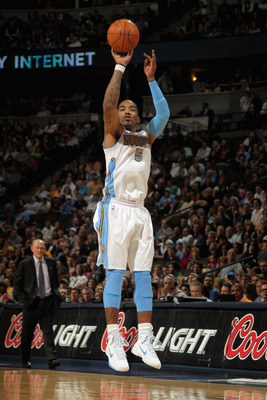 Doug Pensinger/Getty Images
It's hard to believe that Smith, the seventh-year gunner, is just 25 years-old. It seems like he's been around for a long time, which is likely because he jumped straight from high school.
One of the more explosive scorers in the league, Smith is a hyper-athletic volume shooter who gets better the more he shoots. He is reliable, though streaky, from beyond the arc, where he shoots 37 percent for his career at nearly five attempts per game.
On the right team, in the right system, Smith could be a capable third, and possibly second, scorer. He thrives at the rim, where he converts better than 60 percent for his career, and from long range.
He has taken dips in scoring and minutes played this season, and there is some doubt that his game might be suited for anything or than a fast-paced, quick-shot offense. Can he play in a slow-down, set-play system that doesn't allow him to stretch his legs on the fast break?
A few teams will most certainly afford him the chance to do so, including the Nuggets.
Jamal Crawford, PG/SG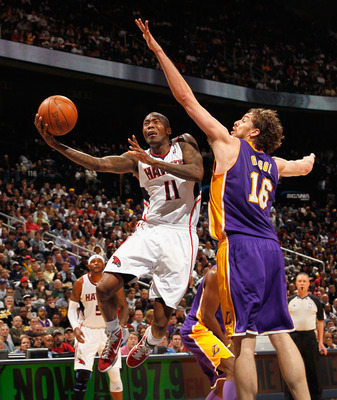 Kevin C. Cox/Getty Images
Crawford, the 6'5" guard out of Michigan, is the reigning Sixth Man of the Year in the NBA, largely because of his crazed scoring binges off the Hawks' bench.
Never an accurate shooter, Crawford flourishes when he gets enough touches. His 14.1 points this year represent a disturbing slide, but he has consistently hovered between 18-20 points for the last four seasons.
What makes that accomplishment more impressive is that, since coming to Atlanta, he's roughly averaged 31 minutes per game. His scoring is down from his days with New York, but his minutes have decreased proportionately.
His $10.8 million salary may or not be justified, but Crawford is unique in what he can bring a team, and will certainly garner a lot of attention this summer.
Thaddeus Young, SF/PF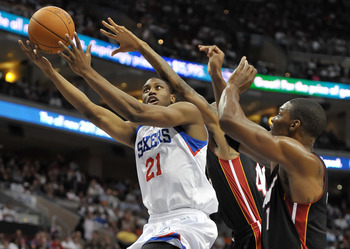 Drew Hallowell/Getty Images
The fourth-year Georgia Tech graduate has never been given consistent minutes to establish his scoring talent.
In 2008, he got 34.4 minutes as a starter and responded with 15.3 points on near-50 percent shooting.
Last season, his minutes and starts tapered off, as did his shooting and scoring numbers.
This year, he has started just once, and his minutes are down to just 25.8 per game. He is making the most of those minutes, though, by shooting a robust 54 percent and scoring 12.3 points. His three-point shooting is in the tank this season, but past seasons have shown he can hit from deep.
Overall, the efficiency in scoring and his inside-outside versatility show his explosive capabilities. Just because Philly stifles his opportunity does not mean he can't break out.
At a tender 22 years-old, he might finally get the chance to break out for a new team.
Keep Reading