Chris Bosh and the Zaniest NBA Flop Artists of the Last Decade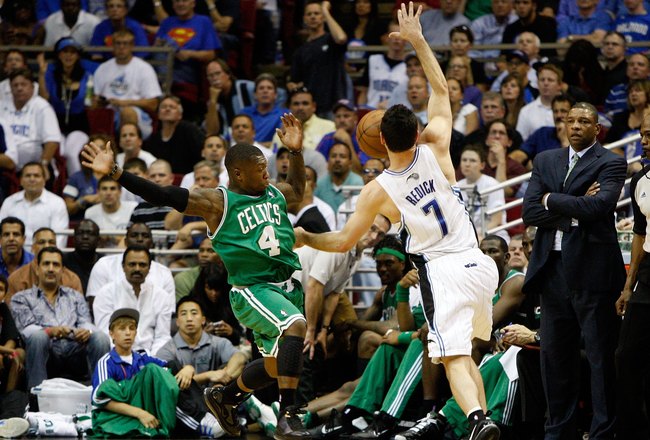 Doug Benc/Getty Images
It's known as a fake foul, a hardwood production, the lazy man's charge or taking a fall.
But it's more infamously known as a Flop.
By definition, it is the act of deceiving NBA referees by feigning contact which would warrant an offensive or defensive foul call.
Most of the NBA's players won't do it, nor could they do it effectively, and though the purists' viewpoint says it dishonors the game, most players want to do it and here's why:
In the cut-throat competition of basketball's elite class, players will step on toes, throw elbows and talk serious trash to get the physical and psychological edge during on-court battles.
In this sense the game is a war, and nothing comes closer to the rules and basis of war then the deceptive practices mentioned in the previous sentence, but what is above all these?
Like it or not, it is flopping, which has evolved into a particular NBA art form, and those who do it best rarely get called the opposite way; certainly not when their minds are intent on drawing a foul from an opponent who already has five and a fiery temperament.
As with all art forms, there are lines drawn between the brilliant, the mundane, the humorous, the shabby attempt and the nonsensical garbage.
This list, which contains NBA superstars, sixth men and journeymen alike, is a cross-section of this infuriating and game-changing play which shows us equally the childishness of games and the extreme nature of winning.
10. Vlade "The Father of Modern Flop" Divac
Vlade Divac is such a foregone conclusion in the world of flopping. In fact, the flop was so instrumental in what Divac brought to the table that he places low on this list, simply due to the routine nature of his every-call-is-arguable personality and high melodrama falls.
Putting Divac higher up on this list would be like rewarding Dirk Nowitski with a best free throw shot of all-time, meaning the regularity and style with which Divac flops is integral to his game as it is to no other.
So many NBA fans, players, coaches and administration recognize Divac as such an unconscionable actor that he forced David Stern to publicly chastise these "disgraceful displays."
Still, Vlade kept right on doing it and now we have a high...or, should it be "lowlight" tape of Divac's Hollywood skills.
9. Raja "Rung His Own" Bell
This is not the first time Raja Bell appears on this list and you'll see why.
Bell's following is not as ardent as Divac's, yet he has admirers out there, actually Mark Cuban cultists, who have put together a fine song-and-dance number for one of the game's greatest guard floppers.
Bell, 34, has always been skinny and wiry enough to feign physical abuse at the hands of beefier ones and twos, which is probably why his penchant for the flop has been noticed more in recent years since he's put on a bit more muscle.
And since he's forfeited his natural God-given flop machine, Bell's tried to re-adjust his D to rely strictly on position and theatrics.
Suffice to say he does have reasonably quick feet and hustles to the extent that he's never been kicked out of the League, though he has been traded more times than Topps.
Still, Bell should know that he's older, heavier, a little slower and probably picked up some bad habits from Kevin Ollie as a rookie, thus his flop show is just getting more ridiculous and pedantic as the years go by.
Now, Utah has the "Raja Flop" and we'll see where it goes from there.
Hint: Look further down the list.
8. Chris Paul
Chris Paul's blocking foul is on the list because of the honorable intentions it initially had, then somehow crashed and burned into flop stardom.
Paul is also here because he is an excellent defender, and this is a prime example of why some should flop and some shouldn't.
First off, everything about the position and set-up is wrong. Paul forgets that a charge is usually taken directly in front of an offensive player and that the arms and hands are down to protect the chest and genitals from blunt-force contact.
In fact, what CP3 does is some sort of semi-perpendicular push-off that would probably shame Horry and Kirilenko in its outright laziness.
It should be mentioned that since Westbrook has preternatural hops and, at times, is out of control while in the air, Paul is not responsible for the placement of his feet or arms because Westbrook had already taken off before Paul's attempt to draw the charge.
Nah, it was a downright lazy push-off flop.
Besides, Paul is too good for that and his Grandma wouldn't like it.
7. Andrei Kirilenko Gets Caught in a Tornado
Andrei Kirilenko, who rears his ugly flops on this list twice, really has mastered the art of perception.
The wiry 6'9" small forward uses his seemingly off-balance dimensions to good use every time he can.
Here, Kirilenko accounts for Matt Barnes position, aggressive stance and foul-prone inside game in order to pull the wool over the eyes of the refs yet again, flailing and twisting his body 15 feet down court to draw the foul.
Notice the look on Barnes' face after he's fouled out, he can't believe it, again.
No one has more natural ability in this infamous art than No. 47, who has long arms and quick feet.
Yet if the true measure of this deceptive craft is its effectiveness in winning crucial games, then Kirilenko still has a long way to go.
No. 6 Shaquille O'Neal Is Kazaam (Bad Acting?!)
Shaquille O'Neal actually had reasonable position to take a charge with the direction Howard was spinning, but somewhere on that path Superman escaped and the Diesel took a misdirected flop-charge that looked like Kazaam himself had granted a wish for contact.
Really, though, at this stage in his career, the Daddy is pushing the scales at 330-350 pounds, which means that as tough and strong as Howard is, the only man that can take down Shaq is likely himself.
We've seen a few plays in the past with the Lakers and Heat where O'Neal indeed drew a charge, and the sloppiness of this play suggests more that the Big Aristotle is much less agile then he once was, and that Steel wasn't his worst performance.
No. 5 Baron Davis in Mehmet Ok-Urred
Baron Davis has always been tough as nails and at the same time has always shown a flair for the dramatic.
This particular flop lands him in the top 10 while leaning a little too much toward the latter part of that last sentence.
Yet Davis was smart in playing off the unspoken Big-Man, Little-Man dynamic that says smaller guards can't physically manhandle seven-footers in the lane; Davis took it one step further.
Okur, a relatively gruff and unpolished center, had his shot blocked and traveled on the same play. In the back of the ref's mind is the thought, Okur is more likely to retaliate.
In steps Mr. Hollywood to the rescue. Slight physical contact, who cares? The L.A. Kid dropped like he lost a duel with pistols.
Honestly, from the ref's angle and position, Davis' flop looked more serious than most.
But on closer inspection, it's one the funniest plays in NBA history!
No. 5 Chris Bosh and the Phantom Elbow
This infamous fake-out, which garnered a long, passionate smack-down from Jim Rome, is the reason for the maxim: If you can't act, don't flop!
Who knows what Chris Bosh was thinking when Carlos Boozer barely brushed his nose.
Maybe his inner monologue went something like this:
Hey Chris, Boozer's known to throw 'bows. He's gonna bring the ball up and over and we need this possession. Okay, here it goes, that was close enough.
Man, I hope Manu or Vlade's watchin'. They'd be so proud of me. Oh wait, No! That looked stupid. Damn! Just get up, it's not the worst ever.
Well, Bosh was right. It wasn't the worst flop ever, and of course he got the call.
Still, Bloodsport wants its acting back.
No. 4 Chris Douglas-Roberts Defies Physics!
Chris Douglas-Roberts looked like he got jarred on this play, but what lands it here is the keenly instinctive selling of the foul.
Douglas-Roberts looks like he got upper-cutted by a 22-year-old Tyson when the hit was more like a hard screen set unaware.
Now whoever taught him to fall like that (likely Frank Bruno or Peter McNeeley), this Bucks forward is on a fast track to de-throning Ginobili and Bell.
In basketball, you are taught to take the hit, whether offensively or defensively, and fall convincingly in that direction so there's no confusing the call or the fouler.
All Chris Douglas-Roberts needs to work on is the proper reaction.
In this case, he should have thrown himself into the third row.
No. 3 JR Smith and Raja Bell: The Double Flop
Upon first inspection, it looks as if maybe Smith and Bell knocked heads hard and fell unconscious.
This is not the case.
First, Raja Bell is a professional flop artist, already having graced this dire list, knowing when and where to perform his pitiful stunts.
Secondly, JR Smith, according to a Nuggets/Jazz post-game press conference, is well aware of Bell's reputation and is a young and hungry defender willing to dance with "The Raja."
So, what we get here is enough colliding force to leave a mildly stiff jaw and some sweat behind, and enough opposing force to check each player's shorts for hand grenades.
Bell's the better actor here, though, as Smith picked up the flagrant foul.
Still, this flop is unique enough to warrant the question: Did they choreograph this during a timeout?
I could just hear Smith saying, "Whatever crazy s%#t you do, I'm gonna be right on it!"
Oh God! Synchronized flopping: the end of defense as we know it.
No. 2 AK-47 Shoots Himself Down
The fact that this Russian import would go to such lengths, his team up eight with 2:08 left in the second quarter, shows you what kind of dedicated flopper the man is.
That he pulled it off against Nowitski is something else entirely.
Just like James, Wade or Bryant, Nowitski gets his share of preferential treatment. Not here.
Kirilenko is a bright, crafty player and he knows that getting this call in a regular season game bodes well for the playoffs.
But, oh, how times have changed.
The Jazz are dismantled and stand six games out of the playoffs, and Andrei's act hasn't gotten him any closer to the championship.
Maybe he should try WWE.
No. 1 Robert Horry: the Master
If you look down this list you see, with the exception of Shaq, a crew of non-title-winners, many of whom aren't even contenders.
But here at Number One is the ultimate winner: seven trips to the finals, seven Larry O'Brien's.
Robert Horry must be doing something right.
Whether it was hitting the biggest shots of that particular NBA season, or drawing an offensive foul call by throwing himself 10 feet off an opponent's nose, Horry had a knack for huge plays.
The above video shows the master at work, flailing wildly backward off Carlos Boozer's extended right pinkie finger.
"Big Shot" Rob shows us that you should always flop off the big guys, if the refs see strength, a la Boozer, the call will more likely go to the tall, skinny guy who knows when to take a fall.
Yeah, the Spurs won the title that year.
The Flop Finale
Elsa/Getty Images
Though this list is truly a hodgepodge of humor, sadness and no defense, and not so much a homage to flopping as an art form, the structure of this list is more a statement on the precarious and random nature of flopping.
Successful flopping relies on small perfect storms of referee awareness and viewing angles, opponents' fouls, mindset and favored movements on the fast break, on drives to the basket, in the post and corners, and maybe most importantly, in the triple threat position.
To be a good flopper in a league of born-and-bred 1-on-1 specialists is a daunting task that seems to be just as much about position, timing and selling as it is about behavioral experience, attained knowledge and a certain rarer quality of self-sacrificing self-deprecation.
That quality must be present in knowing you're risking the opposing fans' contempt and looking like a total jackass to help your team win the game.
Sorry to all that I didn't get Anderson Varejao, Matt Harpring, Bruce Bowen, Dennis Rodman, Bill Laimbeer and, sorry to say, Michael Cooper.
Keep Reading