2011 Chicago Bulls' Playoff Picture: Playing It Off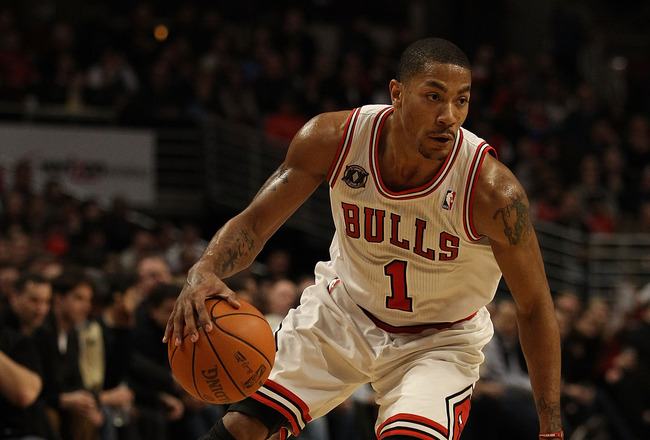 Chicago will go as far as PG, Derrick Rose can take them
Jonathan Daniel/Getty Images
With yet another impressive weekend in which the Bulls swept through their competition, it might be time to start looking ahead.
The "MVP" serenades during D. Rose's free-throw routine have begun to enter into the redundancy period for me—especially after seeing Comcast air a middle-aged woman in a low-cut tank top with seemingly the same basketball acumen as my second grade school teacher mouthing the words to the popular chant during the Milwaukee telecast.

The swooning by analysts has become all too commonplace, as the Bulls are a virtual lock to close out the season as the Eastern Conference's No. 1 seed.
Not that I'm jumping to any conclusions prematurely, but the Bulls have 10 games left and still have the T-Wolves, Pistons, Raptors, Cavs and Nets ahead on their schedule (worst case scenario: 6-4).

With a two-game lead on the C's for superiority in all things basketball east of the Rockies, it's safe to say the Bulls have their hand in the glove.
Then again, we are in Chicago—albeit a long ways away from Wrigley field and the goat sacrificing that goes on up there—and we are still conditioned to expect the worst.

So without any further deliberation, let's get to the matter at hand (I'm a few credits short of my aspirations to become Atticus Finch).
Who will the Bulls play in the opening round?
Historically, the top seed has had no problem winning these incommensurate matchups, but we don't want the Bulls droning through a 10-day tango either.
Here is a comprehensive list of the possible opponents Chicago might see in the opening round:
Sixers (-16.5 GB, 1-1 vs. CHI)
The Sixers are certainly an interesting and intriguing bunch.
Since the Bulls played them in the playoffs last during the 1990-1991 season, Philly has adopted a new logo, reverted back to the original logo, drafted Iverson, worshiped Iverson and then traded Iverson.
It's funny to think that the Bulls now have a Turkish center and the former face of Philly's franchise is playing in a second-tier Turkish league. Also during this time, The Garbage Picking, Field Goal Kicking, Philadelphia Phenomenon was released starring Tony Danza.
Strange days indeed.

Not to mention, Doug Collins coached the Bulls during the initial Jordan years of the late 1980s and was canned just in time to watch the Zen Master rattle off 6 titles in Chicago.
If you're Doug, that's like getting divorced by your wife, having her marry a quasi-Buddhist monk with a Scottrade account, earning enough money through said account to use their rolled up singles as Q-tips and rolling papers and then investing their equitable assets into forming the most lucrative dynasty the NBA has ever seen.
Sounds like you missed out, Doug.

But the 2011 Sixers have been marked by their potential. Elton Brand and Andrea Iguodala have been around the block in the heart of blue-collar "Rocky Country," but the added youth of Jrue Holiday, Jodie Meeks, Thaddeus Young and Evan Turner have labeled the Sixers as overachievers this season and have kept Doug Collins' name in the Coach of the Year debate.
Can they beat the Bulls? No, but Doug Collins has enough X's and O's up his sleeve from broadcasting 54,329 games on TNT over the past five years to push it to a five or six-game set—exactly what could trip the Bulls up in the future.
Knicks (-18.5 GB, 2-0 vs. CHI)
New team, new style, same bad blood between the Bulls and Knicks.
Xavier McDaniel and Anthony Mason might be face up in the sun in Boca Raton after four back surgeries each, but I assure you that if the Bulls play the Knicks in Round 1, there will be some hard fouls issued similar to the ones of old.

What scares me about the Knicks is what scares everybody about the Knicks—they can score on anyone.
Carmelo and Amar'e can fill it up against the best team defenders in the world and have proven that to some extent during their brief partnership in the Big Apple.
The Bulls have shown that they're capable of winning without scoring in the triple digits this season, which is a testament to how far they have come as a team on the defensive end.

However, they have also shown that if Rose goes ice-cold—like that scene from Cool Runnings where Sanka (Doug E. Doug) gets stuck in the ice cream truck—they can go an extended period of time without scoring.
Now, I would hesitate to call Carmelo and Amar'e tough-nosed, blue-collar guys, but I think Toney Douglas, Chauncey Billups and Landry Fields provide them with that "chip on your shoulder" mentality that the Knicks held near and dear during the John Starks era.

I wouldn't feel comfortable seeing the Knicks in Round 1 because of their potential to follow through with the unfathomable.
Realistically, though, I don't think they have a chance to make a deep run this year—judging by their lack of interest in defense—and they have an assistant coach named Dan D'Antoni, which can't help.
Still, they're 2-0 against the Bulls already this season, so what do I know?
Pacers (-22 GB, 1-3 vs. CHI)
It is no secret that Indiana is the most Caucasian-laden team in the NBA, and—believe it or not—that includes Utah.
Jeff Foster, Mike Dunleavy (currently injured), Josh McRoberts and Tyler Hansbrough all see time for the Indiana "Race"-ers. Throw some unathleticism into the middle in the form of 7'2'' center Roy Hibbert and you have a possible Eastern Conference No. 8 seed.

The Pacers really haven't made much noise since Larry Legend stepped down as head coach and appointed someone that he never really liked, and people trusted less than an ex-girlfriend with an assortment of dirty texts at her disposal.
Since then, though, the Pacers have been winning the "right" way—and presumably the "white" way—based on the talent pool they move through Conseco Fieldhouse at every home game.

In fact, the Pacers knocked off the Bulls last Friday in an overtime thriller that saw the Bulls as a lethargic, shot-missing bunch carried much of the way by their MVP point guard.
Knowing that Rose almost willed the Bulls to victory on a night when the rest of their team shot a percentage equivalent to that of a young student on a spelling pretest doesn't bode well for Indiana basketball fans.
Go Butler; maybe the Pacers can lure Brad Stevens to the league or else I think he's destined for a PLAYGIRL cover.
Bobcats/Bucks (-23 GB/-24 GB, 2-2 vs. CHI, 0-4 vs. CHI)
Lastly, the two teams on the outside looking in on the 2011 NBA Playoffs are the Charlotte Bobcats and the Milwaukee Bucks.
As the proud owner of a Charlotte Hornets quarter-zip Starter jacket, I'm ashamed to say that the Bobcats actually exist—not that anyone has noticed.
They are consistently making mindless trades in order to get them out of the red and their most recognizable face is in upper management; nothing in Charlotte is necessarily peachy.

They did beat the Bulls twice earlier in the year, but that was when they still held the rights to Gerald Wallace, a guy who always gave the Bulls problems.
Now, you can conceivably argue that Stephen Jackson is their best player (seriously, look at their roster).
I feel that the only reason for the Bobcats' existence is for Michael Jordan to use them as a forum for finally succeeding in helping the world understand what he once saw in Kwame Brown; therefore, I would love to see them in Round 1.

As for the Bucks, we saw them fold up like paper in fire again in Milwaukee this weekend, and they had no answer when the Bulls flipped the switch (lot of cliches there, I apologize).
The Bucks are 0-4 against the Bulls this year and don't pose much of a threat with their current roster. However, if they can somehow get healthy for the road ahead (except for Michael Redd—he'll never play a full season again), they could instill a little fear in their opponents to go along with their Christmas color scheme.
God bless whoever they have in merchandise sales.

With all of that being said, the Bulls still have games against the Celtics and Magic to use as a measuring stick heading into their second season.
However, if all goes according to plan, one of these teams could have a date with D. Rose in the conference quarters.
Buyer beware.

As for Pick of the Day, it's been a while since the Pulse Man has bet; but as always, he is anxious to get his money out and lay it on the table. For tonight, the Pulse Man advocates for the Stanford women giving nine points to the Gonzaga Lady Bulldogs in West region play of the Women's NCAA Tourney.
He's an equal opportunity employer, and a ladies man, so get off of his back.
Pick of the Day: Stanford (-9) vs. Gonzaga—STANFORD

Record: 61-49-0
Now I'm done. Rack me

Frost
Read more from Chicago Sports Noise @ www.chicagosportsnoise.com or follow him on Twitter @FrostyAustin
This article is
What is the duplicate article?
Why is this article offensive?
Where is this article plagiarized from?
Why is this article poorly edited?

Chicago Bulls: Like this team?