Derrick Rose, Chicago Bulls Take Ownership of Bradley Center, Beat Bucks 95-87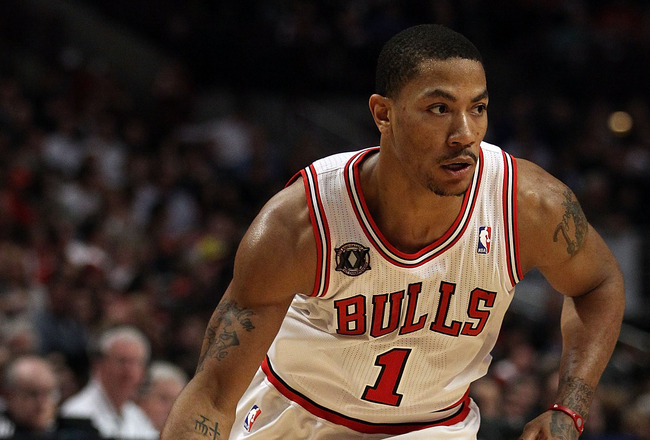 Jonathan Daniel/Getty Images
Derrick Rose set a new career high with 17 assists and scored 30 points on just 17 field goal attempts as the Chicago Bulls beat the Milwaukee Bucks in Milwaukee tonight, in spite of trailing through most of the game.
With the Bulls trailing 83-79 with 4:09 left in the game, Derrick Rose decided to take over, and after that, Rose scored or assisted on the Bulls' next 12 points, and the Bulls only gave up four more points.
On the next trip down the floor, Rose was fouled and even on the road got some pretty resounding MVP chants. Moments latter Carlos Deflino of the Bucks got fouled and took his free throws to a pretty resounding chorus of boos.
Boozer scored on a Rose assist, and Delfino came back and made another pair of free throws, the last two points Milwaukee would score.
Rose came back down and just as Bucks point guard Brandon Jennings started to set him self Rose blew past him and got fouled, going to the line, 85-87.
Rose came back and made another pair of free throws. After Milwaukee missed a field goal Rose led a fast break and found Joakim Noah under the net all alone, 87-87.
Milwaukee turned it over and Rose came back and drove the lane as Luc Richard Mbah a Moute set himself to draw the foul after Rose launched himself, but Rose somehow swung his hip out, and yet still propelled himself towards the rim at the same time. All poor Mbah a Moute could do was turn around in bewilderment, 89-87.
Which aspect of Rose's game was more impressive tonight?
Delfino missed a three and Rose took the ball back down, played catch with Noah, then Noah set a pick on Jennings, and Rose hit the stop and pop.
The Bucks came back down and missed another shot that went out of bounds. Rose came back up and dribbled the ball between his head while looking Jennings in the eye with a look on his face that said something like "For your sake I hope you're mom's not watching because she's not going to want to see what I'm about to do to you.
Rose crossed over Jennings, backed him down, froze, planted his left foot, swung his right foot and pivoted putting his back to Jennings, faked a pass to Noah (so effectively I think he actually faked Noah as well) then swung his pivot foot back around again to complete the full 360.
Jennings was trying to go backwards and forwards at the same time but neither of his feet could move, and then both started to move in different directions and as Jennings was just trying to keep his balance Rose hit his full 40-inch vertical in a fade away.
Jennings finally got his feet under him and at least got a jump but nothing that could remotely challenge the shot, which went in. 93-87.
Milwaukee came back down again and Andrew Bogut drove the lane but Brewer stripped the ball and passed it out to Deng who passed it down to Rose who found the streaking Brewer for the field goal and the and one (but Brewer missed the free throw). 95-87.
And that's how a four point deficit became a eight-point win on the road. Of course the easier way to say it is "MVP."
Other Bulls with mentionable games are Carlos Boozer who overcame a horrid start to finish with 14 points and 11 boards, and Joakim Noah who also had 12 points and 11 boards.
The Bulls next game will be hosting the Philadelphia 76ers on Monday night. They are now 53-19 and extended their Eastern Conference lead to two-and-a-half games over the Celtics. Chicago has now won four straight, 12-of-13 and 19-of-22.
This article is
What is the duplicate article?
Why is this article offensive?
Where is this article plagiarized from?
Why is this article poorly edited?

Chicago Bulls: Like this team?